As the praise keeps rolling in, we're still feeling the after-effects of the Salt Lake Comic Con. --- Whether you liked the event or ignored it altogether, the impact it had in various ways is still carrying waves through the community; especially for the locals who participated, who were given a larger-than-expected audience to browse their works for a weekend and give those working their asses off in the Beehive State an extra boost.
One of the names garnering much attention is Kienan Lefferty, a local designer and illustrator with his own series, EMMA. The comic now has a couple of issues in the can, with more on the way, and now a brand-new audience reading about a little girl battling against the undead. Today, I chat with Lafferty about his career and his latest creation.
Kienan Lafferty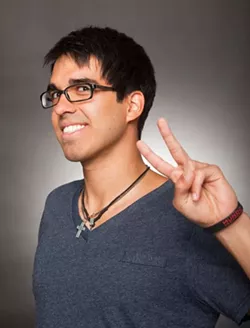 Gavin: Hey, Kienan. First thing, tell us a little bit about yourself.
Kienan: Hey! My name is Kienan Lafferty, I'm the creator and Illustrator of the EMMA comic-book series. I am a big nerd and run a daily YouTube show for artists.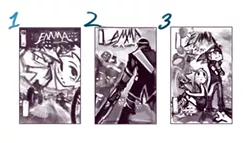 Gavin: What first got you interested in art and illustration, and what were some early influences on you?
Kienan: My interest in art and illustration began with Super Mario Bros. 3, and my later influences came from artists like Samwise Didier from Blizzard Entertainment and various others from the DeviantArt community.
Gavin: Did you seek out any education in the field, or were you mainly self-taught?
Kienan: Most of my education comes from the advice of other artists and the passion of studying others' work in the pursuit of finding my own unique style. I only took a semester of college for 3-D animation and just didn't feel like school was the right fit for me.
Gavin: What was it like for you starting out as a freelance artist and taking gigs as they came along?
Kienan: Freelancing as an artist is a very hard thing to get started because it boils down to the simple rule that it doesn't matter how good you are, if no one knows you exist, you can't be contacted for work. One of the best things about working in the industry before going freelance is the exposure you get; then, should you choose to go it alone afterward, many people have seen your name and your work.
Gavin: How was it for you over the years improving your style and adapting to other works?
Kienan: It was a great challenge learning to adapt to the styles in the industry and improve my craft, but it has been one of the most rewarding journeys. Creating my own style was also something I really believed I needed to do, and, thankfully, with the help of my co-worker Larry Ray, we were able to come up with a simplified style that I use as a baseline for much of my art now.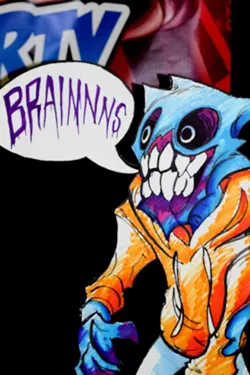 Gavin: What's the process like for you when creating something new, from concept to final design?
Kienan: I like to work all-digital now; the freedom to go from a rough sketch, then create layer after layer to get exactly what I want from a piece is awesome, and efficient. I start with a rough sketch with a thick chalk-like brush to figure out flow and composition in a piece. From there, I will begin refining the piece by "sculpting" the lines to their desired look. After that, I make clean masks for color and finalize by adding any effects and paint-overs I think would fit the piece. An example of this process can be seen here.
Gavin: Do you find yourself playing with your creations as you go, or do you stick to the concept once you create it?
Kienan: A big part of creating your best work is doing it naturally while in a relaxed state. Allowing yourself the freedom of playing and experimenting with ideas before locking them down is essential in my process.
Gavin: What eventually got you into the business professionally, and what were some of the first items you worked on?
Kienan: My first job in the industry was illustrating children's books for a local in Utah; I got noticed by doing some storyboards for a script that one of the founders wrote. After working there for four years, I built up my portfolio and was ready to show it to Riot Games. Once there, I would be in charge of creating advertising "splash" images for the game League of Legends.
Gavin: How was it for you as an artist transforming from a freelancer to being a part of a team?
Kienan: I only did very small jobs freelance before I became part of the team at Riot, but once I was there, it was going to prove to be an amazing learning experience. Working side by side with the same artists I looked up to from years before was nothing short of surreal, and I'm grateful for the experiences they were willing to share with me to help me grow.
Gavin: What got you involved with designing work for video games, and and was it like branching into that genre?
Kienan: I got involved simply through my passion for video-game art. I created fan art that got me noticed by Riot, which led to a job and the task of depicting the League of Legends characters in a style that challenged me and forced me to put my best foot forward with each illustration.
Gavin: What influenced you to start up a comic book on your own?
Kienan: My inspiration came toward the end of my time working full-time in the industry. I realized that I had a passion inside of me to tell a story of my own, so much that I decided to leave Riot and start going full-time on my own comic, EMMA: Little Girl Versus the Walking Dead.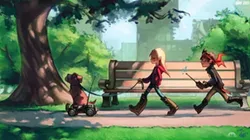 Gavin: How did the idea for EMMA come about, and what was it like for you putting it together?
Kienan: The original idea for EMMA came from an old sketch I did years before of a little blonde girl with an axe on her back and zombies in the background; it was a gift for a friend online, but later I thought, "Hey, that would make an awesome comic"!
Gavin: You've got a couple of issues out so far. What's the reception been like from fans, as well as comic-book people?
Kienan: The reception has been greater than I could have ever anticipated -- I remember one day in particular, we got about 25,000 people on the site within an hour, and it ended up crashing the site from too much traffic! That being said, everyone who takes a look at it seems to like it, so I'm gonna keep it going.
Gavin: What are your plans for the series at this point?
Kienan: The plan is to continue telling the story that I want to see. As I said before, the best work comes out of me when I'm doing it for myself, so allowing myself the time to make a good product is the most important thing to me. The story will be finished; bottom line, I've committed myself to releasing a high-quality comic online for free, and that's exactly what's going to happen.
Gavin: Recently, you took part in the Salt Lake Comic Con. What was that experience like for you, and what did you think of the event as a whole?
Kienan: I've always wanted to have a booth at a convention before, and luckily, I was pushed to get a booth at this year's Salt Lake Comic Con. I got to spread the word about the comic and meet awesome people and artists face to face. It was a blast!
Gavin: Who are some local artists you've been enjoying lately and believe people should be checking out?
Kienan: JJ Harrison and Magen Mitchell are some awesome local artists I had the pleasure of meeting at ComicCon, Also, go see the awesome Lego stop-motion videos by Erik Lechtenberg and Eden Sanders, Eanimation, on YouTube!
Gavin: For people who want to break into the industry, what do you best recommend they do?
Kienan: The way to break into the industry is draw what you really want to and learn the fundamentals as you go naturally. Create awesome fan art and post it on forums; when the time is right you will be presented with an opportunity. Being on the other side, I now know that people working in the industry are always informed on the awesome fan art circulating their product. So many people are hired on the spot from fan art, as opposed to those who send in their applications to the massive e-mail box.
Gavin: What can we expect from you over the rest of the year?
Kienan: This next year, I'll be releasing four more issues of EMMA, as well as Kickstarting the printing of them, along with other merch for readers and watchers of the YouTube show.
Gavin: Is there anything you'd like to promote or plug?
Kienan: Read my comic, watch the Daily Art Show on YouTube and you can see the rest of my art on DeviantArt. Till next time, take care.
| | | | |
| --- | --- | --- | --- |
| Follow Gavin's Underground: | | | |