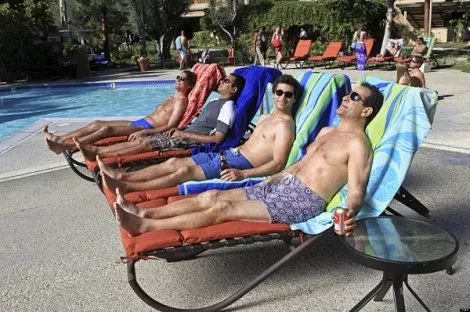 What's new on the box(es) tonight:
We Are Men (CBS) Last Monday, We Are Men scored the lowest-rated CBS sitcom debut ever—so why isn't the network promoting it as "record-breaking"? ---Since it has no laugh track (and, arguably, no funny), WAM is an oddity between How I Met Your Mother and 2 Broke Girls, and I'm predicting tonight is the last time it'll air there—if it resurfaces at all, it'll be burned-off on Saturdays, or maybe next summer. See ya, Tony, Jerry, Kal and Other Guy.
Mom (CBS) Anna Faris and Allison Janney will probably soon be joining the Men in CBS limbo; even with canned laughs to tell audiences that Mom is supposed to be funny, they ain't buying it. If not for the continued success of The Crazy Ones, I'd say CBS viewers are smarter than previously thought. Prediction: This won't be Mom's last Monday, but it won't see November.
Also new tonight:
Hart of Dixie, Beauty & The Beast (The CW)
How I Met Your Mother, 2 Broke Girls, Hostages (CBS)
Bones, Sleepy Hollow (Fox)
The Voice, The Blacklist (NBC)
Dancing With the Stars, Castle (ABC)
WWE Raw (USA)
The Real Housewives of Miami (Bravo)