Tonight, Art Meets Fashion returns to the city, taking over not one but two evenings for people to check out the latest in local fashion and popular art. --- AMF will be occurring at multiple locations, like Unhinged, Farasha, 9th & 9th, Perfectly Suited and the Chalk Garden on Friday for various events, and then holding its annual runway showcase at Pierpont Place. A lot of talented hands will be on display this weekend, making the entire event a can't-miss for any fashion addict or art lover. If you haven't snagged tickets yet, do it!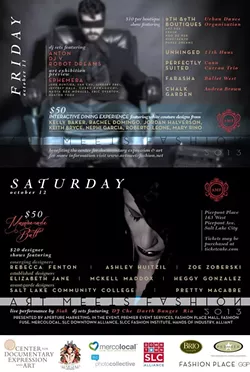 Before everything kicks off tonight, I chat with runway model and one of the women behind this year's event, Madison Slagowski, about her career in the business, switching from the runway to producing shows, thoughts on local fashion and a few other topics. (All pictures courtesy of Slagowski. Pictures by Heidi Gress, Jozef Ezra and Zuzanna Audette.)
Madison Slagowski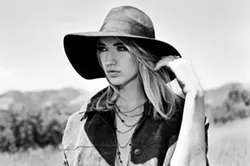 Gavin: Hey, Madison. First thing, tell us a little bit about yourself.
Madison: Hi, Gavin. Im a native Utahn. I grew up in Bountiful near Mueller Park Canyon, where my parents still live today. I really enjoy spending time with the people I love, the outdoors, big cities, good music, delicious food, traveling and new experiences.
Gavin: What drew your interest to fashion and modeling, and what were some early influences on you?
Madison: I grew up putting on my mother's makeup and forcing my family to sit through fashion shows of my dance clothes and princess dresses. It was always my dream to get into the modeling industry and dress up for a living.
Gavin: At what point did you decide you wanted to take a shot at modeling?
Madison: The first serious step I took toward modeling was attending a model-scouting event called ProScout. The first time I went I was 9 years old. The event went well but I was at a weird stage, in-between children's and teen modeling. It wasn't until I attended the event again at 15 that I was offered multiple contracts and moved to New York.
Gavin: You started modeling when you were 15 years old. What was it like for you to break into the business and learn the ropes at such an early age?
Madison: It was scary and exciting, a dream come true and a quick slap into what the reality of what the job was.
Gavin: What were some of the most important lessons you learned at the start?
Madison: One of the most valuable lessons I learned was how to communicate with people, from clients to my own bookers, about my needs or models that I interacted and lived with from all over the world and all backgrounds. I learned what it was like to hear, "No," and I think I genuinely understood from a young age -- thanks to my mother -- the position of a casting director who has to find a model with a specific look and certain sizes.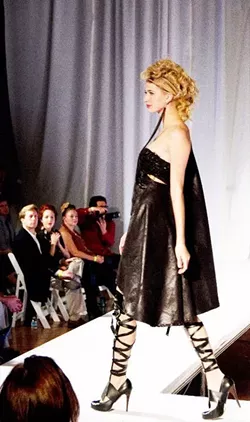 Gavin: As you were going through and working more shows, how did you develop your style for presenting yourself on stage, from the walk and the pose to the attitude you display?
Madison: Often, designers will indicate to you what type of attitude, pace, facial expression, etc. they want you to display. I always do my best to evoke what my client is looking for, but I'm sure my pace or style is just conditioned from all the feedback I have gotten over the years.
Gavin: What's a typical night like for you at an event, from setup to curtain call?
Madison: Most of the work that goes into fashion shows happens prior to the event. We start meetings more than six months in advance for event logistics, core partners, sponsors, event team meetings, designer submissions, boutique and salon selection. The models require a lot of time and attention, from the casting call to the fittings to the hair and makeup run-throughs, model boards, runway rehearsals and run-throughs. The day of is an exciting juggling act to see it all come together. The day starts early in the morning for about 20 of our volunteers for event set-up. I will help Shaun Clark -- our lead dresser and backstage manager -- oversee clothing delivery and set up. My team will check in about 90 models an afternoon, and I will take them through rehearsals by segment in order of show and arrival. After run through, I send them over to Taylor Standriff, our styling coordinator, to manage the timeline for a hair and makeup look that she has carefully selected with each salon team. Thirty minutes prior to each show, we start dressing and putting the finishing touches on the models. The shows will run every 30 minutes, with a 15 min. break inbetween for the wardrobe and models to be cleaned up and swapped out and ready for the next show. Our shows will run from 5:30-8:30 each night, with either the dinner on Friday or masquerade on Saturday to follow. There will be models I supervise during both evening events and will oversee backstage clean-up at the end of each night.
Gavin: When did you get your first chance to head overseas, and how was it modeling outside the U.S.?
Madison: The first time I went to Paris was when I was 17. Paris and Milan were two of the first markets in Europe I visited. Modeling in Europe truly changed my life. I spent at least eight months there every year for three years and met the most incredible network of people. Spending extended periods of time in so many foreign countries really exposed me to the world in a way that wouldn't have been possible if it weren't for modeling. I am now addicted to traveling and will happily blow all my money to see a new place.
Gavin: How did you break into doing promotional and magazine work, and how much does that differ from what you do on the runway?
Madison: The first commercial-advertising campaign I produced was for M'lis Company of Beneficial International nearly three years ago. They were familiar with my event-production work and brought me on to produce their international campaign. We worked with fantastic local photographer Mitch Meyer and all-local models. I really love producing photo-shoots; it's more intimate than runway shows because you are working with a small team of 10 or so instead of over 200 crew members on an event. Both are wonderful for different reasons. I just co-produced my first video commercial for a deodorant company in France with AMF executive producer Heidi Gress and international production company HKCorp, which was a fun new adventure. Its exciting that every project I do is a new learning experience.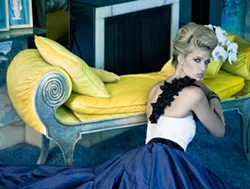 Gavin: Who are some of the more prominent designers you've had a chance to model, and what were your thoughts on wearing that particular person's body of work?
Madison: I did hundreds of runway shows in Europe whose fancy foreign names I cannot remember. The most prominent designer who ever booked me was probably Fendi, but one of my favorite repeat runway shows was Swarovski. They always had some over-the-top location like a castle, and it was fun to be dripping in all of those jewels!
Gavin: At what point did you start looking at the behind-the-scenes aspect and thinking about running the show?
Madison: The first production client I ever had was local boutique Albert Chloe. I had modeled for them in a fashion show at the Grand America and for their print campaign. After working with them a couple of times, the owners approached me about producing a fashion show for their grand opening. That was the first time I considered production, and really enjoyed the process and results. Around the same time, four years ago, I modeled in my first Art Meets Fashion for my dear friend Keith Bryce. Shortly after that event, I was approached by Anne Cummings and Heidi Gress about taking on a production role in AMF.
Gavin: How was that transition, from being a model to coordinating models and the event?
Madison: Ha ha; it was a little weird. It felt strange to be the one looking through models books, managing fittings and critiquing their walks. The first few shows I did I modeled in, as well, because that was a fun part for me I wasn't ready to give up. I learned pretty quickly that it was not realistic to do both when it comes to fashion shows.
Gavin: Today, you produce shows and continue to model. Which do you prefer, and how is it for you balancing the two jobs?
Madison: Overall, I prefer production to modeling. I like to have more creative control and a handle on the organizational side of the project. Occasionally, I will have clients request that I model for them, as well. If it is manageable, like for a photo-shoot, I am always flattered and excited to do it. I feel like in my life I am always balancing a lot more than just production and modeling. Those are the two roles I have the most professional experience in so they feel pretty comfortable.
Gavin: You're producing the runway shows for this year's Art Meets Fashion. What have you got on tap for that event?
Madison: Heidi Gress has done a fantastic job of putting together a strong team of people for this year's event; we have more partners than ever and are trying to introduce a more accurate representation of what runway shows are like in bigger markets. The fashion shows will take place in a traditional runway tent designed by In The Event. Guests can purchase tickets to individual shows and expect to see ready-to-wear street clothing, new fall fashions, gorgeous feminine gowns and dresses, men's fashion and suiting and avant garde costuming. Following the boutique show on Friday night, we will have a fantastic dinner by Brio Tuscan Grille, with a few surprises throughout and after the designer shows on Saturday and a glamorous masquerade ball. Guests will be able to enjoy the art gallery and cocktail lounge inbetween shows and into the evening.
Gavin: Going local for a bit, what are your thoughts on the fashion scene, both good and bad?
Madison: Salt Lake City's market is definitely the strangest I have ever worked in. It is also full of some of the most hard-working, talented and beautiful people I have ever met. Utah has a massive film industry; there are multitudes of film studios that work here because we have such a huge variety of landscape and talent. Utah is also a non-union state. Because of that, it's more economical to shoot here. The modeling industry used to be a bit stronger here when Sears and JC Penny and other department-store headquarters would put on fashion shows and shoot catalogues. The economy crash really knocked out some big players. There is still a decent market in Utah for models but mostly for athletic wear and local clients, with small handfuls of exceptions. There are, unfortunately, a lot of illegitimate agencies in Utah taking advantage of models and their parents with classes, contract fees, withholding paychecks from models, etc. We do have a small group of wonderful agencies; it's just important to do your research before signing with anyone.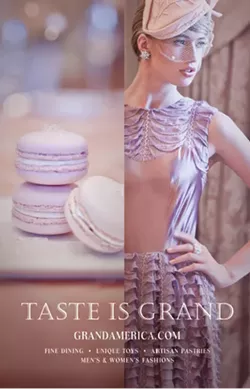 Gavin: Is there anything you believe could be done to make it more prominent?
Madison: I think sometimes we Utahns undersell ourselves! I also think maintaining a professional relationship with clients and each other is the most important thing to continue growing our local industry.
Gavin: Who are some of the local designers people should be checking out?
Madison: There are a lot of talented designers in our show this year! Check them all out, as they each have something unique to offer -- Zoe Zoberski, Ashley Huiztil, Rebecca Fenton, Elizabeth Jane, Mckell Maddox, Heggy Gonzalez and Pretty Macabre. We will also have featured pieces from Nephi Garcia, Mary Rino, Jordan Halverson, Rachel Domingo and Kelli Lynn Baker and the fashion-institute students of SLCC.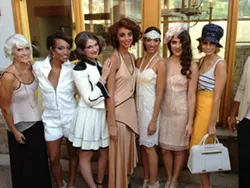 Gavin: What's your take on the models coming up through the ranks in recent years and the talent we have here in the state?
Madison: I think Utah has some of the most beautiful models in the world! I have met multiple models in my international travels who were from some small town in Utah. I really believe in our local talent and look forward to watching all of their careers progress.
Gavin: For those interested in modeling, what advice can you give them to break in?
Madison: Never pay someone to sign you. If they believe you will make money, they will be excited to bring you on, build your book and get you ready to present yourself to clients; models.com is a great website to find top agencies in foreign markets. If you plan to shoot with a photographer you don't know or have never met, contact one or two models they have shot before to ask them about their experience. Their opinion could change your decision and keep you safe! Dont do drugs -- seriously. Or smoke cigarettes. Neither of those are options for getting thinner or looking cool or fitting in. Also, you can always reach out to me. I'm happy to share my experience/offer advice to any aspiring model.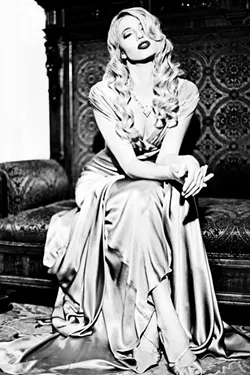 Gavin: What can we expect from you over the rest of the year?
Madison: I'm hoping my schedule will settle down a bit! But knowing me, it's not likely. I will be producing an event for Salomon Ski Company with Heidi Gress at the end of this month, managing a Pop-Up Boutique through the winter with a multitude of events, planning a calendar of events for Sundance Film Festival in January and possibly adventuring into some new facets of my field.
Gavin: Is there anything you'd like to promote or plug?
Madison: Of course! I would love to encourage you to come to Art Meets Fashion. It is truly going to be a wonderful event this year and you shouldn't miss it. There are plenty of events to choose from throughout the weekend. Go to ArtMeetsFashion.net to learn more and purchase tickets. Also, if you're interested in learning more about me and my production services you can visit my website. Thank you, Gavin.
| | | | |
| --- | --- | --- | --- |
| Follow Gavin's Underground: | | | |