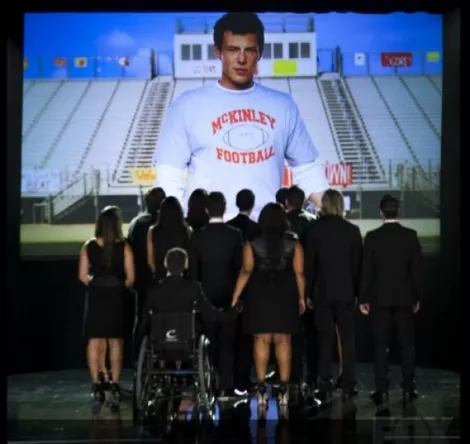 Glee has had many episodes addressing tough topics, such as David Karofsky's suicide attempt and Quinn Fabray's pregnancy. But nothing compares to the authentic sorrow and heartbreak in the episode "The Quarterback," the tribute episode for Cory Monteith, who died earlier this year from a combination of heroin and alcohol.---

The episode starts three weeks after the death of Monteith's character, Finn Hudson. How he died wasn't mentioned; his stepbrother Kurt Hummel summed it up perfectly by saying, "Everyone wants to talk about how he died, too, but who cares? One moment in his whole life; I care more about how he lived." The episode could focus on the characters' grieving rather than having to turn it into a public-service announcement about drug use.

Throughout the episode, the audience witnesses an array of different reactions to Finn's death. Will Schuester refuses to cry because he is trying to help everyone else get through the day; Puck confesses to Coach Beiste that he refuses to cry because he's afraid he would be unable to stop; and Tina, who cries multiple times in the episode, goes to Emma because she can't take wearing black anymore. The best is probably from Sue Sylvester, who tells Santana, "There's no lesson here. There's no happy ending. There's just nothing. He's gone."

To add to the sorrow, the episode is full of Finn flashbacks from the previous seasons. While Kurt and his dad and Finn's mom were going through Finn's possessions, Kurt finds the football from the first football game they won, from the fourth episode of the series. Students were also spraypainting the dumpster that Finn and his friends used to throw random students into.

Probably the most emotional part of the episode was when Rachel, not shown for the first 40 minutes of the episode, comes back to McKinley. She sings Bob Dylan's "Make You Feel My Love" which she explains is the first song she and Finn sang together, while driving around in his car. At this point, not only does Rachel start crying, but many of the other characters start crying also. And it's clear that these tears are not fake, but that the characters are crying for Monteith, as well as Finn. At this point, any person watching who is not crying is heartless.

The episode ends with Rachel and Will standing in the choir room and Rachel confessing that she had a plan to get back together with Finn, saying, "He was my person." She has a plaque made to hang in the choir room with a picture of Finn with a quote beneath it that says, "The show must go on ... all over the place ... or something," which basically sums up Finn's character in one sentence. He was often ridiculous, but he was usually what kept the glee club together.

Overall, the episode was a well-crafted, emotional farewell to both Monteith and his beloved character. And all the money from the songs from this episode that are purchased from iTunes will be donated to Project Limelight, a project that gives youth living in Vancouver a safe place to create art.