Sure, Craigslist is great for things like selling a car, finding a job or renting a room. But it's also a fantastic site for showcasing the most bizarre crap this city has to offer. Welcome to The Secret Handshake's best of SLC's Craigslist, a monthly handpicked collection of Salt Lake City's finest weirdos, irrelevant rants and useless hoo-haa. Let me be your guide.---
Just got a divorce; time to start a Guns N' Roses cover band.
Craigslist title: Keyboarder wanted for Guns N' Roses cover band.
Text from post (edited for brevity and clarity): Want to keyboard in a GNR cover band? I'm a 34-year-old bachelor in Herriman. The ex-wife refused to let me start a band. Now, she's gone, time to rock. I play guitar, "average" skill level. I'm recently single so my house is the perfect place to jam (bottom floor dedicated to music and booze).
It makes sense that after his divorce, this caged guitar beast with a heart of rock wants to start a band. I just hope he's using this opportunity to learn and master "November Rain" in a last ditch effort to win his wife back.
---
Why do I poop in sinks on Easter?
Craigslist Title: Pooping In Sinks (Park City)
Text from post (edited for brevity and clarity): I've been pooping in sinks every Easter for years and I have no idea why. Does anyone else do this or know why I do this?
People do all sorts of things and they don't know why. For example, I probably eat at Burger King at least once a year and I still have no idea why I do this. You ... well, you poop in sinks. We all have our crazy quirks.
---
Looking for a demon to give me awesome powers.
Craigslist title: Supernatural Empowerment (Kearns)
Text from post (edited for brevity and clarity): Looking for a supernatural being to empower me. Vampyre, Nephilm, Demon, Transhumanist, Infernalist, I don't care. But I will repay such a debt in whatever way is necessary. Don't you dare mock what your brain is too feeble to understand or accept. If you can do this, contact me ASAP and we can make arrangements and agree upon compensation.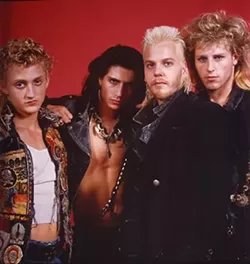 Forget about vampires, demons and infernalists,; if you're gonna shop for some sweet new powers, might I suggest the spectacular, awe-inspiring magic of the manicorn?

---
I will pay you $200 to let me tickle you.
Craigslist title: Ticklish girls make $200 in one hour! (Salt Lake City)
Text from post (edited for brevity and clarity): I have always had a thing for tickling. And am looking for females between 18-35 to let me tickle them for an hour in exchange for $200. Tickling will be done mostly on her feet but some stomach and underarms, as well. Nothing sexual here, no inappropriate touching, just tickling. Also, please be Caucasian or Asian.
I swear to God, there's at least one post a month in SLC's dark hole of a Craigslist that revolves around some weirdo wanting to tickle chicks. With that being said, this one seems pretty damned reasonable. I mean, seriously: $200?! Do you have any idea how much plasma you have to donate to get $200?
---
Will you give my thingy a quick looky?
Craigslist title: Honest Body Comparison -- 28 (Wasatch Front)
Text from post (edited for brevity and clarity): Hi! I'm looking for a beautiful, easygoing woman who would be willing to take a look over my whole body and tell me how it compares. I know this might be difficult here in Utah, but I'm hopeful! I'm currently in a relationship but she has never been around (or seen for that matter) another man up close and personal, so she can't really tell me how I match up to other men. I'm not looking for anything sexual in nature (although, if you need to handle it to judge, size, girth, etc I think I might be willing to allow). Please let me know beforehand if that's the case.
Sure, buddy, your "girlfriend"wants you to meet a hot chick over the Internet and have her "look over" your "penis" to make sure it's totally "normal." Hahah ... sheesh, you totally suck at lying.