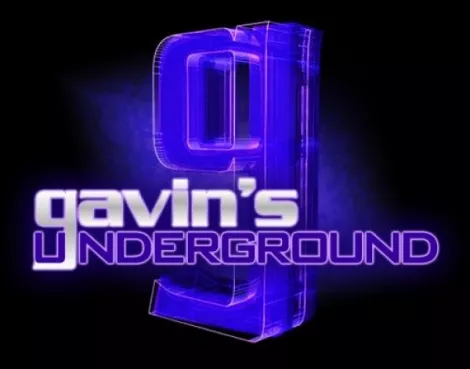 Hello to all you food-loving, local-supporting, auction-bidding, enjoying-everything-in-the-state enthusiasts! --- As I mentioned earlier this month, Local First Utah held its Celebrate The Bounty fundraiser, to immense success. The evening had some of the finest meals from around the city, great wines and beer, a lot of vegan choices (to my surprise) and, of course, the auction to help bring in some extra funds for the nonprofit. You can check out photos of the entire evening in this gallery here. In lieu of a 337 Wall update, here's a look at some art from The Shred Shed, which is currently celebrating its one-year anniversary this weekend with some kickass shows. I'm not giving you more pics; you need to go attend!
So, here's the thing: The next two weeks are mainly going to be Halloween parties. That's not a lie; in looking over the next couple of weeks, you've got every kind of Monster Mash-themed evening people could come up with, not to mention all the haunted attractions. More than likely, you're going to at least three events before the month is over. So, rather than create a giant list of stuff you might thing about attending, I'm just going to list a select few that you should check out -- starting on Monday, with loveDANCEmore's Mudson, which returns to the Masonic Temple for its monthly experiential-dance performance. Snag your tickets now, these shows go quickly!
Next up, in Provo, we'll see Muse Music hold its annual Battle Of The Bands. Unlike Velour, which has a summer and winter version, Muse only does this once a year, in the fall. Starting on Tuesday, you'll see showcases of four bands compete to make it to the final round on Saturday; super-cool shows for cheap money, and a chance to see some of the latest bands coming up through the ranks. If you're in Provo and not attending these, you're losing out, and for the rest of you, it's worth the trip.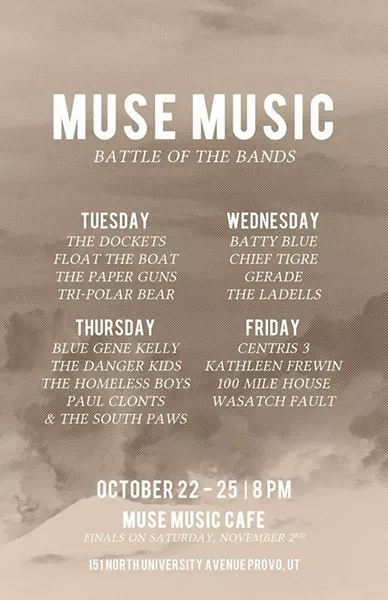 On Friday, SB Dance comes back with its Halloween edition of the successful Of Meat & Marrow. The rock opera, featuring live performances from Totem & Taboo, takes a very twisted and acrobatic turn that you won't normally see at other dance performances. The show runs Oct. 25-27 at the Rose Wagner; go check it out!
Next Sunday, Oct. 27, the Geek Show Podcast will take over Brewvies for its annual Halloween showcase. This is usually the most attended show for them all year, as they will be holding their annual costume contest for the masses to participate in. An absolutely free evening (except for the food and drink) will have the double-feature Drag Me To Hell and Evil Dead 2; plus, there will be three live Geek Show episodes recorded beforehand! Episodes will start recording around 1 p.m. and the first film shows at 5.
And then, finally, on Halloween night, if you're looking for music: The Vile Blue Shades one-night-only reunion show will be happening at Urban Lounge. It's been a good three years since the last VBS show, but the 12-piece ensemble will reunite with all their former members, including a few coming in from outside Utah, to play what may be a two-hour showcase and release a live album! That's right -- a live album comprised of the hits, weird tracks and unheard material, totally free as you walk out the door. Future Of The Ghost will be opening the whole damned thing. Come ready to rock, as this will be the last time you ever see them again, unless they get paid a ton of cash.
As for the blog: The next couple of weeks, I dive into Gallery Stroll, explore a couple of plays opening up, chat with a local piercing shop and discuss men's fashion. At least, that's the plan. Enjoy your Halloween, and, as always, we'll see what happens.
| | | | |
| --- | --- | --- | --- |
| Follow Gavin's Underground: | | | |