The pulse of Salt Lake City beat a little faster Friday night when King Khan & the Shrines rolled into The Urban Lounge with their gospel/garage/punk-rock show. The caravan packed all of their rock & roll rebellion, hyperactive force fields and cult of personalities into an energetic and entertaining show for all.---The group is touring to promote their latest album, Idle No More, and it seems that they truly believe in that mantra. From start to end, both the band and the crowd resembled a light, yet furious batch of popping popcorn, complete with plenty of crowd surfing.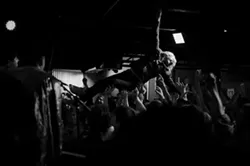 The Shrines sounded tight, like a band that's been playing shows every night for a spell. They played an upbeat, smile-inducing set with a few slow and creamy ballads slipped in. A drummer and a percussionist laid out a steady backbone for the ensemble to lay it all out over, and the bassist and guitarist worked together perfectly, sometimes playing back to back. The three-man horn section blared bits of flavor throughout the set, accented by the keyboardist, who really tickled those keys when he sat on them a few times throughout the show. Of course, the true star of the show was singer, guitar player and frontman Arish Khan, the man with an intensity and stage presence that demand attention as he belts, croons and screams out first-rate vocal stylings.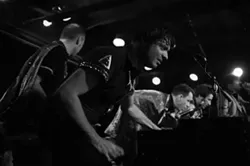 Khan definitely got attention when he came back from a small break with a new costume, wearing nothing but a glorious and sparkling cape, manties (man panties) studded with six mirrors and a long, curly, thick wig. I think he may have summoned Sun Ra's spirit during the break or maybe just watched a few minutes of Space Is the Place. One thing is for sure, music powered the spaceship in Salt Lake City this night.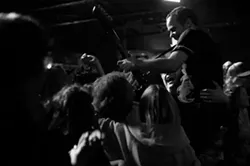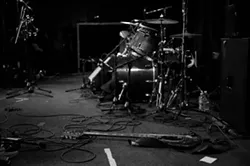 Photos by Niki Chan