Coming up this Friday, as soon as Halloween is out of the way, Pygmalion Theatre Company will be kicking off its '13-'14 season by dipping into the holiday season ... sort of. --- The Twelve Dates of Christmas takes a look into the life of a 30-something single woman who recently dumped her fiance after catching him cheating on national television and spends the next year comically finding her way through several relationships and how much it sucks being alone during the holidays.
Today, I chat with the leading actress of the play, Deena Marie, as well as the show's director, Barb Gandy, about the production and their thoughts leading into opening night.
Deena Marie (pictured center with Angela Trusty and Marylynn Ehrengard) and Barb Gandy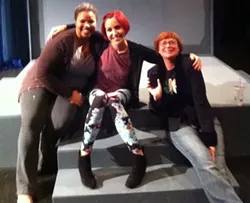 Gavin: Hello to you both. First thing, tell us a little bit about yourselves?
Deena: Hello. Deena Marie here. You know me from local theater, YouTube, and social media.
Barb: I originally come from Denver, where I got my theater degree, but have lived in Salt Lake City for longer than I lived in Denver. I've been involved in theater since high school, so about 40-some years -- yikes! I've primarily been involved with TheatreWorks West and Pygmalion Theatre Co, but also have worked at The Grand, with Wasatch Theatre Co. and Plan-B, among others. I'm a commercial banker by day -- still weird to say even though I've been a banker for over 20 years. I'm on the Board of Trustees of Pygmalion. I live in a lovely Sugar House home that needs a good paint job with two permanent pooches and one that comes over during the day. I love them.
Gavin: What have you all been up to over the past year in local theater?
Barb: Other than my regular Pyg board responsibilities -- controlling the cash -- I was part of the Rose Exposed variety show doing a piece from Motherhood Out Loud. I then had great scary fun doing a staged reading at Weller Book Works of Misery, based on the Stephen King and for which Kathy Bates was lauded in the role of Annie Wilkes. Now, back in the director chair for The 12 Dates of Christmas.
Deena: This past year has been quite a ride. This time last year, I spent two months in New York City taking classes again. That's where I first studied acting and where I graduated from the Atlantic Theater Company Acting School. I also took various courses through NYU's CAP21 and Juilliard. Last year, I'd just closed The Winter's Tale with Sting & Honey, which completely re-energized me and reminded me just how deeply I love theater, and Shakespeare, and why I do it. It made me want to be a student again for awhile. I wanted people who didn't know me or my work to tell me what they saw, and I wanted to push myself. So, I got into a Shakespeare course with Seth Barrish of The Barrow Group, took the classical workshop with Red Bull Theater, and other various classes. I also saw as much theater as humanely possible. Those months were invaluable. The beginning of this year, I got to co-create and perform in the original piece LOVE, which we performed at The Leonardo. It was a dream come true to create my own work and especially to use my own writing. That's something I really want to do more of.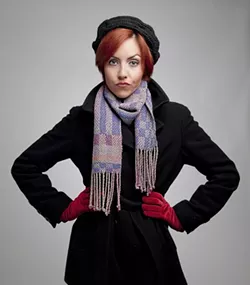 Gavin: Barb, when did you first hear about Twelve Dates, and what did you think of it?
Barb: Pygmalion received the script from Ginna Hoben, the playwright, and who played the role of Mary. At first, my reaction was, "Oh, a Christmas play." Then, I read it. It isn't really a Christmas play -- not that there's anything wrong with Christmas plays -- and I was so charmed by its wit, by the main character and her oh-so-relatable experience of wading back into the dating pool, and the convention of the Doo Wops and the date-related ornaments, I encouraged the rest of the Pyg board to consider it. I started to "see" the staging. In the original script, the actress plays all of the roles, so not only Mary, but her family and her dates, while the Doo Wops simply sing. But, I couldn't help seeing more for the Doo Wops to do — so in our production the Doo Wops play all those multiple roles. So, I have the best of all worlds — the wonderful Deena Marie in the gigantic role of Mary, and three incredible acting/singing/dancing talents as Doo Wops: Tamara Johnson-Howell, Angela Trusty and Marylynn Ehrengard.
Gavin: What made you decide to come on and direct it this year for Pygmalion?
Barb: Well, we originally had a different show slotted for our season opener. But, for unforeseen reasons, that show fell through. In a marathon meeting, we discussed the merits and demerits of other plays under consideration -- we read plays all year-round -- and 12 Dates kept coming up. Then, I blabbed about how I would handle the production if I directed it, my "concept" if you will, and voila, here I am.
Gavin: Deena, what did you think of the play the first time you read it?
Deena: I thought it was cute, clever, funny and fun. It was in the vein of romantic comedy vibe, but in a fresh and smart way. I could picture it on a big scale, being performed by Zooey Deschanel or Mindy Kaling.
Gavin: What was it like for you auditioning and eventually getting the role?
Deena: Sometimes you have a strong sense of how the audition went, sometimes you don't, and sometimes your intuition turns out to be wrong. I honestly wasn't sure what to expect as I left the audition; you always try to let it go as you walk out the door. The next morning, Barb called, but my phone was on silent and I missed the call. I was walking down the sidewalk with my phone in one hand and a Thermos of coffee in the other. I happened to look at my phone while waiting to cross the street, and there was a text from an unknown number asking if I'd accept the role of Mary. I got so excited I spilled coffee all over myself.
Gavin: Aside from the Doo Wop girls, this is essentially a one-woman show. What did you think of taking on that kind of challenge before coming in?
Deena: A one-woman show has been on my bucket list for years. I've always wanted to write and perform my own, with original characters. This is the closest thing I've done to one yet. I jumped at the idea of doing this.
Gavin: How is it for you learning an entire show with hardly anyone else to work with and play off of?
Deena: Well, luckily, there's no such thing as having no one or nothing to play off of. The audience is my crucial counterpart. And I do get to use the Doo Wops quite a bit -- thank goodness for them! They are wonderful onstage and off, and a huge support for me. However, this does feel like a different kind of undertaking. It's a massive piece to string together. The word that keeps coming up for me as I think about it and experience it, is orchestrating. I feel we are orchestrating a performance piece, in contrast to performing a typical play.
Gavin: What kind of a challenge has it been developing the comedy of the play and working out all the best elements of the story?
Barb: Prior to going into rehearsal, I thought the challenge would be learning the role of Mary. But, Deena Marie's incredible work ethic, energy and insight knocked that challenge off in the first week. Then, it was working the Doo Wops into the various roles and songs; they move quickly from one role to another and several different song varieties. Except for three songs, accompanied by Tamara on guitar, they are working a capella. The ongoing challenge for this show, as any show, as it moves to opening is to find the ebbs and flows, the emotional ups and downs, the tender or sadder moments to balance the comedy, as well as the overall arc of the play. I think we are meeting those challenges.
Deena: The writing is clever, the comedy is already there; we don't have to force a thing. You build, you discover, and you layer in as you go. With a smart director like Barb at the helm, you don't need to have any worries. I take great comfort knowing she's out there to steer me through this massive piece! The overall tone of this play, the humor, and how Mary speaks was something I instinctively got from the first time I read it. I knew how to play her, even if I was different from her. She's a mix of someone quite different, yet there are some eerie similarities. We've been finding a great balance of what I bring to it naturally and who Mary is; that line is somewhat fine and very interesting to me.
Gavin: What are both of your thoughts going into opening night?
Deena: I hope people come, I hope they enjoy it and I hope they tell their friends. While it's called The Twelve Dates of Christmas, it does span the course of a year in her life. It's smart, it's entertaining, it's funny. It's also very relatable; it's the perfect way to ease into the holiday season. I look forward to this 90-minute escape and journey with each audience, as I know each performance will be different depending on what each audience will bring to it. It will be quite the ride!
Barb: One thing that happens when rehearsing a comedy is after awhile, one worries no one will find it funny. I want you to know, I'm still laughing, and it's because of the constant expansion and exploration that the actors bring every night. I'm excited to have an audience, and hope they find the show as delightful as we do.
Gavin: What can we expect from both of you over the rest of the year?
Barb: For awhile, I go back to juggling cash. Then, I'm excited to appear in Motherhood Out Loud in May.
Deena: You never know! This show will most likely wrap up this year in theater for me. So, we'll see what 2014 brings my way. In the meantime, I'll be drinking eggnog lattes and spending time with my loved ones.
Gavin: Aside from the obvious, is there anything you'd like to promote or plug?
Deena: I'm one of 100 agents across the country for the Fiesta Movement. It's a big social-media campaign for Ford and I've been on all sorts of adventures for them this year. I've flown a plane, visited the American Idol set, gone to an Entertainment Weekly kickoff party for Lollapalooza and driven a 2014 Fiesta with my face, name and a unicorn on it all over town. Head over to this link to check out the videos, pictures and more.
Barb: Pyg's 2013-2014 season is so cool. First, the charming The 12 Dates of Christmas. Then a beautiful drama, The Women of Lockerbie, which follows one woman's grief and another's strength in light of the Pan Am 103 bombing over Lockerbie Scotland. As part of this production, Pyg will be organizing a clothing drive, with the goal of 11,000 pieces of clothing to go to area shelters — this was the amount of clothing that fell from the plane. We close the season with Motherhood Out Loud, a compilation of short pieces about all aspects of motherhood by a group of women playwrights; there is a matinee on Mother's Day, and we will offer a special promotion for that performance.



| | | | |
| --- | --- | --- | --- |
| Follow Gavin's Underground: | | | |