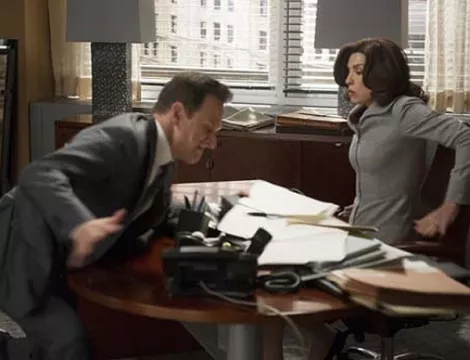 What's new on the box(es) tonight:
The Good Wife (CBS) It's finally here! The (relatively) action-packed Good Wife episode that's inspired a thousand hack TV critics to write lame pun headlines around the title, "Hitting the Fan." ---Tonight, Alicia's (Julianna Margulies) long-simmering covert plan to leave the Lockhart/Gardner firm is exposed and THE SHIT HITS THE FAN. Didya get that? THE SHIT IS HITTING THE FAN. There, we're done. Oh, and there's a FUNNY AS SHIT screen grab from the episode to your right.
Metalocalypse (Adult Swim) One-Hour Special: My love for Dethklok is well-documented; creator/guitar god Brendon Small puts on one of the best live metal shows I've ever seen (and I've seen waaay too many), and Metalocalypse ranks with The Venture Bros. in maintaining a deep backstory and consistent comedy—either one a rarity on Adult Swim. But every good metalhead knows that the nadir of a band is the dreaded Symphonic Collaboration, if not the meaning of "nadir." From Deep Purple to Metallica (let's not even get started on the Trans-Siberian Orchestra), no good has ever come from overindulgent rockers mingling with "real musicians" and, even though Dethklok is the greatest cartoon band in the known universe (just ask 'em), The Doomstar Requiem: A Klok Opera—album version out Oct. 29, coincidentally—is no exception. But at least we get some closure on the fate of Dethklok guitarist Toki Wartooth, who'd been abducted at the end of Season 4, some 16 months(!) ago. Where's Season 5, Brendon?
Also new tonight:
Once Upon a Time, Revenge, Betrayal (ABC)
The Amazing Race, The Mentalist (CBS)
Sportsball (Fox, NBC)
The Walking Dead, Talking Dead, Comic Book Men (AMC)
Bar Rescue (Spike)
Drop Dead Diva, Witches of East End (Lifetime)
Doctor Who: The Doctors Revisited (BBC America)
Homeland, Masters of Sex (Showtime)
Boardwalk Empire, Eastbound & Down, Hello Ladies (HBO)
World Series, Game Four (Fox)