Election day is Tuesday, Nov. 5, and this year City Weekly put the candidates for Salt Lake City Council to the test when it comes to how well they know their district. See how well you stack up against District 3 challenger Sherm Clow and incumbent councilman Stan Penfold in this quiz covering the businesses, history, and oddities of District 3.---
If you've paid attention to the local council race, then you've probably heard all about what the candidates want to do for our fair city. But how well do they know the neighborhood businesses, local history and other trivia of their district? Let's find out. Below are the questions given to the District 3 candidates, and the answers. To sweeten the pot for the candidates, we also allowed them to sum up their pitch to voters. For those playing at home, scroll down slowly from the question to see the candidates' answers and then the correct answer.
Let's begin!
Question 1: What scenically located District 3 bar rose from the ashes after a 2012 fire to continue offering residents cheap drinks, musical acts and and a bar menu offering funeral potatoes?



Sherm Clow
: The Garage! It happens to be a hangout spot of mine, and the funeral potatoes was a giveaway
Stan Penfold: The Garage. Best deep fried funeral potatoes, and the fried chicken is really good too.
Correct answer: The Garage, 1199 Beck Street.
Score:
SC: 1
SP: 1
---
Question 2: Multiple Choice: Which of the following is not true of Ensign Peak?
A. Brigham Young, early leader of The Church of Jesus Christ of Latter-day Saints, was said to have had a vision in Illinois of prophet Joseph Smith showing him Ensign Peak before the pioneers had ever entered the territory.
B. Brigham Young declared "This is the place" after climbing to the top of Ensign peak when the Saints arrived in the territory in 1847.
C.In the 1920s, the peak was used for a Ku Klux Klan ceremony and as a good cross-burning spot.
D.The spot, besides being of great spiritual significance for Latter-day Saints, is also an ideal spot for neckin'.
SC:
B. I was gonna say none of the above because I'm not sure that's really a good place for neckin'.
SP: There's a couple of tricky ones right there in the middle. I don't think this is where he said "this is the place," but....And the KKK one is just out there far enough it could be real. But I'm gonna say the cross-burning one [C.]
Correct Answer: B. Brigham Young's "this is the place" quote is generally considered to be uttered upon the Saints' emergence from Emigration Canyon.
SP: Dangit! I knew I should have gone with my gut. I guess I just hoped the KKK one wasn't true.
Unfortunately, the KKK's use of the peak was a documented occurrence.
Score:
SC: 2
SP: 1
---
Question 3: True/False: Southern X-Posure Downtown (1737 Beck Street) in District 3 is the only gentleman's club in Utah where visitors can enjoy booze and all-nude girls until 5 in the morning.
SC:
False, because I don't think they can stay up until 5 a.m. and there's a problem with booze and naked women.
SP: You can't have booze and all nude-women together, false. You can have fruit juice and all nude, that's fine. And it's healthier for you.
Correct Answer: False. Southern Exposure Downtown does have all nude dancers and is open until 5 a.m., but serves no alcohol
SC: It's open until 5 a.m.? I guess if I ever wake up in the middle of the night, I might have to go hang out there.
Score: SC: 3 SP: 2
---
Question 4: What 1920s throwback-style lounge was the first establishment in the Avenues to receive a full liquor license?



SC:
The Speakeasy.
SP: The Bistro
Correct Answer: The Speakeasy at The Avenues Bistro on Third, 564 E. 3rd Avenue
Score:
SC: 4
SP: 2.5 (partial credit)
---
Question 5: What is the name of the hill on Bonneville Boulevard where curiosity seekers can put their car into neutral and then mysteriously roll uphill?



SC:
Gravity Hill. But I don't know if you can do it anymore. You lose the effect these days because they made it one way. You needed to be going from the Capitol over to the Avenues. That's how I remember it way back when.
SP: Gravity Hill. I had somebody make the request that if we wanted to have true interest in our city we would put a marker up there and restore interest in Gravity Hill.
Correct Answer: Gravity Hill.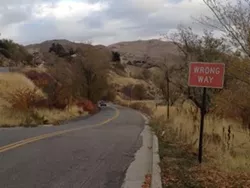 Score:
SC: 5/5
SP: 3.5/5
With Sherm Clow (pictured below) the winner of the district trivia quiz, we'll allow him to throw out his pitch to the voters first. It's a pretty simple one, based on Clow's campaign to "free the meters" in trying to encourage business downtown.
"I say roll back the meters to 6 pm and invite people to enjoy an evening downtown," Clow says.
And for incumbent councilman Stan Penfold (pictured below):
"I have thoroughly enjoyed representing the district for my first term, and I hope to continue I have some things in the works in particular around outdoor access and air quality I want to work on," Penfold says. "Biking, alternative transportation, air quality and access to the foothills. We live in a pretty incredible setting that's unique to anywhere in the country and we need to take care of it."