Election day is Tuesday, Nov. 5, and this year,
City Weekly
put the candidates for Salt Lake City Council to the test when it comes to how well they know their district. See how well you stack up against District 5 contenders Bill Davis, the small-businessman-about-town, and clean-air advocate Erin Mendenhall in this quiz covering the businesses, history, and oddities of District 5.---
If you've paid attention to the local council race, then you've probably heard all about what the candidates want to do for our fair city. But how well do they know the neighborhood businesses, local history and other trivia of their district? Let's find out. Below are the questions given to the District 5 candidates, and the answers. To sweeten the pot for the candidates, we also allowed them to sum up their pitch to voters.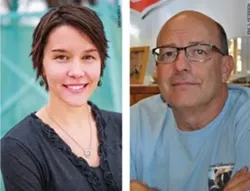 For those playing at home, scroll down slowly from the question to see the candidates' answers and then the correct answer. Let's begin!
Question 1: Which of the following is not true of Liberty Park?
A. Patchouli and rhythm lovers can enjoy a drum circle at the park held every Saturday during warm weather
B. In the early 1900s, the park was home to a zoo that housed an elephant named Princess, who once was made by trainers to do menial labor and broke free and went on a rampage
C. The park's Tracy Aviary was first started when an old-timey banker from the '30s donated his pet-bird collection to the park
D. Among other park activities, visitors enjoy Frisbee, tennis, barbecuing and occasional LARPing



Bill Davis: I would say B is not true. I think that elephant story is bullshit.
Erin Mendenhall: A. everyone knows the drum circle is Sundays.
Correct Answer: A. The Liberty Park drum circle is traditionally held on Sundays, not Saturdays. And the Liberty Park Zoo of the early 1900s did house an elephant named Princess, who did escape from handlers after they chained a wooden shed to her and tried to have her tow it across the park, according to the researchers at MappingSLC.
BD: I can't believe I missed that one! I can actually hear it from my house sometimes when it's quiet. I have been known to go and hang out there sometimes. There something primal about drumming that resonates with me. But then again, I was a Deadhead, or still am, so maybe you have to be a certain type of personality.
Bonus Question: What does the acronym LARP stand for?



BD: No idea
EM: Live Action Role Playing. I think it's great; it's not my thing, but I'm glad it's somebody's thing.
Correct Answer: Live Action Role Playing
Score
BD 0
EM 2
---
Question 2: What restaurant boasts a food challenge daring patrons to eat a a foot-tall burger (with bacon, ham, cheese, sauteed onions, and 28 ounces of fresh-ground chuck) and a another burger with 14 ounces of ground chuck topped with Belizean habanero puree and roasted habaneros, stuffed between two grilled-cheese sandwiches that are filled with sauteed onions, roasted jalapeños and roasted habaneros?



BD: I'll be honest, I do remember hearing something about this but I think I blocked it out of my memory because its sounds so disgusting.
EM: As a vegetarian on this one ,I'm at a loss -- crap; maybe it's on State. Doesn't sound like Coachman's fare, and I'm certain you're not going with Sonic. I hope Bill knew this one; I hope he's a hardier eater than me. Honestly, I don't know. I'm not gonna say Park Cafe because if they had something like that I would have known about it.
Correct Answer: Lucky 13, (135 W. 1300 South) is home to the Lucky 13 Challenge (pictured below), which was vanquished for the first time on March 4, 2013, by food-eating champion James Snead.
Score:
BD: 0
EM: 2
---
Question 3: Which park in District 3 is off-leash for dogs?



BD:
Herman Franks Park
EM: Herman Franks Park
Correct Answer: Herman Franks Park, 1371 S. 700 East
Score: BD: 1 EM: 3
---
Question 4: Which District 5 institution was in danger of being shut down this fall if supporters didn't hit a $700,000 fundraising goal that even required a kickstarter campaign to meet?



BD: Let me think about that ... I'm gonna say Tracy Aviary, but I don't think that's right.
EM: Why am I not coming up with this? Crap. I'm thinking this fall, Whittier Elementary was at risk of losing Title 1 status and had this classical-piano program that was going to get cut, but that was not $700,000. Am I so myopic with my campaign to miss some serious fundraising effort under my nose? Can I be doing this badly? Could this be the King of the Andes condor exhibit at Tracy Aviary? Yeah, I think so.
Correct Answer: The Tower Theatre (876 E. 900 South), one of the Salt Lake Film Society's venues for foreign and independent films, was at risk of closure, as beginning in January, new films distributed in the United States will all be digital. Luckily, supporters raised the last $50,000 for the digital deadline through a successfully crowd-funded Kickstarter campaign to update the technology at the iconic art house theater.
Score:
BD: 1
EM: 3
---
Question 5: What famous actor and comedian was once a part-owner of the Trappers, the team later to become the Salt Lake Bees?



BD: Bill Murray
EM: Oh, jeez, is it Steve Martin?
Correct Answer: Bill Murray
EM: No way! My favorite actor? I did not know this! Maybe if I paid my fanclub dues I would have known this. Bill Murray. Shoot, I love him even more now.
Final Score:
BD: 2/6
EM: 3/6
---
Well, at the final tally, Mendenhall has taken the lead, thanks especially to her knowledge of LARPing and drum circles. As a prize, we'll allow her to give her voter pitch first.

"My experience in nonprofit, legislative and policy work, combined with the working relationships I have around land use and transportation planning, will be beneficial on the council," Mendenhall says. "I see it as a good-neighbor position, as it's the closest government we elect to our neighborhoods."


And for Davis:

"I will be a very strong independent voice for District 5, and I feel your priority as a representative on the city council is to represent your district first," Davis says. "Based on my vast experience, I will hit the deck running and represent all constituents of District 5."
*Mendenhall photo courtesy of Dan Morris