We eat a lot of tacos, burritos, flautas, enchiladas and such at our house. Well, %uFFFDI've finally developed an all-purpose, slow-cooker shredded-beef recipe that I'm really happy with. --- My family loves it, and the beef is perfect to fill tacos, burritos or enchiladas with. It also works great as a stuffing for omelets, or between toasted buns for a shredded spicy beef sandwich. You could even use it as a pizza topping or for quesadillas; the sky is the limit for this very versatile and easy beef recipe.%uFFFD
Despite the amount of spices called for, the beef turns out highly spiced and flavorful, but not hot and fiery. You could kick it up a few notches with the addition of some hot sauce.
Ingredients:%uFFFD
2 1/2 to 3 lbs. boneless beef roast, such as chuck (I've used a rump roast here)
3 Tbs. New Mexico chile powder
1 Tbs. ground cumin
1 Tbs. brown sugar%uFFFD
1 tsp. garlic powder
1 tsp. dried oregano (preferably Mexican)
1 tsp. kosher salt
1/2 tsp. cayenne pepper%uFFFD
1/2 tsp. onion powder
1/4 tsp. ground cinnamon
pinch of ground cloves
14.5-oz can diced tomato, with juices
4-oz can diced green chiles, with juices
1 small onion, thinly sliced%uFFFD
1/2 cup salsa de ajo or your favorite red salsa (click here for my salsa de ajo recipe)
Canola or vegetable oil%uFFFD
Method:%uFFFD
In a bowl, whisk together all of the dry spices and seasonings with a tablespoon or so of oil, to make a paste.
Spread the paste all over the beef roast.
Over medium-high heat with a tablespoon of oil in a large skillet, sear the beef on all sides until nicely browned.
Place the beef into a slow cooker. If the roast is too big, just cut it into chunks. You're ultimately going to shred the beef, anyway.
Pour the canned chiles, tomatoes, sliced onion and salsa de ajo%uFFFDover the beef.%uFFFD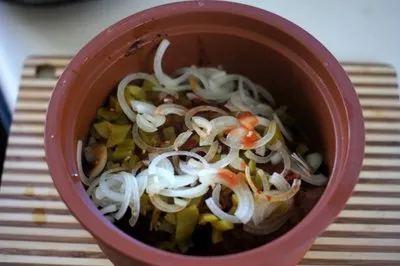 Cook in your slow cooker or crock pot, according to manufacturers directions, usually 8-10 hours on the low setting. I use a slow cooker with a clay pot called a VitaClay, which cooks much more rapidly than standard slow cookers. So, I set mine for 4 hours and leave it.
At the end of the cooking time, remove the beef to a cutting board and cut it into manageable chunks.
Using two forks, shred the beef.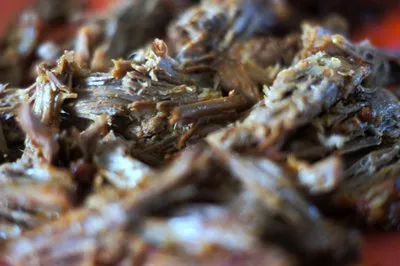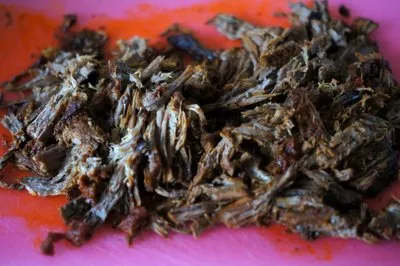 Return the beef to the slow cooker set on "warm" and toss with the leftover juices in the pot. Let the beef and the juices mingle in the pot until ready to use. The shredded beef freezes very nicely, if you have leftovers.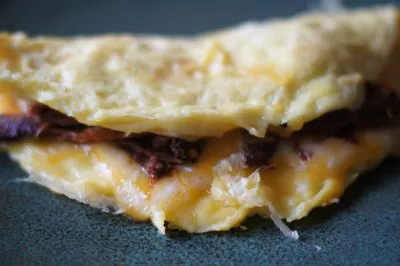 Photos by Ted Scheffler