Trying to make a name for yourself as a photographer is hard enough when honing your skills, but the constant advancement of technology makes it almost impossible to ever be totally on top. --- Frequent updates and changes in lenses, software, digital imaging, storage, capability and more have created not just a wide market of choices for photographers to choose from, but have also made it increasingly difficult to have the best on a budget. Thankfully, a little shop in Sugar House has started to make all of that easier.
Acme Camera Co. started up earlier this year, providing the equipment and tools necessary for those who don't have cash to burn on a full purchase to rent out what they need from a group of experienced photographers who can assist you in almost every way possible. Today, I chat with founder Jacob Nuttall about his career and the newly formed business. (All photos courtesy of Acme Camera Co.)
Jacob Nuttall (With (L-R) Jennifer Kamp, Amelia McGregor and Alisia Sansom,)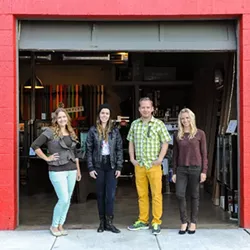 Gavin: Hey, Jacob. First thing, tell us a little bit about yourself.
Jacob: I am a Utah native, I have a small family and a beautiful wife. We built a modern home near downtown and we really enjoy being so close to the city. I come from a huge family, and most of us live here in Utah and get together often. I am dedicated to the idea of living, working and playing in the same neighborhood. We have been able to accomplish that pretty well with the location of Acme Camera.
Gavin: What got you interested in photography, and what was it like learning the art?
Jacob: I first became fascinated with photography in my sophomore year of high school. I had a great teacher named Horst Holstein, who really inspired my confidence in photography. I then went on to spend half a day learning photography and darkroom skills -- for the next two years -- with Alan Arko at the Jordan Technical center. I had almost unlimited exposure to both a color and a black&white darkroom. This allowed me to become very familiar with printing and processing black&white and color film and prints. My favorite aspect of photography is the fact that it requires technical and creative talent. Most photographers are stronger in one than the other, which makes for great opportunities to collaborate and learn from each other.
Gavin: How did you break out as a photographer, and what do you do with the medium to this day?
Jacob: I may not have ever "broken out"; my career as a professional photographer never really took off the way I had envisioned. I do still enjoy photography a lot and I get excited when the light is beautiful and the equipment is capable. I primarily do candid portraits of friends and family, and rarely if ever work professionally as a photographer.
Gavin: What made you go into the retail end, and what was it like working the business as long as you have?
Jacob: I spent a few years trying to be a professional photographer. I ended up working in the retail side, selling cameras and equipment to supplement my photography career. This allowed me to be immersed in the world of photography and photographers in a more supportive role.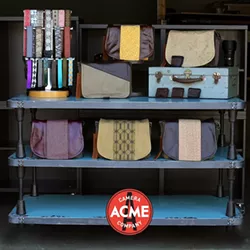 Gavin: What made you decide to start your own camera business?
Jacob: I found my self suddenly in need of a job, and instead of writing a resume, I started writing a business plan. I shared it with some friends and mentors, who helped me refine my ideas, and I eventually started applying for loans and slowly put it all together.
Gavin: How did you come across the location in Sugar House, and what made you decide to take it?
Jacob: I had nearly given up on the idea of having a storefront and was looking for inexpensive warehouse space instead. I looked at the KSL classifieds and came across this space, which was a similar price to a small warehouse space and in a great neighborhood. I was then able to renovate and build out the space to meet our needs. I love being in Sugar House; it's a very active neighborhood and we have found that many of our customers are able to walk to our store. We are excited for the Sugar House Trolley to open and see the additional people it will bring to our neighborhood.
Gavin: What was it like setting up the place and getting the products you wanted to sell?
Jacob: It was a ton of work converting our space from a wood shop to a retail store. I had some good help from friends. We were also able to reuse most of the materials in the building by placing ads for "free building materials," which people quickly took away to use on their own projects. Getting the products in was fun once we got our funding in place. We have had good support from our suppliers. There has been a need for an additional camera store in SLC for quite a while now.
Gavin: What made you decide on the Acme name, and what does it mean to you?
Jacob: Honestly, the name Acme, in my mind, is very ordinary-sounding. I was looking for something that conveyed the utilitarian approach I was trying to create. We also chose to include the word "camera" to make it obvious as to what we do. On a side note, Acme is a synonym for peak and pinnacle, so there is a little hidden meaning in that, too. There is no intentional reference to the Road Runner cartoons, though.
Gavin: What was it like opening up, and how are the first few months being open?
Jacob: The first few months have been really great, actually; we have had so much support from the photographic community. We are still striving to get the word out that we exist and that we have great products and services to offer.
Gavin: For the staff, who did you bring on board, and how do they help out the shop?
Jacob: My main goal with hiring was to find people who are naturally friendly people. Our goal is to build long-lasting relationships with our customers; I believe the people at Acme are capable of this. On staff, we have Alisia Sansom, Jennifer Kamp and Amelia McGregor. These three women have diverse skills and backgrounds, but they all have a natural friendliness that is hard to create in an employee.
Gavin: How do you go about choosing what kind of equipment and products to have in the shop?
Jacob: We do our best to keep our ear to the ground and bring in products to rent and purchase that have built-in demand. We don't want to spend too much time creating demand for products, we would rather give the people what they want! We also have some basic criteria when it comes to profit margins, etc. We don't carry Canon and Nikon products for the simple reason that they do not provide an adequate margin for a store our size.
Gavin: Not a lot of people are doing camera rentals these days. What made you decide to add that aspect to the shop?
Jacob: Photo-equipment rental is what I have the most experience in. I love the idea of everyone having access to incredible photographic equipment; rental is a very inclusive type of business to be in. Sales of high-end equipment excludes so many customers who simply can't afford it. Rental is a natural fit for us.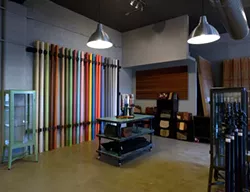 Gavin: How is it keeping up with the changing trends in digital media?
Jacob: We plan to re-sell our equipment frequently, which will make it easier for us to stay on
top of the technology curve. Things do change fast in the world of photography; we will do our best to keep up with it.
Gavin: Are there any plans to expand the shop at this point, or are you keeping things how they are for now?
Jacob: We don't have plans for physical expansion at this time. We do, however, plan to increase our rental inventory steadily in both depth and variety.
Gavin: What can we expect from both you and the shop over the rest of the year and going into next?
Jacob: We will be doing our best to support the arts in SLC and, hopefully, becoming a household name with those who share an enthusiasm for photography.
Gavin: Is there anything you'd like to promote or plug?
Jacob: Come in and see us and visit our website AcmeCameraRental.com.



| | | | |
| --- | --- | --- | --- |
| Follow Gavin's Underground: | | | |