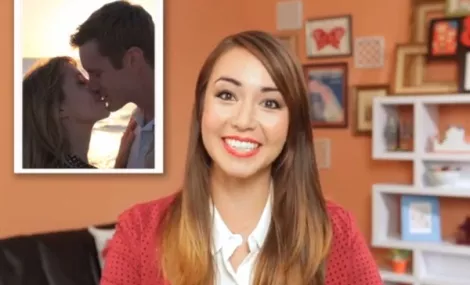 The creators of The Lizzie Bennet Diaries, the Emmy-winning video blog based on Pride and Prejudice, are back with a new series based on Emma. Jane Austen's stories have been adapted numerous times, but never like this.---
Created by Hank Green and Bernie Su, the series adapts the classic novels to modern times using YouTube-style video blogs. Lizzie Bennet was a graduate student, complaining to the Internet about her family, while Emma is running a life-coaching company, documenting her success for when she accepts her "lifetime achievement award in lifestyle excellence."
However different they may sound from the source material, the underlining characteristics that Austen fans know and love are still present. Emma is now a driven young entrepreneur, but she's still self-absorbed, with an abundance of confidence in her matchmaking skills, and is convinced that her way of doing things is the best.
"I am there as long as they need me because, after all, my clients are the type of people who won't know what they need until I show it to them, and they always thank me later," she says. "Can you imagine a purpose more noble and fulfilling then bettering the lives of the people? [laughs] Of course, you can't."
If you already don't like her, don't worry; she's meant to be that way. In the first chapter of Emma, it says that Emma's problem is "the power of having rather too much her own way, and a disposition to think a little too well of herself."
But the creators have also shown they are not afraid to stray from the original plot line. Emma Approved starts off with Emma's best friend, Annie Taylor (Emma's governess in the novel), deciding to cancel her wedding, which didn't happen in the novel. The added plot line is a simple way to show the audience Emma's overconfidence and stubbornness without the omniscient narrator used in the novel.
Emma Approved is taking one noticeably different approach from LBD. Instead of making the audience wait 59 episodes before revealing the main love interest, in Emma Approved, Emma's love interest, Alex Knightly, is a main character and her business partner, with whom she has most of her scenes. Their relationship is different in the video series than in the novel, but their witty banter and arguments are still there.
One of the things that makes this web series and LBD stand out are the spoilers and extras on social-media sites, particularly Twitter. Each character has his or her own Twitter, including characters who have not yet made an appearance on the show. The profiles are intricate, down to the people whom the characters follow—Emma, who blogs about fashion, is following fashion blogs and Martha Stewart and Oprah Winfrey. The character Harriet even started tweeting before the show aired about unemployment and applying to Emma's company for a secretary position.
The series has released only 12 episodes so far, just hitting the beginning of the plot of the book, but is off to a good start. The creators stopped LBD after 100 episodes, when they hit the end of the Pride and Prejudice story, but have not said how long Emma Approved will last. Episodes air every Monday and Thursday on the Pemberley Digital channel on YouTube.