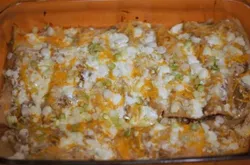 I love homemade enchiladas. They are pretty inexpensive to cook, especially if you use leftover cooked chicken or turkey to make them. --- At this time of year, it's a great way to make use of leftover Thanksgiving turkey.
The key to successful enchilada making is to set up a production line. That's because you need to cook the tortillas first briefly in hot oil, then dip them into enchilada sauce before stuffing them. You'll make a bit of a mess in the kitchen, but the wonderful flavors are well-worth the trouble.
Ingredients:
1/2 red onion, thinly sliced
10-oz shredded cooked chicken or turkey
1 4-oz. can diced green chiles
salt and black pepper, to taste
corn tortillas (This recipe makes 8-10 enchiladas, but have some extra tortillas on hand since some inevitably break and fall apart.)
vegetable or canola oil
enchilada sauce (I usually use store-bought. Here I use verde sauce, but red enchilada sauce is also good. Or, you could use mole sauce for a richer, deeper flavor.)
6 to 8-oz. shredded cheese, such as cheddar or a Mexican cheese mix
1 cup queso fresco Mexican cheese, crumbled (optional)
2-3 chopped scallions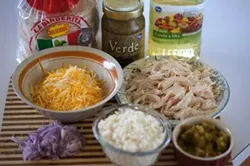 Method:
Preheat the oven to 350 degrees. F.
Saute the sliced onion in a teaspoon of oil over medium heat, just enough to soften them. Don't brown the onions.
Add the chicken and chile peppers to the pan and heat through, stirring. Season to taste with salt and pepper and set aside.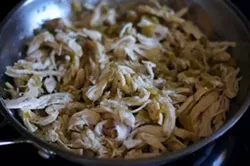 Now, set up an enchilada-making production line in your kitchen. Place a skillet with 1/4 inch of oil on one burner over medium heat. Put some enchilada sauce in a second skillet and warm over medium-low.
On the kitchen counter, place a plate or platter for assembling the enchiladas, the chicken filling, shredded cheese, and optional queso fresco.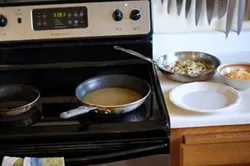 It helps if you have an assistant: one person to prepare the tortillas and another to stuff them.
Working with one tortilla at a time, heat a tortilla in the hot oil for about 10-15 seconds per side. You don't want to fry the tortilla, just heat it through and make it supple for rolling.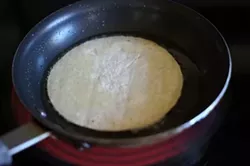 Using tongs or a spatula, remove the tortilla from the hot oil and dip it briefly into the enchilada sauce.
Put the prepared tortilla on an empty plate.
Place some shredded chicken and a tablespoon or so of shredded cheese on one side of the tortilla.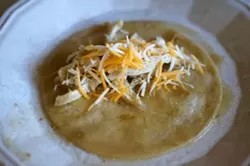 Roll the tortilla up and place into an oiled, oven-proof baking dish. Repeat with the remaining tortillas and stuffing.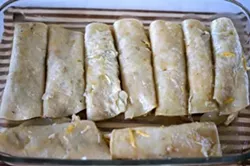 At this point, you could cover and refrigerate the enchiladas to cook later. Before cooking, top the enchiladas with the remaining shredded cheese and the optional queso fresco.
Cook in the oven, uncovered, for 20 minutes or until the cheese is bubbly. I like to lightly brown the enchiladas by turning on the broiler for that last couple of minutes of cooking.
Remove the enchiladas from the oven, top with the chopped scallions and serve.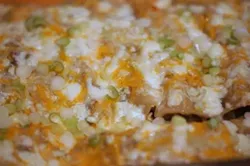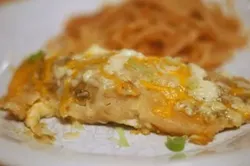 Photos by Ted Scheffler