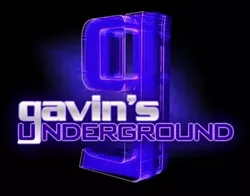 Before 2013 comes to an end, Repertory Dance Theatre has a performance lined up that's due to be a delight for anyone looking for something non-holiday oriented. --- Lively will showcase several works with a lighter side, focusing more on whimsy found within the art. The show will kick off tonight and run through Saturday, featuring works from Bill Evans, Susan Hadley, Joanie Smith and some surprise performances yet to be announced.
Today, I chat with our old friends Sarah Donohue and Aaron Wood about the performance and thoughts headed into opening night. (All photos courtesy of RDT.)
Aaron Wood and Sarah Donohue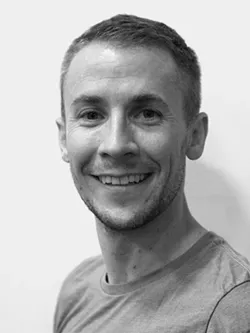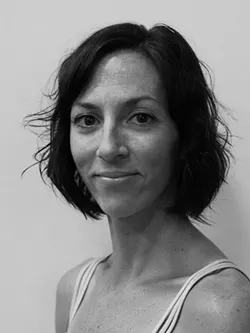 Gavin: Hey, Aaron and Sarah. First off, how have you been since we last chatted?
Aaron: I've been doing well, just staying busy teaching, dancing, choreographing and enjoying what life has to offer.
Sarah: Busy! Which is great. RDT has been touring, producing and rehearsing many shows, and I have been teaching both for RDT and at Salt Lake Community College.
Gavin: What have you both been up to lately outside of RDT?
Sarah: Aaron and I just had the opportunity to teach and choreograph a wonderful group of students at Utah Valley University. We spent a week teaching technique classes and setting a new My Turkey Sandwich piece that is based on ideas of wishing. UVU has some talented and hard-working students!
Aaron: This summer, I took a trip to NYC so I could take some classes and see shows. It was great to be immersed in the New York dance scene and I came away excited for the direction our art form is heading. More recently, Sarah and I spent a week down at UVU teaching and choreographing as part of our dance company, My Turkey Sandwich. We worked with their students on a piece that they will be performing this coming spring.
Gavin: With this being Aaron's sixth year and Sarah's fifth with RDT, how has it been for both of you being a part of the company this long?
Aaron: When I started dancing for RDT seven years ago, I couldn't have imagined all of the opportunities that were going to be offered to me. With any career and as with life, there have been ups and downs, but I feel very fortunate to have been a part of the RDT legacy. I have become a stronger and more knowledgeable dancer, performer, teacher and person thanks to the choreographers and fellow dancers I have worked alongside.
Sarah: The last five years has been full of unique experiences, inspiring teachers and choreographers, and performance opportunities that I cherish deeply. I feel I have grown as a dance artist and gained an appreciation for the many aspects of dance production, touring, performance and teaching.
Gavin: When did you both learn about the planning for Lively, and what did you think about the show?
Sarah: We usually meet toward the end of each season to discuss ideas for the following year. I thought it sounded like the perfect show. As much as I love dancing about serious and powerful themes, a show like this reminds me of why many of us started dancing: because it's fun and it feels good to move. I am glad that we can bring such an energetic and entertaining show to the Salt Lake audience.
Aaron: We learned about Lively while on tour to Montana last spring. I was excited about the show, especially since it was described as -- and has turned out to be -- an upbeat and fun show, with something for everyone.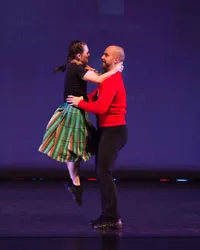 Gavin: What was it like for each of you learning these performances?
Aaron: Learning these dances, one has to understand the nature of each dance. Each one is challenging in its own way: Some are graceful, some are athletic, some are funny and some are a vulnerable.
Sarah: One of my favorite things about RDT is that we always get to dance an array of pieces that feel very different to rehearse and perform. We start the performance with "Fin Amours," Susan Hadley's sometimes humorous, always luscious duets, where I get to dance with Aaron. The next piece I'm in is the powerful and gutsy "Bolero" by Joanie Smith. And we close the concert with the campy yet rhythmically intricate "Jukebox" by Bill Evans. It's quite the ride of dynamic energy!
Gavin: Having already worked together so much, how easy is it for the two of you to work together and pick up on the other's movements while learning?
Sarah: There is something magical about dancing with Aaron. He is a generous and thoughtful partner in both rehearsal and performance. We have a wonderful challenge in one of the Hadley works called "Rolling." With lots of lifting and weight-sharing, and some gymnastics, we are finding the true importance of momentum and trust.
Aaron: Having worked with Sarah on a number of projects, we have learned how to express ideas without really saying all that much. We have learned to listen to one another and trust each other wholeheartedly.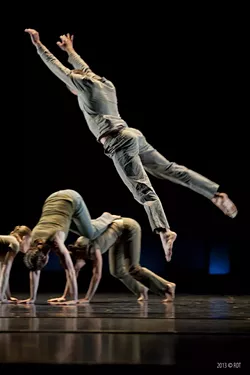 Gavin: With both of you company veterans, what's it like working with newer dancers and leading them as part of the troupe?%uFFFD
Aaron: Working with the newer dancers has been a treat. They are passionate, smart and talented artists. We all learn from one another, which is the RDT way. Even though I have been in the company for seven years, that doesn't mean I don't have something to learn from a company member who has been here for three years, or one year, or even a month. My goal is to always demonstrate that we never stop growing, learning and expanding our ideas and truths about our art form. Each dancer has their own lived experience, and from those experiences we teach each other about art, dance and life.
Sarah: I think this concert really showcases the diverse talents of this mostly new company. Each dancer is bringing to life different parts of the show with clever characters, pure energy and skill. It has been a pleasure dancing with this company and seeing what each of us brings to the stage.
Gavin: How has it been working with the rest of the crew to bring this show to life?%uFFFD
Aaron: It's been good. The arts are always in a state of uncertainty; I suppose that's part of what makes being an artist exciting. We are always trying to find new ways to connect with audiences, and one of the goals for this performance is for the dancers to meet and personally invite new audience members to see our show. When someone knows a performer, there is a relatability, which makes a performance that much more exciting to watch.
Gavin: What's been your favorite piece from Lively that you've enjoyed working on as a performer?
Aaron: I have to say that every piece in this show has been a lot of fun to learn. However, my absolute favorite is "Bolero" by Joanie Smith. We performed this work last year, and not only did it become a dancer favorite, but an audience favorite, as well. "Bolero" is 14 minutes of nonstop running, partnering, jumping, throwing-your-body-to-the-floor-and-never-giving-up mental prowess.
Sarah: I love the challenge that "Rolling" is bringing to me and Aaron. It is invigorating to have to concentrate, sync up and execute maneuvers that I would not normally choose to do. I think it's going to be very exciting and rewarding to perform.
Gavin: What are your thoughts headed into opening night?
Sarah: Energy. Energy. Energy. With eight runs of a Lively show in the next six days, it will be both an artistic and physical feat. I love it!
Aaron: I always get nervous for opening night and this will be no different. However, knowing that I'm about to dance and have a good time with my friends onstage always makes the nerves subside.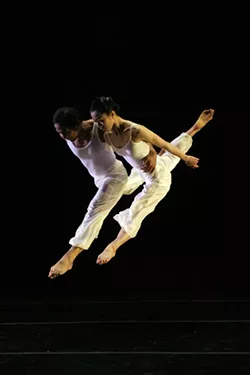 Gavin: What can we expect from both of you over the rest of the year and going into next?
Aaron: The rest of the year includes lots more dancing, choreographing and teaching.
Sarah: Even before one show is over, we are looking forward to the next. The dancing of our spring show is always some of my favorite. With choreography by Shapiro and Smith, Zvi Gotheiner, Ze'eva Cohen, and Molissa Fenley, I am looking forward to dancing some excellent choreography.
Gavin: Aside from the obvious, is there anything you'd like to promote or plug?
Sarah: RDT is hosting its secnd-annual Winterdance Workshop, Jan. 2-4. Come take some technique classes and learn RDT repertory! It's a great way to start the year.
Aaron: Come take some dance classes at the RDT Community School. We have all sorts of classes, from beginner to more advanced, that will suite any adult mover. We have hip-hop -- taught by newest RDT company member Justin Bass -- jazz dance, flamenco, ballet, African and, of course, a variety of modern-dance classes. Also, we have our Open House on Jan. 4, where you get to sample all of our classes on one day for just $10! Visit the website for more info.



| | | | |
| --- | --- | --- | --- |
| Follow Gavin's Underground: | | | |