One of the biggest pops that Salt Lake Comic Con had on the local entertainment scene was giving a boost to the local art community, especially those doing comics and pop-art. --- Over a weekend's time, dozens of artists received tons of exposure they normally wouldn't see, which has now pushed the geek community to seek out any and all artists even remotely associated with the genre to find some of the best renditions and unique takes to their favorite characters.
One of the pop artists seeing a lot of attention lately is Buddy Eyre, taking classic and modern figures and putting them in brand-new styles for people to enjoy. Today, I chat with Eyre about his career and style, as well as the subjects he chooses and what he's got coming down the line for people to check out. (All pictures courtesy of Eyre.)
Buddy Eyre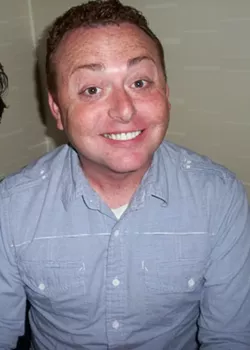 Gavin: Hey, Buddy. First thing, tell us a little bit about yourself.
Buddy: Hey, Gavin. I am a Utah native, was raised in Orem. Graduated from Orem High School and then went to Brigham Young University for a year before I decided to move to New York. I lived in NYC for five years, working in retail and acting. I eventually became a personal assistant for Michael Feinstein and spent my last year between New York and Los Angeles. I moved back to Utah in 2003 and have been in Salt Lake ever since.
Gavin: What first got you interested in art, and what were some early influences on you?
Buddy: I remember being very young and watching my mom paint. She really loved Norman Rockwell; in fact, his exhibit was the first I ever went to. He was the first influence I remember. One of my first attempts at painting was my own version of his The Discovery, the boy finding Santa's clothes in his parent's dresser. I've always been more interested in portraits than landscapes. I admire Joseph Leyendecker, as well.
Gavin: What was it about painting that really got to you and made you pursue the genre?
Buddy: Originally, in elementary school, I decided that when I grew up, I would be an artist for Walt Disney. I was painting every Disney character I could think of. I continued to paint throughout high school, but mostly portraits of old movie stars; Cary Grant and Vivian Leigh. When I moved back East, I stopped painting altogether. It wasn't until I moved to Salt Lake and was working a very stressful daytime job that I decided to start painting again. It was the We Can Do It poster that started it all again. I was very poor, living in a tiny apartment in Sugar House and couldn't afford to buy a thing to put on my walls, so I borrowed acrylics from my mom and haven't stopped painting since. It is the most relaxing thing for me -- I come home from work and all I can think about is painting.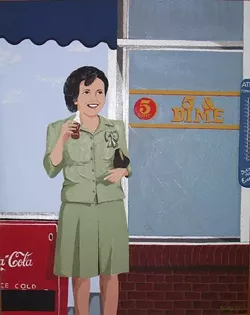 Gavin: Did you attend any college prior to starting your career or were you mainly self-taught?
Buddy: The only art class I've taken was in 7th grade; I have taught myself how to paint. There have been several paintings that will never see the light of day, practice paintings -- trying new things to figure out what I like and what I want the painting to convey. I'm very comfortable with a "pop art style"-- bright colors, comic-strip styles and science-fiction themes.  
Gavin: What was it about pop culture that caught your eye as a subject?
Buddy: I don't know, it's just what I've been drawn to all my life. I recently found my book of paintings from age 8 to 14 or 15, and everything in it fits with my obsession for popular culture. I guess it's just a part of me.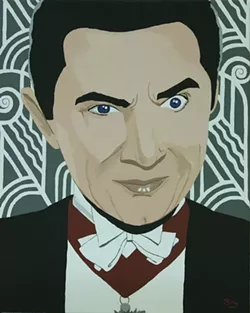 Gavin: What eventually pushed you toward doing a pop-art style and creating works based on popular icons?
Buddy: It's an infatuation with me. Painting characters from my favorite shows or movies really was my hobby. It was exciting to paint something and hang it in my home, and then to have a friend comment on it, or want to buy it, was like a natural high! There is something about creating my own version of a character that comes naturally. I like blending classic pop-art images with comic-book characters. Earlier this year, I painted a Lynda Carter Wonder Woman in the Marilyn Monroe Seven Year Itch pose, and I'm currently finishing a Batman & Robin mash-up with Grant Wood's American Gothic. I'm calling it American Gotham.
Gavin: What was it like for you first breaking onto the local art scene and getting shown in galleries?
Buddy: It has been amazing! I was having a party at my home, and Marcus Gibby, one of the owners of Mod A-Go-Go, approached me about selling the art I had just hanging on my walls.  Since then, he and Eric Morley, the other owner, have been so supportive; it has been one of the most exciting experiences of my life. I'll get comments from friends on Facebook, people I haven't seen in years, telling me that they were just in the gallery and didn't know I was an artist. The exposure has really been amazing.
Gavin: Considering most of your works play off of already-familiar icons, what was it like hearing reactions from people about how they were showcased?
Buddy: It has been so excitin; I have had a lot of really great reactions. I did a series of Mad Men characters that have been very popular at Mod A-Go-Go. Seeing a huge painting of Don Draper sitting above a mid-century bar was so perfect; the way they showcased my paintings in the gallery is fantastic. I couldn't be happier with the way the paintings play off the furniture and the décor in the gallery.
Gavin: What's the process like for you in creating a new piece, from concept to final product?
Buddy: Usually, I'll see an image in a show on Netflix, or in a magazine and have to paint it. All of my paintings are done on canvas; I'll usually start sketching something the moment I decided to paint it directly onto the canvas. And then, I just begin. I'll pull all of the colors that I think I'll be using on the painting and dive right in. Sometimes I'll work on one painting from start to finish, but more often than not, I'm working on three or four at a time.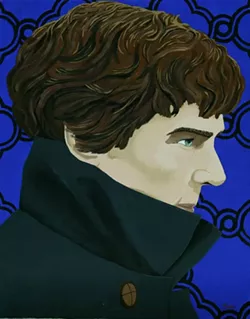 Gavin: Do you tend to play around with your creations as you make them, or do you stick to a certain idea once you've thought of it?
Buddy: There aren't a lot of changes to the final product once it's been sketched. Most of my paintings are cemented in my mind from the moment I start. Once the sketch is completed, I rarely change the overall look of the piece.
Gavin: You've had some high-profile exhibitions lately, especially with Mod A-Go-Go, which has several of your pieces hanging beyond exhibitions. How is it having a foot in a business like theirs and getting your work seen in a popular location?
Buddy: Mod A-Go-Go has been so amazing; I think there are well over 20 of my pieces in their gallery! Marcus and Eric have been such amazing promoters of my work and are constantly asking me for new pieces. It really has been a dream come true. I started painting for me, for my home décor, and now, to actually sell my paintings to people all over the country -- it's amazing. I can't thank them enough for letting me be a part of such a great gallery.
Gavin: What are you currently working on at the moment, both concept- and style-wise?
Buddy: My latest concept is new to me. I usually like to do portraits from the waist up, but I have started a lot of very close-up portraits -- just the face or head of the subject, very tight; it's been kind of fun. Style-wise, I'm sticking with a pop-art feel to my paintings -- bright colors and high-contrast backgrounds. I just finished a painting of Benedict Cumberbatch as Sherlock Holmes, which I am really excited about, and I'm nearly finished with David Tennant as my favorite Doctor from Doctor Who.
Gavin: Going local, what are your thoughts on our art scene, both good and bad?
Buddy: It is all new to me. My favorite thing has been meeting the other local artists. There is so much talent in this valley! Mod A-Go-Go has some pretty amazing talent, and a lot of us get together for every Gallery Stroll and talk shop. I don't think I have been present in the scene long enough to really know much "bad." I am kind of a Pollyanna.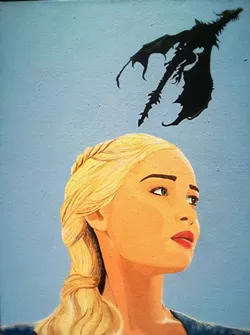 Gavin: Is there anything you believe could be done to make it more prominent?
Buddy: I try to do as much as I can to get the word out about Gallery Stroll and upcoming shows. I'm always posting something on my Facebook page, or mentioning it at my day job to everyone I speak with. I am sure there are ways to get more attention directed at the local art scene -- word of mouth is a great steppingstone.
Gavin: Not including yourself, who are some local artists you like and recommend people should check out?
Buddy: I adore the work done by Heather Ackley. She is so talented! I also love the wood burnings by Scorched by Britt -- really amazing pieces.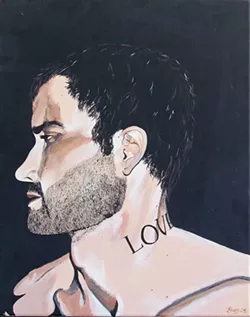 Gavin: What's your take on Gallery Stroll and the work they're doing to promote local art?
Buddy: Every Gallery Stroll that I have been to since I started selling my art has been growing. Each month, the event seems to have doubled in size. It's such a fun event each month, to be able to walk into several galleries in the downtown area and see amazing works of art. I love it.
Gavin: What can we expect from you over the rest of the year and going into next?
Buddy: I plan on participating in several events this year.  I'm working with Mod A-Go-Go to put together an art show of all of my work. They have started selling prints of my art, so check that out. I am planning on selling my work at Craft Lake City this year, as well as at Comic Con in September. I'm going to be working on several comic-book-character-inspired pieces, as well, and some Doctor Who, Star Wars and Star Trek art!
Gavin: Is there anything you'd like to plug or promote?
Buddy: I'm currently building a website. Once it's completed, I'll post a link on my Facebook page. Until then, check out my work on Facebook. Thanks, Gavin.



| | | | |
| --- | --- | --- | --- |
| Follow Gavin's Underground: | | | |