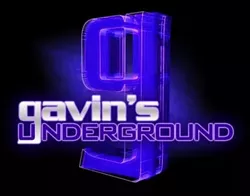 Tuesday night, Dec. 3, at 7 p.m., Plan-B Theatre and KUER return with what's become a seasonal tradition, the eighth Radio Hour play to be performed and broadcast live from the Rose Wagner. --- Continuing the Season Of Eric, the next installment is Fairyana, a look into the writers of a children's show as they come together to write a new series, where the characters slowly take shape in more ways than one. Today, I chat with playwright Eric Samuelsen, as well as the director Cheryl Cluff and two of the show's actors, before the one-night only performance kicks off. For those who can't attend, remember to listen on KUER 90.1. (All pictures courtesy of Plan-B.)
Cheryl Cluff, Jay Perry, Jason Tatom and Eric Samuelsen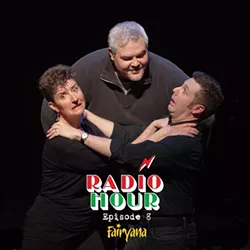 Gavin: Hey, everyone. First off, tell us a little bit about yourselves.
Cheryl: I'm 48. I co-founded Plan-B in 1991 and I'm the company's managing director. I have directed all of the Radio Hour shows and design sound for most Plan-B shows.
Jay: I grew up here in the 801 and I live downtown with my wife, Daisy, and my chatty cat, Chester. In addition to learning cat speak, I've been teaching Chester some new human words including "Wow," "Hello," and "Chessie bit me. Ouch, Chessie, that really hurts." He's working on it. I love living in Utah. I love the artistic community here and everything our great outdoors have to offer.
Eric: I'm Eric, of The Season of. I'm a retired theater professor, now a playwright and blogger. I live in Provo, and enjoy it. Baseball fan, basketball fan, soccer fan, in that order. Love RSL.
Jason: Hey, I'm Jason Tatom. What to say, what to say ... well, I'm an actor, teacher, voice-over artist, and audio-book narrator. I went to Brigham Young University, then got my MFA at the dearly departed National Theatre Conservatory in Denver. Plus, as this is only my second Radio Hour, I'm definitely still the newbie in the room.
Gavin: What have each of you been up to with local theater over the past year?
Cheryl: I most recently designed sound for this season's Nothing Personal. Last season, I directed and designed sound for Suffrage and Radio Hour Episode 7: Sherlock Holmes & The Blue Carbuncle, all for Plan-B.
Jay: This past spring, I narrated Peter & The Wolf for Plan-B and the Gina Bachauer International Piano Foundation. With the incredible Kary Billings on the piano, we reached more than 10,000 students in Salt Lake and Davis county elementary schools and had a blast. I was in my first show with Pygmalion Productions, A Night With The Family, and taught at the Egyptian Youtheatre this past summer, where I also directed an original '80s musical of A Midsummer Night's Dream. Totally bodacious! And I recently started working full-time with Penny Caywood at the University of Utah's Youth Theatre. And I just narrated The Soldier's Tale for Plan-B, and NOVA Chamber Music Series with Jason.
Eric: We just closed Nothing Personal at Plan-B, which was an amazing experience; loved watching my play come to life. It's the kind of thing that doesn't happen often, where you imagine what the experience of seeing the play will be as you write it, and then a great director -- Jerry Rapier -- and terrific cast -- Kirt Bateman, Dee-Dee Darby-Duffin and April Fossen -- make it 20 times better than you'd imagined.
Jason: I've been quite busy with audio books over the last year, but have been lucky enough to be involved with some Script-In-Hand Series readings for Plan-B: Reykjavik, and Eric's new translation of Ghosts. Eric brought out the funny in Ibsen -- who knew? And I just narrated The Soldier's Tale for Plan-B, and NOVA Chamber Music Series with Jason.
Gavin: Eric, how did the idea come about for Fairyana, and how did it grow from there?
Eric: The idea was one of those that comes in a flash. I'm a big fan of hard-boiled detective fiction, and especially comic hard-boiled fiction, as it appears in the world of Donald E. Westlake. And I got the idea of writers for a children's television program, only they all talk like they're straight from the world of Westlake or Elmore Leonard. So, I wrote it as a stage play, and then it languished for a long time. We had a reading of it, and one of the actors made a suggestion that transformed the play: "One of the characters should be brutally murdered," and that raised the stakes comically for me. Basically, two writers, Stan and Viv, write The Magical Land of Fairyana, a really syrupy children's TV show. Stan's a hypochondriac and Viv's an alcoholic. And their boss, Max, is a sociopath. And they're stuck for story ideas. So, Max insists, over Viv's objection, that they revive a particularly cute villain from episodes past, Snoogums. And Snoogums comes to possess Viv.
Gavin: How challenging was writing in the the Radio Hour format and making sure it worked within the hour-long timeframe?
Eric: Getting the thing down to the hour format was a tremendous challenge for me. I'd never written in this format before, and I had to pick the brain of Matt Bennett, who has.
Gavin: Cheryl, what did you think of Fairyana the first time you read it?
Cheryl: I thought: Dragnet meets The Sopranos meets Barney meets The Exorcist … at Christmas – that's a fun combo! I was also surprised at how dark the story actually gets by the end of the play.
Gavin: How has it been for you returning for another Radio Hour production and leading the cast and crew through this new story?
Cheryl: We haven't previously explored noir; I'm excited to play with that. I'm also thrilled that we're able to produce original radio drama. And not only that, but Eric Samuelsen has written a wonderful, completely new, original story -- part of our Season Of Eric. Nearly all of the Radio Hour productions have either been original adaptations of well-known stories or we've used actual old-time radio scripts like The Hitchhiker and Zero Hour. Matthew Bennett wrote two original stories based on local ghost stories. Fairyana is a completely unique, original story. No one knows anything about it and no one has any preconceived notions and that has been a little freeing.
Gavin: Jay and Jason, how is it for each of you coming into these roles and developing the characters through just your voice? What are the differences interacting with each other and bringing characters to life in radio drama vs. a stage play?
Jay: Radio lets you do things vocally and physically that you might not get away with on the stage. There's a freedom to just play and explore any possibility. That also exists in a stage play, but with the elements of set, lighting and costumes stripped away you're left with only what your imagination creates from what you're hearing. It's a deeply visceral experience for both the actor and the listening audience because neither of us can experience it in a passive way. Imagination takes over.
Jason: Doing audio books for so many years, creating characters with just your voice and inflection is something I deal with all the time. That being said, being specific is very important. You have to be able to create distinctive voices for each character, stick to them, and make sure it's a voice you can maintain over a full day of rehearsal and performance. The voice can sound amazing, but if your can't do it without trashing your throat, that's just no good. Performing this for the radio versus a stage play, well, the process isn't all that different. You're still on stage with everyone, so you still have to listen and react to what your fellow performers are giving you, and react to that. You just can't rely on any sort of physical activity to get your point across. You might get a laugh/or reaction from the audience there in the theater, but those listening on the radio are going to be left out.
Gavin: Cheryl, how is it working with Dave Evanoff as the composer and Michael Johnson as the foley artist?
Cheryl: I'm thrilled to have Dave back this year, composing and playing original music for the performance; he is a composing God, in my opinion. And playing live music during the performance always adds a great extra energy that you don't get when using music someone else created, that wasn't created specifically for this show. Here's the interesting thing about the person who has the pleasure of being the foley artist: Michael Johnson was new in this capacity last year for Sherlock Holmes. This is his second year with us. Through the years, we've learned you don't just do live sound effects, you act the role of playing the live sound effects master! So, it's a little more complicated than coming out onstage and goofing around with a turkey baster. Well, that sounds awkward, doesn't it. That's actually a little sound-effects tease right there and won't be awkward -- hardly -- at all. Maybe it'll be a little awkward. Come to the show and find out.
Gavin: Considering the format and the live broadcast, what are your personal thoughts on being able to do a show like this in an era where radio plays are rare in American theater and broadcasting?
Cheryl: I think we're seeing a bit of a surge in the popularity of radio drama with the cult-like popularity of podcasts like Welcome To Night Vale. The Internet has made radio drama much more accessible and easier to produce and that's a great thing. I found an interesting article recently, "Internet Saved the Radio Star: The Rise of Podcast Drama" by Sean Bell. This quote caught my attention: "Whether we're driving to work, eating dinner, lying in bed in the darkness … we can surround ourselves with stories, and thrill to hear voices even when no one's there." However, very few theaters are doing live-radio drama with a "studio audience" and also broadcasting live at the same time. There's a certain magic that happens when you put those two elements, live audience and live broadcast, together. Support from KUER and Doug Fabrizio has been critical, and I'm so thankful RadioWest has been our partner on Radio Hour since 2005. I love that Radio Hour has remained so popular over the years and that people value coming to see the live performance. Listening at home is fun, but being a part of the "live studio audience" is a blast because you get to see how the live sound effects are done and truly appreciate the vocal gymnastics of the actors. And when the audience is having fun, the performers have even more fun -- because we've already had buckets of fun during rehearsals -- and this energy is funneled into the audience listening at home -- it's like a giant Radio Hour energy bouncy ball. I have loved radio drama since I was a kid and it's comforting to know that this form of storytelling isn't dead and people still love being a part of the studio audience and still love gathering around the wireless to listen to an original live-radio drama.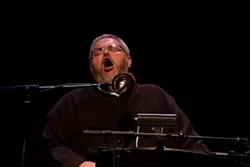 Jay: Nothing compares to the experience of performing radio drama to a live studio audience. I just feel very very lucky for the opportunity.
Eric: I love the challenge of reviving the form of radio drama! I'm terrifically excited. When I've seen the Plan-B/KUER collaborations before, I've loved 'em, love the aural story-telling, love the foley artists and music. I can't wait to work on this one, especially with these amazing actors and with Cheryl.
Jason: I really think the genre of radio plays is ready for a renaissance of one sort or another. Think about it: It's not like the old days, where you have to be listening at a certain time or place. Like audiobooks and podcasts, you can just download them and listen at the gym, on the bus, on your commute; wherever.
Gavin: What are your thoughts headed into Dec. 3?
Cheryl: I should note that for folks who like their radio drama whenever they want it and wherever they want it, the performance will be available as a podcast at radiowest.kuer.org.
Jay: It's very exciting to finally give the play to the audience. I loved performing the last three Radio Hour plays to a live theater audience during the broadcast. The alchemy that happens in the space between the players and the front row is great to look forward to and can be exciting for the radio listener, too.
Eric: Get the timing down!
Jason: I really just can't wait for people to hear what Eric has done with this. I think I was one of the first people Eric let read an early draft of the play -- if that's not true, Eric, don't tell me; it made me feel special. It's definitely not your normal holiday fare, and that's a great thing. It's dark, funny, and new. It's the perfect antidote to that 47th viewing of The Nutcracker you're going to be dragged to, or Burl Ives constantly telling you to have a "Holly Jolly Christmas."
Gavin: What can we expect from all of you heading into the new year?
Cheryl: I'm directing 3 at Plan-B in the spring.
Jay: I'm looking forward to the next incarnation of Peter & The Wolf, this time with the Salt Lake Symphony, in January. In February, I dive into the next show in Plan-B's Season Of Eric, Clearing Bombs, with two of my favorite actors and human beings, Mark Fossen and Kirt Bateman. I'm planning a trip to England to spend some time with my wife's family -- chuffed to ribbons to see me old fruits! And, of course, this new position at the UUYT will keep me busy. I'm honored to have the opportunity this year to share in the development of the next generation's great performing artists.
Eric: Watch the rest of the Season Of Eric unfold. I get to direct my play Clearing Bombs, which is next on the season, and that's a terrific challenge. Can't wait to work with Kirt Bateman and Mark Fossen and Jay Perry on that piece.
Jason: Right now, I'm waiting to hear about a few things, so the immediate future is a little up in the air, but lots and lots of audiobooks are in my future. Of that I'm sure.
Gavin: Aside from the obvious, is there anything you'd like to plug or promote?
Jay: If you've never seen one, please don't miss the U of U Youth Theatre's mainstage productions, Crow & Weasel and Thumbellina this season. The young actors would love your support!
Eric: Check out my entirely eclectic blog, MormonIconoclast.com.



| | | | |
| --- | --- | --- | --- |
| Follow Gavin's Underground: | | | |