With our comedy scene continuing to blow up, it's becoming increasingly harder for some comedians to get noticed, what with the pool of new talent flowing in. --- And when you're faced with the prospect of going toe-to-toe onstage with 20 others who may or may not sound alike, sometimes you need to take bolder steps, as in the case of Jonny Brandin. Brandin has taken his routine into a different phase, bringing in costumes, characters, props and an array of other performance techniques to make an ordinary routine feel like you got your money's worth. Today, I chat with Brandin about his career so far and thoughts on the local standup scene. (All pictures courtesy of Brandin.)
Jonny Brandin
Gavin: Hey, Jonny. First thing, tell us a little bit about yourself.
Jonny: I'm 32 and I still really love cartoons.
Gavin: What first got you interested in stand-up comedy, and who were some of your favorite comedians growing up?
Jonny: I think maybe Johnny Carson, or Raphael from Teenage Mutant Ninja Turtles. I used to sneak out of bed to watch Johnny Carson at night. I thought "Raph" had all the best quips. I would later discover Andy Kaufman, Monty Python, The Kids In The Hall, In Living Color, Conan O'Brien and The Upright Citizens Brigade Theatre.
Gavin: What officially brought on the decision for you to attempt it as a career?
Jonny: I was always putting on some sort of performance when I was younger. Plus, I have dyslexia and a handful of other learning disabilities that make working in an office just as much as a pipe dream. So, it just seemed to make sense.
Gavin: How was it for you breaking into the local lineups and getting gigs?
Jonny: It's been good, overall. I think in the beginning, I might have not been take seriously because of how silly or weird I can get onstage.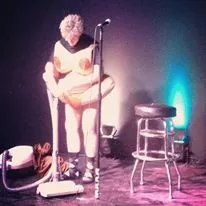 Gavin: When you first started out, what were some of the lessons you learned about performing?
Jonny: I would say showmanship and passion are important.
Gavin: What's it like for you personally coming up with material and deciding what works and doesn't?
Jonny: It depends on what my friend or I think is funny -- how much I like a bit, and how much I think a room will like a bit. Then, how many different rooms actually like the same bits.
Gavin: How is it for you interacting with other local comedians, both as friends and competitors?
Jonny: I enjoy hanging out with them. I think there is a real sense of community.
Gavin: How has it been for you working your way through the underground circuit and learning as you go?
Jonny: A little "touch and go" at first; well worth it.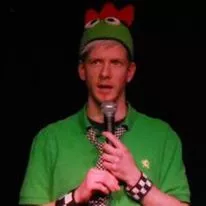 Gavin: You've recently become a part of the Roadkill Comedy performances and have guest hosted. How has it been taking part in that event and playing to that crowd?
Jonny: That is almost always fun. I've been working that room for a few years now, so I feel really good there. Sometimes the crowd will really make ya "work for it," though. Ether that, or they just didn't think what you did/said was funny.
Gavin: Going local for a bit, what's your take on the stand-up scene, both good and bad?
Jonny: I kinda prefer the underground scene, just because it's less restrictive and I enjoy the freedom they give me. I don't get why there has be an unspoken dress-code guideline in what I guess we would call  the "mainstream rooms." If all your "naughty bits" are covered, I don't see why I can't show up wearing a kilt, for example.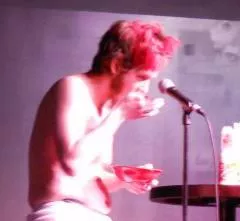 Gavin: Is there anything you think could be done to make it more prominent?
Jonny: Just get the word out.
Gavin: Aside from yourself, who are some of your favorites you like to check out around town?
Jonny: "Aside from yourself" implies that I like myself. I think most comedians hate themselves on some level -- hahaha. I like Andy Farnsworth, Lamar Kellywood, Natashia Mower, Jason Harvey, Levi Rounds, Jay Whittaker, Toy Soup, Cody Eden and Arthur Carter.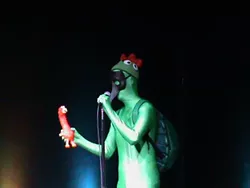 Gavin: What are your thoughts on the clubs that provide comedians a forum to perform, and the work they do to help bring in audiences?
Jonny: I'm grateful to all of them for providing a space where comics can do their thing. Sometimes it's not always the club's job to bring a crowd. But with that, "bring shows" can kinda suck sometimes.
Gavin: What's your opinion of national stand-up comedians coming through town and what that does for the local scene?
Jonny: I think it's a good  thing, and I think it can spread awareness of how good the local scene can be -- especially depending on who the comics are, both local and nationally.
Gavin: What can we expect from you over the rest of the year and going into next?
Jonny: Continue to expect the unexpected, as well as the expected. I think I'm due for a breakdown onstage. So, I might get that out of the way sometime early next year. I plan to do a lot of stand-up shows. I also plan to hit on women with facial piercings and tattoos to see if I can't beat my old record of being rejected by them, in a new game show I like to call, "That was fun, let's never do that again, but text me"; right after all-new Manko Madness, coming this fall!
Gavin: Is there anything you'd like to promote or plug?
Jonny: Comedy Roadkill, Somebody Else's Baby with Andy Farnsworth. Follow me on Twitter, Tumblr, Instgram, Facebook and YouTube.



| | | | |
| --- | --- | --- | --- |
| Follow Gavin's Underground: | | | |