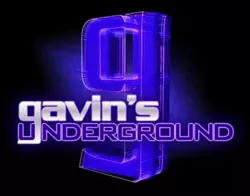 With the holiday season rolling, parents are, as usual, looking for some kind of entertainment for the kids that they both can enjoy, as we rapidly approach the end of the year. --- Thankfully, Salt Lake Acting Company is here to answer those holiday wishes, as it presents its fifth-annual children's show. This year, the company delves into the works of Dr. Seuss by presenting a musical version of The Cat In The Hat, complete with both Things and the Fish, which will kick off tonight and run until Dec. 28.
Today, I chat with five members of the cast about their experiences with the play before they kick off tonight, and a few other topics. (Photos by Dav.D Photography, provided by SLAC.)
Austin Archer, Luke Monday, Elena Dern, Jaten McGriff and Jenessa Bowen
Gavin: Hey, everyone. First off, tell us a little bit about yourselves.
Jaten: I am a Salt Lake City native. I like to be active outside, hiking and climbing. I hate the winter; bring on the warm weather.
Austin: My name is Austin Archer and I'm an actor, living in Salt Lake. This is my ninth show with SLAC, and my third year doing the children's show. SLAC has been a great home for me, and I love doing this show each year!
Luke: I'm a graduate from Weber State University in musical theater. I've lived in Utah my whole life and grew up in Logan. I started performing and singing my senior year of high school and have never looked back.
Janessa: My name is Jenessa Bowen, I'm turning 23 next month, I'm from Farmington and I will be graduating from Weber State University in the spring with my Bachelors of Science in Musical Theatre. I love everything theater, as well as playing the guitar.
Elena: My name is Elena Dern, I'm a Salt Lake City native and I've been performing for almost my entire life. I love being on the stage and expressing my self through any art form that I can -- I think it's such a vital form of communication. I work hard, play hard and have so many aspirations for the future it overwhelms me. I'm loving and living life!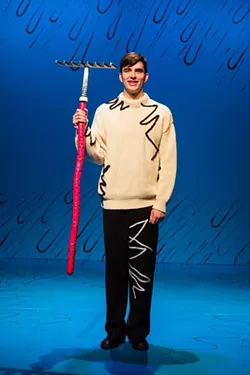 Gavin: What have each of you been up to with local theater over the past year?
Luke: Just auditioning every chance I get. I'm not terribly picky about where; I've worked at Hale, the Egyptian in Park City, the Grand, and now SLAC, and I couldn't be happier.
Elena: I recently graduated from the Actor Training Program at the University of Utah and have been adjusting to post-college life. My last production as a student was George Feydeu's French farce, A Flea in Her Ear, directed by Larry West at the Babcock Theatre. Fellow Cat cast member Jaten McGriff was also in the production as my husband! I have been utilizing my dance training and was assistant choreographer for Saturday's Voyeur, as well as for Rent with Utah Repertory Theatre. I most recently did a staged reading of Wrestling With Angels by Deborah Threedy as part of the new play-reading series taking place at Weller Book Works in Trolley Square.
Austin: Just before this show, I was playing Mark Cohen in Rent with Utah Repertory Theatre, and before that was Saturday's Voyeur at SLAC.
Janessa: Within the last year, I've played Little Red in Into the Woods at Centerpoint Legacy Theater, Sister Docent in SLAC's Saturdays Voyeur, Nefer in The Comedy Of Oedipus at Weber State University, and Natalie in Next To Normal at the Ziegfeld Theater.
Jaten: I recently graduated from the U of U's Actor Training Program. I perform in an improv murder-mystery theater piece called The Dinner Detective.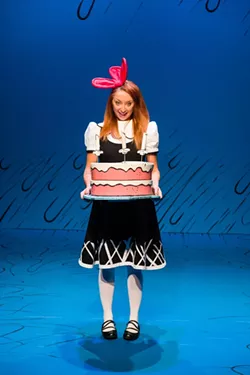 Gavin: For the cast, what were your first thoughts after reading this adaptation of the book?
Jaten: It was interesting to see how little the play varies from the book. At first, I thought, "How do we turn a small children's book into a 40- minute play?"
Janessa: I first heard of this version when our stage manager, Janice Jenson, recommended that we watch the National Theatre's live production because we would be pulling off all of the technical elements about the same way they did. I play Thing 2, and having the energy to run all over the place to make a mess while flying kites and riding bicycles like they do in the book, on top of moving set pieces and making costume changes, proved to be quite difficult. It's definitely one of the most technically difficult shows I've ever been a part of, and it's a 40-minute children's show. But I LOVE theater that challenges me and keeps me on my toes. Recreating a Dr. Seuss book is just pure fun, because despite the challenges, it's always playtime for us each time we do it. I think all of us thought, "There are SO MANY PROPS AND SOUND CUES, and HOW ARE WE GOING TO DO THIS?!" We also thought, "We are going to have a blast!"
Luke: I was surprised at how verbatim it was, and concerned that, with how simple the dialog was, it would be difficult to develop a believable character. Since then, I've realized that even with the simplest of scripts, when the story is well-crafted there are discoveries to be made. I've enjoyed making such discoveries in rehearsals.
Elena: I was surprised to learn that the only dialogue in the play is directly from the book, and no extra words were added for the stage adaptation. This concept is so unique because unlike many adaptations of books, it is the purest form of the source material. And rightly so. The Cat In The Hat is one of the most famous and iconic books read by children, parents, and grandchildren around the world. The film version of this beloved book was disastrous, and I am so grateful that this play exists and is being produced; it does the book justice. I love the fact that it is highly movement based. We bring the action of the story to life -- what cannot be expressed with words, what happens between the pages and what is being imagined while the words are read.
Austin: Well, it's not much of an adaptation, as far as the dialogue is concerned; it literally is the text of the book. When I really got a sense for what makes it so stage worthy is when I watched the National Theatre's production on Netflix, heard the sound design, and saw how everything flows.
Gavin: What was it like auditioning for the play and receiving your parts?
Janessa: Each actor had to read the same section of the book to demonstrate their abilities to tell a story with movement. I was a little nervous going in, because when I got there, I found out there was a second page from the book that I didn't know they were using for auditions. So, I think it just kind of discombobulated me for a minute. I was giggly all day when I got the call that I'd be playing a Thing.
Elena: The audition process was an interesting one, and very different from most auditions I have been to. Instead of given pages from a script for sides, we were handed pages from the actual book and asked to prepare movement with the side. At first, my dancer brain assumed we were to choreograph a small piece of movement, and then realized we were to put movement to the words as we were saying them. Either way, I was extremely excited to audition for a movement-based show. I felt confident in my audition, but was surprised to be asked to read for Sally because I am typically cast in character roles more like that of the Things. Either way, I was so excited to have the opportunity to be in this show, and I love playing Sally! It's so crazy to think that I get to create a character from a book that millions have read and cherished. Not to mention, the rights to this show are difficult to obtain, so I am one of the few who is lucky enough to re-create this character.
Jaten: Personally, I love roles that require movement and comedic timing. I loved auditioning because I knew that it required a unique outlook and interpretation in order to nail the script.
Luke: It was super-relaxed; we were just asked to read a side taken from the book. It was fun to play with different character voices and pitches. Honestly, I had no idea what they were looking for and had no expectations. When I got the call, I was ecstatic, not just to be in the show, but to finally work for a company that I've admired for years.
Gavin: How has it been for each of you learning your characters and figuring out their personalities?
Elena: Approaching something like this is a fun and challenging process. At the root, creating the character is similar to creating any other role: knowing actions, objectives, obstacles, background, physical characteristics, forming relationships, knowing the arc of the character, etc. Then, on top of that is adding the style. Because most of the dialogue is narration, the lines have to be directed out and said loudly for the audience to understand and follow, but also connected within the story, because they are said by a character and driving the action. Physically, the idea of this production is to recreate the pictures in the book as closely as we can, which means incorporating larger-than-life poses and movement to tell the story, not to mention the many sound cues and added music that we utilize. For me, discovering the character of Sally was so much fun and I learn something new about her everyday. Finding the physical characteristics of a child was probably my favorite part; it has allowed me to feel very free in my body. I really do get to play and respond, because a child has few inhibitions and is fascinated by the world, and these are some of the things I try to embody.
Austin: It hasn't been too different from my typical process. I'm always trying to find the most honest way to approach a character, starting with what I'm given in the text and moving forward when I attach movement. It has been physically challenging and exhausting, but incredibly fun. We just play and make believe, which is, I think, the most honest way to tackle this material.
Jaten: I feel like the Fish gets the rep of being a prude and a snob, but I didn't want the Fish to be that way, After all, the Fish IS the best friend to the children. Instead, I reflected on childhood and thought about the worry-wart childhood friend who everyone has had. Once I channeled my Chuckie Finster from Rugrats, I was in the clear.
Luke: So much fun, seriously. What has made it such a blast is bouncing ideas off each other and helping each other make discoveries. I especially feel that applies to my stage sister, Sally. She's so fun to play with onstage and I am constantly finding new ways to experience this story.
Janessa: There isn't much revealed about who the Things are in the book, so we had to ask ourselves a lot of questions about what they really are, how old we think they are, if they've been going to houses as "fun in box" for years, etc.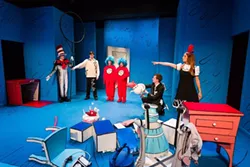 Gavin: Considering the history this book has had over the years, how much do you try to create on your own and how much do you find yourself pulling from the material as influence?
Luke: I definitely want to stay true to the material, but I want the kids to feel like they experienced something new, even if they have read the book a hundred times. It'll be a challenge, but I think we can achieve that.
Jaten: I was sure to have book with me throughout the entire rehearsal experience because the book is so visual. I wanted to capture the energy and emotion of the book.
Elena: I feel like I am trying to remain as close to the book as I possibly can. There are many times in rehearsal when our director pulls out the "source material" and makes sure the set, props, and actors are replicating the drawings on the page. I have studied Sally's position on each page and tried to embody it. Of course, because the fact that it's me and I see and create things in my own way, it will be influenced and no one else can recreate the character I have developed.
Austin: There is a lot of creating shtick and bits between the lines, as most of the play exists beyond the spoken word, but the text serves as inspiration for all of it.
Gavin: What has it been like interacting with each other and helping bring the play to life?
Luke: Wonderful. All the actors and director are so giving. It's such a safe environment to play.
Austin: Everyone involved came in prepared, and worked just like trained professionals ought to. We played a lot, and had a fun, relaxed rehearsal environment. Nonetheless, we were at work, and we all took our jobs very seriously.
Elena: I have worked with most of the actors before, some in more than a few shows, and it is so easy to open up and play with them . It has definitely made this process unique and somewhat easier. This is my first time working with Luke Monday, who plays the Boy, and it has been delightful! I feel that we move great together and respond well to each other.
Janessa: We spent a lot of time perfecting the balancing scene when the Cat has to hold a lot of stuff while standing on a ball. The items would fall often and we had to figure out the best way to keep everything timed and balanced perfectly. The same process also went into making the giant mess, as well as cleaning up the giant mess.
Jaten: I am happy that we have such a good cast. Children's theater requires a lively and optimistic cast in order to produce.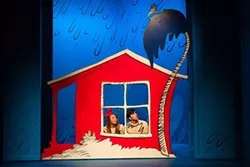 Gavin: How is it for all of you to take part in this children's production and give theater to younger audiences over the holiday season?
Janessa: More than anything, I've been looking forward to hearing the excitement in their voices and seeing their eyes light up. It's been a long time since I've put on a production for children.
Elena: This is my first children's show, and it is a very different experience. I love that I get to share my favorite hobby with so many young people and potentially inspire them to get involved with the arts. I find so much joy in theater, and I don't think many children get to experience a live performance. It really is rewarding. And I'm finally in a show my cousins can come and enjoy!
Austin: Absolutely wonderful. It's rare that as an actor I get to take part in something where the result is truly magical for the intended audience.
Luke: I'm elated. I love kids, and I love the magic that they bring to the theater. Their energy also brings a whole new dynamic to the show.
Gavin: What are all of your thoughts headed into opening night?
Luke: I just hope we can get the show as precise and clean as I see it in my head. I think we can do it!
Austin: We are ready. The show really depends on pretty flawless execution, but we've had the whole thing blocked for over a week now, and have just been polishing away.
Janessa: I hope I move those set pieces in just the right spot ... I hope I make my costume changes in time ... I hope I don't drop something.
Elena: I'm just beyond excited! The show is in good shape, and we have school performances before Friday to get used to having an audience and making the show even smoother. I just think it's going to grow throughout the run and become something really special. I'm ready!
Gavin: What can we expect from all of you heading into the new year?
Austin: Up next, I will be playing Private First Class Louden Downey in Pioneer Theatre's production of A Few Good Men.
Elena: I don't have any theater lined up for now, but I plan on auditioning. My dance company, Arts Of Chaos, will be performing, and I hope to record some music.
Janessa: Graduating! Also, doing more theater, of course.
Luke: Well, I definitely hope to work more at SLAC. We shall see, though. Here's hoping!
Gavin: Aside from the obvious, is there anything you'd like to plug or promote?
Janessa: Come see the dark, mysterious, and haunting musical Picnic At Hanging Rock at Weber State University. It runs Feb. 28 to March 8.
Elena: Aside from seeing this show, support all theater! With the prominence of technology, movies, and Internet, I think people forget how unique and amazing a live performance can be. See a play once in a while. Maybe go to the ballet or the symphony. It truly can be a magical experience.
Luke: Even though this show is advertised as a children's show, it truly is for everybody. Because even though some people are too stubborn to admit it, there is still a sweet, innocent child in all of us. Come to SLAC, see The Cat In The Hat, and let that child come out to play for a bit!
Austin: Come see A Few Good Men, I hear Tom Cruise might be reprising his role -- not really, though.



| | | | |
| --- | --- | --- | --- |
| Follow Gavin's Underground: | | | |