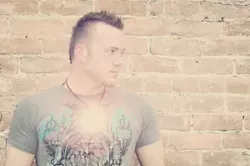 I took last week off because there was only one release to discuss, but I'm back with some you've heard of and a few new surprises. --- First up, the one released last week: Seve vs. Evan reunited at Velour for a massively successful concert, and in the wake of it released a brand-new album titled The Remix Tapes. It's the first album the duo have created in years, proving they still pack a punch with their synth-pop tunes after a roughly five-year hiatus. You can download The Remix Tapes for a mere $10 from Seve vs. Evan's Bandcamp page.



Next up is the latest full-length album from nerd hip-hop group Rotten Musicians. This was actually reviewed by City Weekly's own Kolbie Stonehocker in this week's issue, so I won't need to chat much about it other than you should seriously snag this album (available on Bandcamp), which sounds like a slightly drunk trip through Hogle Zoo—only without those plastic-animal dispensers. Rotten Musicians Turn Into Escaped Zoo Animals & Terrorize the Town in a Good Way isn't just a hell of a title, it's a damned fine album.



Moving to online releases, The Paper Guns just released their debut EP. The five-piece alternative band hailing from Provo (although their members are scattered across Utah's upper counties) has only been together for a couple of months, but have been productive. How To Make a Paper Gun That Shoots, is worth a listen, at the very least, even though you can tell the band has a little more way to go. You can download it for a "name your price" tag on Bandcamp.



Next up is the debut release from SLC deathcore band Alumni. This one kinda crept out of nowhere from a band that few have heard of and fewer have seen. But damn, do they have the chops to crank out something that will blister your eardrums to bloody husks! The group quietly put out their debut EP, Zoo, as a free download on Bandcamp; this is a must-listen for metal fans.



Moving on to more weird pop-rock is the long-awaited, 13-years-in-the-making release from NSPS, Timeless Towns & Haunted Places. Again, another album reviewed by Kolbie in this week's issue, but for my own take, it's interesting to hear how the album progressed over a long period of time. You can download it from Bandcamp for a mere $7.



Switching to a more electronica vibe, this week also saw the latest release from Mkaio. You may remember this all-in-one producer (seen above, photo courtesy of Facebook) from his fantastic debut album, A Far Off Horizon, which came out in June 2012 and is filled with great experimental tracks and chillwave tunes. I can only guess that he's been in hiding the past year and a half working on something new, and this may be the first hint of the next album on the way. It's billed as an EP—but, really, it's more of an extended single. "Stars/Snow" is a great glimpse of things to come; you can download it for a mere $2 from his Bandcamp page.



Getting to actual release shows, on Saturday, Dec. 19, we'll see the debut full-length album from Bip Bip Bip, the duo of Sayde Price and David Payne. It's the third album reviewed by Kolbie this week, so I'll just point you to the show at The Urban Lounge, where they'll be playing with Big Wild Wings, Strong Words and Guard Cats. Cover is a mere $5; music starts at 9.



And then finally, on Tuesday, we'll see the first and only release from alternative group Ahoy, Captain. The group formed near the start of 2013, playing the occasional show, but it seems they will fall to the terrible Utah standard for bands: breaking up just as your first album finally gets released. Head over to their final show and album release at Kilby Court on Wednesday, Dec. 18, where they'll play with Mermaid Baby, Red Yeti and The Moose. Tickets are just $6; the show starts at 7 p.m.


Love music, head out, buy local.