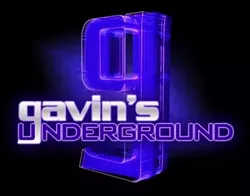 Hello to all you music-loving, ticket-buying, vote-casting, Provo-traveling, crowning-a-new-champion enthusiasts! --- By the time you read this, I'll be down in Provo, doing the Battle Of The Bands showcase as a judge for the finals of this show. You should probably follow me on Twitter and Facebook for updates and pictures if you're not going, but $6 for 5 bands isn't a terrible deal, so how about leaving the house tonight? In lieu of a 337 Wall update, here's some random art from downtown Salt Lake City:
This week's post is going to be very short, mainly because the majority of what happens this time of year are Utah-mainstream events. Do you really need me to encourage you to go see one of 20 different choirs, or the latest edition of The Nutcracker? No! So, I'll focus on other things, but there isn't much. The first that needs to be addressed is The Davey Foundation, which you can read about in this week's CW issue with powerful words from David Fetzer's mother, Betsy Ross. The kickoff to the foundation will be on Tuesday, Dec. 17 at The Tower Theatre; it's just $10 and all your money is going toward the fund. This will most likely be a sellout show, as they'll be showcasing some of David's works that were made by Kenny Riches and company after his passing. If you knew David or support his work, this is a night you cannot miss.
On Friday, Dec. 20, the third annual Furturtle Winter Show will take place at Fat's Grill. This is your chance to snag a limited-edition print from Travis Bone, signed by the artist himself, featuring dozens of creations he's made throughout the year for shows that have come through town. Even if you're not buying, it's a cool look at his work and what SLC has had come through town.

And then: Holiday planning kills most everything else, except the local music scene, so go check out a show during Christmas week. Speaking of local music -- for all you musicians, this is the last few weeks that applying to the Utah Arts Festival to perform will be free; after that, it's $10, starting Jan. 1, 2014. Be sure to sign your band up!
As for the blog: I'm going to have a recap from Velour, talk to a couple of interesting local businesses, chat with an independent dance company, visit a gaming shop and a brand-new book arts place. Plus, I'll celebrate the holiday ... somehow. At least, that's the plan; as always, we'll see what happens.



| | | | |
| --- | --- | --- | --- |
| Follow Gavin's Underground: | | | |