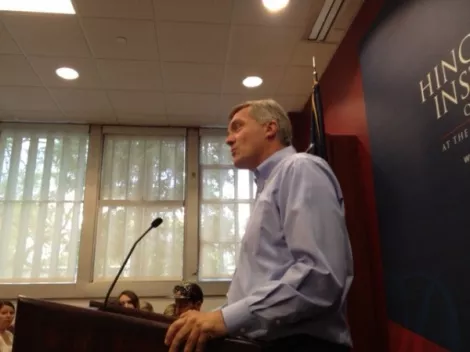 Democratic Representative Jim Matheson's Facebook announcement that he was not running for reelection in 2014 was the status update heard 'round the state Tuesday, and immediately had conservatives crowing about finally having a Republican take his seat after a dozen years in office. Matheson may soon be out of the House, but he's also openly hinted at a run for either the Senate or the governor's office, but does he have a shot?---
National Republican Congressional Committee Chairman Greg Walden, R-OR, released a statement Tuesday citing Matheson's announcement as an indictment of the President's Affordable Care Act.
"It's telling that Matheson, who didn't even vote for ObamaCare's original passage, knows he can't run and win in this climate. If it's this bad for him, imagine how bad 2014 will be for the vast majority of Democrats who actually supported ObamaCare from its start," Walden says in the statement.
Whether Matheson didn't want to run in the "Obamacare" climate or was simply wary of challenging Mia Love, the GOP candidate who lost to him in 2012 by less than a thousand votes, is unclear. But whatever the reason, Matheson has an uphill battle for a statewide office in Utah if he were to challenge Gov. Gary Herbert in 2016 or Sen. Mike Lee, R-UT, in that year also.
Uphill or not, he maybe the only Democrat in the state who might actually take one of those seats, and for Quin Monson, associate director of Brigham Young University's Center for the Study of Elections and Democracy, he's got a fighting chance.
"I think he's got a better chance than any other Democrat I can think of, which is both good and bad," Monson says. "They couldn't get anyone else that has a stronger chance, but I think the odds are slightly against him just because of the numbers of self-identified Republicans versus Democrats is a two to-one, sometimes close to three-to-one, advantage."
That being said, Matheson's proven he's skilled at attracting moderate Republican voters, Monson says, and thanks to the frequent redistricting that's happened to his political seat -- and him having run in two different districts -- Matheson has already courted many of the state's voters in the past.
"I'd have to guess that at least half the state has been represented by him over time, and maybe higher than that," Monson says.
Matheson's ability to steal votes from the opposing party has made him a formidable opponent, but Monson says he probably has realized that if he wants to move on in his political career, he ought best to leave the House on a high note to buoy him in his next challenge.
But which office to seek for Utah's most feared Democrat?
For Monson, if it came down to a contest between Sen. Lee and Gov. Herbert, Matheson would do best to challenge the Tea Party patriot Lee, since they would be competing for different voting bases.
"Herbert is more popular among moderate Republicans that Matheson would be going for, whereas Lee is popular among very conservative Republicans who aren't going to vote for Matheson anyways," Monson says.
For University of Utah political-science professor Matthew Burbank, however, Matheson's bipartisan style would be a better fit for the governor's race.
"The advantage of say a race for Governor, is that it probably would be less expensive--even though its still quite expensive--and I think he would be able to play a little bit more on his independent, problem- solving personality," Burbank says. "Why go off to the Senate if you're a problem solver, when the Senate can't really seem to solve anything lately."
Burbank says that another advantage to running for the governor's office is that he won't be a target for outside groups seeking to influence the election in trying to gain control of the senate for Republicans.
Monson says in either race, Matheson has a good chance, considering how well his messaging has helped him fight off Republican challengers since his first election in 2000. So many tough races have made Matheson into a very smart, and very cautious, contender for office.
Matheson's strategic skills are exactly why Monson says it's too soon to say which race Matheson may jump into in the future.
"The answer to that question is whichever race he has the greatest probability of winning," Monson says. "He's proven to be very smart about his political decisions in the past in terms of choosing the right race."