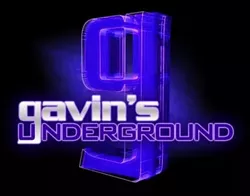 As I've talked about before, board gaming in Utah has always been popular, even more so with events like SaltCon making them a bigger deal then normal. --- So, it was only logical that we'd start seeing games produced locally and create a brand-new series of challenges for fans to tackle. Which brings us to Witness Protection Program, created by local start-up company Game Night Heroes and financed through online fundraising. This game takes the average "whodunit" and makes it an interactive game with character elements that will make every game as unpredictable as the last.
Today, I chat with founder Jon Scott about creating the game and the company, the success it's seen so far and where they're headed. (All pictures courtesy of Game Night Heroes.)
Jon Scott
Gavin: Hey, Jon. fFrst thing, tell us a little bit about yourself.
Jon: Where to start? I am a native Salt Lake guy. I have a degree in business, but I consider myself a jack-of-all-trades. I've spent growing and developing new skills, whether they're musical, artistic, physical, comedic, intellectual, etc. And, of course, I recently started my own game design company, Game Night Heroes.
Gavin: What got you interested in traditional board and card games, and what were some of your favorites?
Jon: I always saw games as a low-pressure activity that builds relationships while challenging your brain and increasing social skills -- if done correctly. So, whenever my friends and I got together, I always preferred games over movies, etc. I guess I've always been addicted to games of all types. But I preferred the classics like Clue, Monopoly, Life, etc.
Gavin: Over the years, how did that love of gaming develop into wanting to make your own?
Jon: Honestly, I never gave game design much thought until I was already doing it. I would be playing games with friends, and we'd be bored with the regular options. So I'd say, let's make up a game! I'd quickly deal out some cards, come up with a goal and give everyone a designated action to reach that goal. Game design always seemed like that "one day when I'm rich and retired" type of dream that would never realistically happen. I had this great idea as a teenager to get my friends all together to play a complicated game I was designing, but I was so entertained by the designing process that I never brought myself to finish it. It wasn't until my girlfriend suggested I have my games published that I actually gave it serious thought. I never would have done anything if it weren't for her "why not" attitude.
Gavin: How was it for you starting out and seeing what kind of games you could make?
Jon: Coming up with new games is incredibly fun. You get your friends together and try some things out. You change it up to make it more entertaining, and eventually, there's something that everyone loves. And then, there's the production side of it -- not half as fun. When I first decided to produce a game, I suddenly realized there was a lot to incorporate -- artwork, rule book, which materials to use, finding a supplier/printer, learning all the legal stuff. I've had to ask myself several times in the process, "Is this project worth all the effort?" If I weren't sure if my games had the potential of becoming a best-seller, I would have given up long ago.
Gavin: Where did the idea for Witness Protection Program come from?
Jon: A friend had mentioned playing a variation of Sardines that involved players getting killed. One night, my girlfriend and I got a group of friends together and we started playing it. That night, I started changing rules, adding different roles and finding ways to balance the game. We started playing it on a weekly basis, and I had new additions to the game every week for about six months. I kept a homemade deck of cards to keep track of all the variations I had come up with and kept expanding it as more people wanted to play each week.
Gavin: How is the game played?
Jon: Imagine playing Mafia or Werewolves in a hide-and-seek setting. Cards are dealt to assign players different roles. The Witness hides, and the remaining players have a limited amount of time to find and hide with the Witness. If enough players hide with the Witness, they win. A Murderer goes around killing players, and most players have an additional ability to help them in their goal, like the Doctor, who can revive players. A free test version of the game is available in print-and-play format on my website.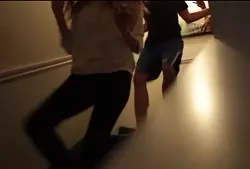 Gavin: How much testing did you have to do with it in order to make the game challenging but fair? And how does the current version compare to what you started with?
Jon: We determined the final makeup of the game about two years after originally starting on this project. During that time, we played the game weekly and made adjustments, as necessary. With seemingly endless ways to play the game, you can't anticipate every scenario. New problems showed up regularly. I believe we finally came up with the right formula for a well-balanced, incredibly fun game. Much of the core concept we started with is still intact, but it feels like a brand-new game to me now.
Gavin: How did the idea of starting Game Night Heroes come about?
Jon: There are really only two ways to have a game produced: either find a big company like Hasbro to take it on, or publish it yourself. As I compared the options, it suddenly hit me that this was the "big idea" I had always said was needed before I could be my own boss. It suddenly became a no-brainer to launch my own company and build a career on something I'm passionate about.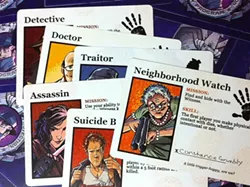 Gavin: You turned to crowdfunding in order to fund the game. What was it like running that campaign?
Jon: I hated it; it may have been the most challenging thing I did in 2013. I don't like asking my family and friends for money, and don't consider myself much of a salesperson. I had been hoping for more public exposure than what we got. When it became clear that the only people viewing the project were direct referrals from our social networks, it was pretty discouraging. I had spent a ton of time preparing for the crowdfunding campaign, but I wasn't as prepared as I should have been. I checked for updates constantly, and was giddy with excitement every time there was a new donation. What a relief when we finally crossed over our funding threshold.
Gavin: You reached the financial goal of $5,000. What was it like starting up the company and getting the word out after that?
Jon: It took a lot longer than expected to finalize the card design and get the cards printed. But when we finally got the finished product, things started to grow on their own. In fact, I've limited my marketing efforts due to the supplier issues I faced. I haven't wanted to run out of inventory before getting a second print run started with a new printing facility. That's almost resolved, though, and I'm just now feeling like I can invest in the game's full potential. It's exciting to look back and realize that even without actively marketing my game, I sell several copies on my website and receive regular calls from retailers informing me that they're out of inventory and need a larger order. The game is selling itself!
Gavin: The game has received some local attention. What's your feedback been like from people who have purchased it?
Jon: I'm thrilled about that! I only hear good stuff; I don't know if people are just being polite, or if everyone loves the game as much as they say. Based on sales, I'm assuming it's legit.
Gavin: Are you looking to enter it into any competitions or conventions coming up?
Jon: I'm not aware of any game-design competitions that I qualify for. Most competitions I'm aware of are either for unpublished games or else they have specific things they're looking for. You know, boardgamegeek.com refuses to list WPP in their directory of games because it's technically not a tabletop game. It's like that everywhere I turn. The established organizations all want a variation of what's been sold before. As an active-play game, WPP is too out of the box. That's a problem I'm not sad about. As far as conventions, I'm pretty sure I'll get a booth at SaltCon this spring. But I'm much more interested in organizing a festival for Active Play-style games here in Salt Lake. Come Out and Play has been running in New York for years, and there are other cities in the country that have festivals for street games and night games. I've taken WPP to New York and San Francisco for festivals in the last six months and am convinced we need something similar here.
Gavin: Do you have any games your currently working on that you can clue us in on?
Jon: The first one you'll see is the Horror expansion of Witness Protection Program. I don't know of anyone who's playtested it that doesn't love it more than the original version. I just need to get funding and artwork and I'll be able to print; I'm still debating whether to run a crowdfunding campaign for this. I've also got three or four other projects that are at various stages of design: a role-playing scavenger-hunt-type game that plays in a few hours, a few variations on classic night games like Steal the Flag, etc.
Gavin: Are you looking to expand GNH in the near future, or keep things how they've been going for now?
Jon: I would love to become the Hasbro/Milton Bradley of active-play games. But for now, I'm content to see how popular I can make Witness Protection Program.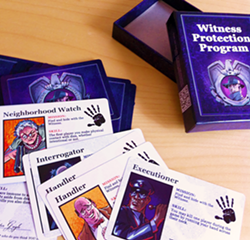 Gavin: What can we expect from you and Game Night Heroes going into next year?
Jon: My first focus is to expand distribution on Witness Protection Program. It's becoming more and more popular in Utah, but I want to expand its presence across the country. And if things go well, I'll be able to organize a game festival for summer and, hopefully, have WPP Horror released by fall.
Gavin: Is there anything you'd like to promote or plug?
Jon: I want to give a shout-out to the local retailers who were first to carry Witness Protection Program and have championed the game: Fongo Bongo Games, Hastur Games, and Game Haven. Go to their stores and buy WPP!



| | | | |
| --- | --- | --- | --- |
| Follow Gavin's Underground: | | | |