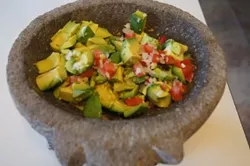 I stopped into Alamexo restaurant recently and enjoyed watching servers preparing fresh guacamole, tableside. --- Guacamole, which is essentially pulverized avocado with onion and a few other ingredients, couldn't be simpler to make. And, trust me, your homemade guacamole will be superior to anything you can buy at the grocery store.
The key is freshness. Avocados turn brown very quickly, so unless you make guacamole from scratch -- or buy guac with lots of preservatives -- it's gonna by icky. But again, it's so easy to make fresh. No cooking or special kitchen skills or utensils are necessary.
Here is my favorite guacamole recipe. You can play around with it, adding more or less of whatever you like: more or less tomato, some cayenne, fresh herbs, or whatever. Make it your own!  
Ingredients:
1/2 small white onion, minced
2 fresh serrano chile peppers or 1 jalapeno, stemmed, seeded and minced
1 ripe tomato, cored and finely chopped (optional)
1 clove garlic, peeled and minced
3 ripe avocados
1/2 tsp. salt
juice from 1/2 lime
minced cilantro (optional)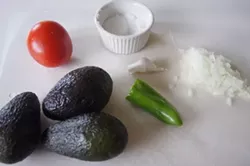 Method:
In a medium-size bowl or a Mexican molcajete (pictured), or just a mixing bowl, mix the onion, chiles, tomato and garlic together.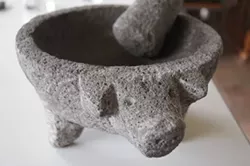 Avocados turn dark brown or grey very quickly after being exposed to air. So, near the time you plan to serve the guacamole, half the avocados lengthwise by cutting from stem to stem with a sharp knife, around the hard pit.
Twist the avocado halves in opposite directions to open and "unscrew" the avocado. Remove and discard the pits and scoop the avocado into the bowl.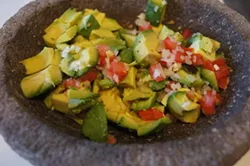 Using a molcajete pestle, a potato masher, a spoon, or just your hands, mash together the avocado while mixing in the other ingredients. I like guacamole to be somewhat chunky; for smoother guacamole, just keeping mashing until it's the consistency you prefer.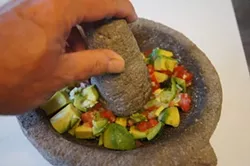 Flavor with salt and lime juice and stir. Optionally, you could also toss in some minced cilantro, if you like.
Set aside for a few minutes to allow the flavors to intermingle. Serve with tortilla chips.
Photos by Ted Scheffler