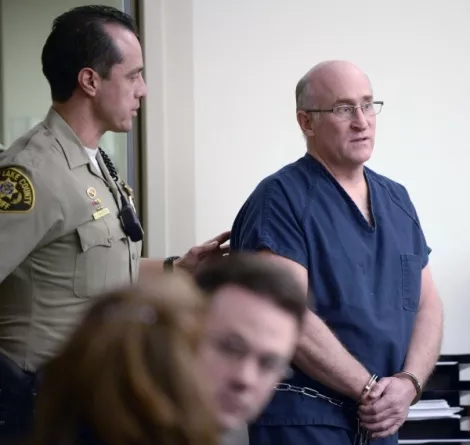 As the year winds down, it comes time for me again to reflect on my reporting this year and to celebrate the top 10 pissed-off quotes of 2013. The year 2013 may have been an unlucky one for the scandal-rocked Attorney General's Office, but was also a bonanza for quotes of outrage, including the No. 1 quote here from the AG's "fix-it-man," Tim Lawson, whose salty words of wisdom also topped my 2011 list.---
Lawson (pictured), as you recall, was the first individual to be charged in the investigation conducted into the scandals surrounding now-resigned Attorney General John Swallow. The quotes below aren't in any particular order except that Lawson has the top spot again, thanks to his usual flair, as well as the fact that Lawson's quote seems especially relevant, considering that people inside the AG's Office provided information that contributed to the six felony charges Lawson received in early December 2013.
1. "I've had people from [the Attorney General's] office call me and tell me this is my fault. I said to them, 'You know what—how do I put this politically correct?—go screw yourself.'"
--Tim Lawson, Sept. 9, "Six Degrees Of 'Fixer' Tim Lawson To Utah's Attorneys General"
2. "My experience with Rob is that he is a pompous, arrogant dude. He would get clients on the phone and beat the tar out of 'em. Whether they were broke or not, he would force a damn credit card out of them."
--Ryan Jensen, Aug. 7, "Bad Company," discussing call-center-owner Rob Montgomery, who had a bad reputation in the industry and allegedly courted Swallow, seeking protection for his business.
3. "The company is shielded in some degree from legal action because they can just say, 'These people are making claims they shouldn't have'; they can just blame the distributors."
--Jon Taylor, Nov. 27, "Crazy Pills," a critic of the multi-level-marketing industry, talks about how the business gets away with having distributors make claims they shouldn't, as in the case of Q Sciences, which had a distributor say the company's product could replace medication for "any" mental illness.
4. "Just because people won't take the time to do a quick Google search and find out for themselves [how the system works] doesn't mean the system necessarily needs to change."
--Connor Boyack, Oct. 30, "How Utah Picks Its Politicians," on critics of Utah's caucus/convention system.
5. "Regular people like us just feel like dogshit."
--Kim Kasey, Nov. 27, "Protesters Say TPP Meetings Stinks of Global Corporate Takeover," on how the secretive Trans Pacific Partnership meetings held in Salt Lake City excluded average citizens.
6. "Another body taken by the plague! That's what that is right here, a plague!"
--woman at homeless shelter, Feb. 13, "I Know I'm Invisible," watching an overdose victim taken away by the ambulance.
7. "Iran wants to wipe Israel off the map and that might offend someone, yet its flag is right next to Israel's in the Hall of Flags."
--Rashad Nijim, April 17, "Student: UVU Refuses to Display Palestinian Flag." Nijim asked that the flag of Palestine be displayed at the college's hall of flags but was told it might be considered offensive.
8. "We are spending taxpayer money to address public-health needs with armed guards. We're already spending this money—what we need to talk about is how we choose to spend it."
--Jesse Fruhwirth, Feb. 13, "I Know I'm Invisible," on how Salt Lake City won't spend money addressing homeless services other than to pay for police to respond to the problems that arise from homelessness.
9. "I don't have a single client or anticipated client in that industry! What is wrong with you?"
--Mark Shurtleff, Aug. 21,"The Mark Shurtleff Favor Bank," when asked if his new government relations and law firm would represent call-center companies that previously supported his campaigns or office.
10. "So, to hide a couple thousand in contributions, Mark Shurtleff threw 5,000 Utah homeowners under the bus to protect John Swallow?"
--House Investigative Committee Member Jerry Howe, Dec. 27, "Hard to Swallow." Howe was responding to evidence that former AG Shurtleff dropped a case representing thousands of Utahns who may have been illegally foreclosed on, in an effort to protect Swallow from controversy because of Swallow's inappropriate involvement in the case.