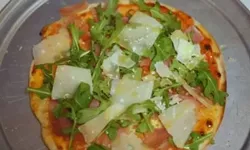 While skiing at Solitude Mountain Resort recently, we stopped to have lunch at Honeycomb Grill, where we enjoyed a fantastic pizza called the 'D' pizza, topped with prosciutto and arugula. --- It was so delicious I decided I needed to try to recreate that awesome pizza at home.
So, here is my version of Honeycomb Grill's 'D' pizza. This recipe makes two small (about 12-inch) pizzas.
I cooked the pizzas using my NEWWAVE Stone Bake Pizza Oven, but you can cook the pizzas on a pizza stone in an oven preheated to its highest temperature.
Ingredients:
1 batch of all-purpose pizza dough
1/3 cup passata or other pizza sauce
Thinly sliced red onion
4 oz. fresh mozzarella, sliced
2-3 thin slices of prosciutto, chopped
A handful of arugula
Shaved Parmigiano-Reggiano
Extra-virgin olive oil
Method:
Preheat the Pizza Oven or a regular oven to its highest temperature.
Prepare your pizza toppings.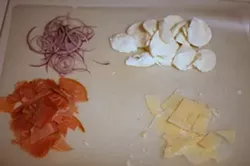 Roll out 1/2 of the pizza dough to about a 1/8-inch thickness and spread lightly with passata or your favorite pizza sauce.
Top with half of the sliced mozzarella and half of the sliced onion.
Place the pizza in the oven and cook until the crust is nicely charred and the cheese is bubbly.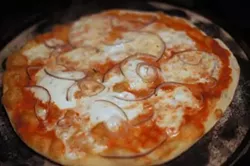 Top the cooked pizza with half of the prosciutto, arugula and shaved Parmigiano-Reggiano. Drizzle lightly with olive oil and serve immediately.
Repeat with the remaining pizza.
Photos by Ted Scheffler