As a general rule, Mumford & Sons' big win at the 2013 Grammy Awards should have been a signal to all lead singers with kick drums at their feet that it's time to move on to something else. Excluding Provo, that is. It's been fun over the past couple of years watching the world embrace the rustic charm of indie folk as popularized by Of Monsters & Men, The Lumineers and the aforementioned Mumfords, but I'm just not sure if it has much more of a shelf life left in it.---
Again—excluding Provo.
Two bands in particular at Velour's eight-year anniversary bash in Provo on Friday night, The National Parks and Westward the Tide, surely owe part of their rocketing popularity this past year to local music fans' continuing affinity for fun, foot-stomping indie folk. Those bands, in particular, made sure Friday's show was full of rollicking singalongs that I dare say nearly crossed the line into full-on hootenanny territory.
In other words, it was the kind of concert that shows why Velour's eight-year existence has made it the epicenter of the fun-loving, communal vibe that epitomizes Provo's music scene. But Velour is also a place that has helped launch careers, and it was the glimpses into the future at Friday's show that got me even more excited than the handclaps and the occasional "Hey!" shout ever could.
Coming off a good year that saw the release of their EP Everything Is and the completion of a soon-to-be-released full length, Westward the Tide was at the top of its game as the Salt Lake City band closed off the night shared with The National Parks, Strange Family and Young & Old.
Even though Westward the Tide's EP came out only nine months ago, some of the songs on Everything Is—including the encore's "This Heart I Know" and "Out of My Head"—have reached crowd-favorite singalong status.
But it also seemed clear that Westward the Tide is interested in taking its growing fan base into new territories. Their newest single, "Stardust," is spare and haunting, and shows that the band is capable of dipping into a much deeper musical well than it's demonstrated thus far. It's a promising sign for the band's debut LP, which is due to be released sometime in late February.
With a full-length album already under its belt, The National Parks was clearly a standout performance as well. Whether I'm right or not in my earlier assessment of the life expectancy of acoustic-based indie folk as The National Parks play it, they proved that they're pretty damned good at it.
The Provo trio led by lead singer, guitarist and (yes) kick-drummer Brady Parks has energy and chops, which can thankfully carry young bands much further than fads can. And The National Parks' crowd favorite "Wind & Anchor" has an undeniable appeal.
Opening the set were Young & Old and Strange Family, the respective winners and finalists in Velour's vaunted summer Battle of the Bands. Provo's Young & Old churned out a punchy and straightforward set of meat & potatoes guitar rock that featured the gravelly voice of lead singer John Hancock and some decent guitar shredding to boot.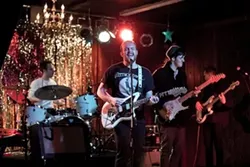 Strange Family, also of Provo, put on perhaps the most sonically diverse set of the night. Unfortunately, an extra-long sound-check for the instrument-laden five-piece may have unfairly sapped some of the crowd's energy. Nevertheless, Strange Family ended with its best song of the night, "Villisca."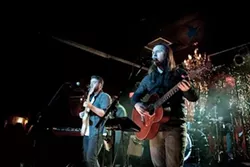 After eight years, the fact that a venue like Velour is still cultivating artists capable of producing original work as catchy, authentic and transcendently beautiful as "Villisca" is a good indicator of many more anniversary shows to come.
Twitter: @KimballBennion