As legalized gay marriage in Utah is weighed before courts across the country, the state's refusal to recognize the 1,300 same-sex marriages it granted in December and early January picked up a lawsuit from the American Civil Liberties Union.---

The suit was filed in Utah's 3rd District Court on behalf of eight plaintiffs. It contends that the same-sex marriages authorized by Utah officials cannot retroactively be invalidated simply because legal proceedings are pending.

"The validity of these marriages cannot be assailed," says Erik Strindberg, an attorney with the firm Strindberg & Scholnick, which co-filed the lawsuit with the ACLU. "We want equitable relief. We want this matter resolved now."

Although attorneys have not sought a class-action suit, Strindberg says a ruling in the ACLU's favor will guarantee marriage rights for all of those who married during the 17-day window when gay marriage was legal.
Pictured right: Plaintiff Tony Milner speaks of his desire to be an adoptive parent to his 4-year-old son, a possibility afforded only by marriage. ()
The controversy traces back to Dec. 20, when U.S. District Judge Robert J. Shelby struck down Utah's ban on gay marriage, saying it violated federally protected rights of equal protection and due process.

First Shelby, and then the U.S. Court of Appeals for the 10th Circuit, in Denver, denied multiple attempts by the state to halt the marriages as the case was appealed. But on Jan. 6, the state received the relief it had sought from the U.S. Supreme Court, which blocked any further marriages until higher courts could take up the case.

Rather than honor the marriages it had been blessing, Utah officials did something some gay-rights attorneys say was unprecedented: invalidate all of the same-sex marriages that had occurred. Gov. Gary Herbert ordered all state agencies to cease recognizing the marriages in any form, from the changing of names on driver's licenses to the processing of insurance claims and adoptions.

Adoption is one of the key reasons Matthew Barraza and Tony Milner, two of the plaintiffs, rushed to marry when it was legal. Four years ago, they had a son, Jesse. And because they were never allowed to marry, they also weren't permitted to both be the parents of their son. So for the first four years of Jesse's life, Barraza has been the legally recognized parent.

At a news conference announcing the lawsuit, Milner said if anything happened to Barraza, it's hard to know what would happen to Jesse, since Milner isn't his legally recognized parent.

"We were excited because we could move forward with a second-parent adoption of our son," Milner says of finding out he and his husband could marry. "This peace of mind is again out of reach."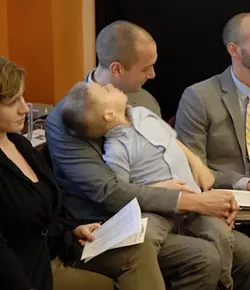 Stacia Ireland and Jonell Evans have experienced the oft-described wire-crossing that can occur when a partner is hospitalized, and the other partner is excluded from the hospital's health-care decisions.

Ireland, 60, says when she was hospitalized in 2010 after a heart attack, Evans was allowed to remain at her bedside, but hospital staff was "hesitant" to include her in their decisions. Shortly after marrying, Ireland was again hospitalized, but this time they were treated the same as any other married couple.

"The hospital staff was much more welcoming," she says. "We just want the security and peace of mind to know that we can be there for each other in the hard times."

Another plaintiff in the suit, Donald Johnson, a teacher in the Jordan School District, says that after marrying his longtime partner, he was relieved to finally let his students and colleagues know he was in fact gay, and married.

"It was amazing while it lasted," he says.

At the news conference, Johnson reminded the citizens of Utah that gay people are all around, and it's time to stop treating them like "second-class citizens."

"We are your neighbors who lend a hand when you need one," he said. "We take care of your dogs and collect your mail when you go on vacation. We shovel your walks and mow your lawns and try to be an asset to the neighborhood. We teach your children and help you with your purchases. We sit next to your at the U games. You have been to our house for dinner and we exchange cards and small gifts during the holidays. We are not an affront to the citizens and more values of our community."

John Mejia, an attorney with the ACLU, said the state has 20 days to respond to the suit. He says he and other attorneys will attempt to marshal the lawsuit quickly, though resolution could be several months away.

In the meantime, the 10th Circuit court will prepare to hear the state's appeal of Shelby's ruling. This too, could be months away. And regardless of how the court rules, an appeal to the U.S. Supreme Court is expected.
Dec. 20
and
Jan. 6
. // PHOTO BY PATRICK JENNINGS