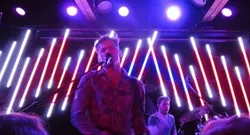 St. Lucia's performance at The Urban Lounge on Wednesday night not only lived up to but surpassed expectations. It definitely an instance of a band not being as good live; instead, in concert is where St. Lucia shines the most, because their performance made me feel the passion that they put into their music. Just listening to St. Lucia through headphones will never be the same. ---

Sir Sly started off the night, looking sharp with matching Euro/indie sides-shaved-off haircuts and patterned button-up shirts. The overwhelming noise from the crowd upon their entrance revealed the band's surprisingly large Utah fan base. Then the multicolored light rods and the fan turned on simultaneously, and The Urban Lounge was turned into a spacey disco club packed with dancing fiends.
An extra-terrestrial feel was accomplished with St. Lucia's dreamy opening song, "The Night Comes Again," complete with '80s-style guitar riffs and echoing vocals. They then brought out the first song they had ever recorded, "The Old House is Gone." All throughout the concert, St. Lucia frontman Jean-Philip Grobler was visibly passionate about his performance as he squeezed his eyes shut and even fell down on the stage a couple of times.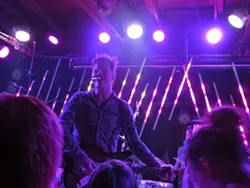 Grobler thanked the crowd "for coming out on this unfathomably rainy night," and mentioned that their last location of Minneapolis was much colder, and thanked the crowd again for "organizing the warmer temperature for them." Besides this and a couple of comments, there wasn't too much chat between songs, as Grobler got right down to business.
Then followed the tropical-sounding "Wait for Love," which Grobler mentioned was a "tribute to [his] home country" of South Africa. On the next song, "We Got It Wrong," he had the crowd participate by repeating the line: "Don't go, don't go away." After starting off the audience, he sang a different melody, which sounded pretty cool. Halfway through, people started to stop repeating the line, and he shouted, "Don't get lazy, guys!"
The crowd was pretty docile up until a pocket of bros broke through into the front and thought it would be chill to start a mosh pit. It turned out to be short-lived, however, as the people up front began to also get aggressive. One of the mosh-pit guys told the whole crowd that "they all needed a shot, c'mon let's get this party started!" No one took him up on it.
Then St. Lucia walked off stage, and the crowd immediately started repeating "Don't go, don't go away!" again, which ended up convincing the band to come back for an encore.
The exception to the minimal stage chatter was when Grobler presented his fellow band members, including his wife Patricia Beranek on keyboard and vocals, introducing her as "The beautiful Patricia"—awww. He then launched into a long-winded story about how their new drummer was the only one to lose his suitcase out of the back of their trailer when it was left slightly open during one of their drives. Grobler, laughing, mentioned that the poor guy was "borrowing all of [their] clothes."
They closed with the upbeat "When the Night," which had everyone dancing hard-core, mosh-pitters and Provo-ites alike. The crowd wasn't the only party who was feelin' it, as Grobler fell on the ground again during the last chords. It was a concert super-charged with high energy, spontaneous mosh pits and great music.
Photography by Hilary Packham