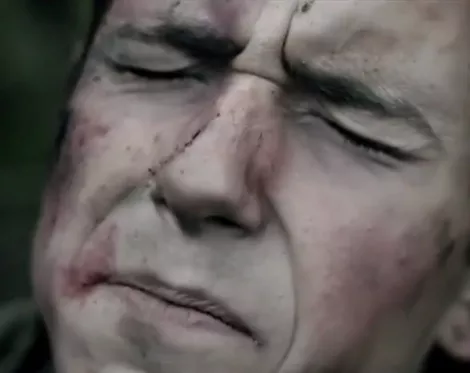 Since its release back in December, BYU-Idaho's "Wounded on the Battlefield" video has rubbed quite a few people the wrong way. The school-backed PSA awkwardly suggests that students inform church leaders of their slap-happy roommates, while simultaneously aligning porn usage with the anguish of dying in battle. --- If you haven't seen the original, do yourself a favor and check it out below:
The video (which only focuses on men for some reason) opens with the university's president, Kim B. Clark, speaking about the "spiritual" wounds caused by porn in the "great war." A "lonely, confused young man" is looking at porn with the door wide open (like an amateur, for Christ's sake) while his roommate watches from a distance. The scene then awkwardly switches to a battlefield, showing the porn-riddled bastard groaning in agony next to a tree, while his buddy spies on him with binoculars. Basically, it's sorta like the film Saving Private Ryan, but in this version Tom Hanks walks in on Matt Damon—it's time for some fanfiction:
"Damn it, Tom, do you ever knock!"
"Shhh, I'm here to save you!"
"Close the fucking door!"
*throws box of Kleenex*
Fade to black.
Well, it took a few days, but thankfully, finally, the good people over at Parody Bandit also recognized the dire need for a re-edit and followed through with this excellent, tasteful alternate version (wait about 45 seconds for the parody portion to begin):