It is going to be an interesting couple of weeks as winter ends and we get into spring releases, but that doesn't mean there isn't interesting music to check out locally. --- Take, for example, this brand-new EP of sampled remixes from Taylor Fang, who is a local producer we don't know much about. The EP has some interesting tracks, ranging from an 8-bit version of "The Real Slim Shady" to a track from the Sonic the Hedgehog video-game series. You can buy Taylor Fang Or Die now for a pay-what-you want price tag on his Bandcamp.

Next up is the debut release from Q1, but I won't say much about it as it was reviewed in this week's edition of City Weekly by Music Editor Kolbie Stonehocker. In short, you can pick up The End Is To Begin off his Bandcamp page.

A brand-new one that caught us off guard was the latest from Royal Bliss. The nearly 17-year-running alternative-rock band out of Salt Lake City have seen their shares of success and failure, and is one of the few nationally recognized bands from Utah that has been on the brink of taking off. Royal Bliss has scored a national label singing and toured the U.S. a few times, but somehow hasn't cleared the bar yet. Now, Royal Bliss even has their own damned venue on 900 East, The Royal. This week, they dropped a new album titled Chasing The Sun, which came out Tuesday and makes some nice progressions from their 2012 release, Waiting Out the Storm, with some harder riffs and what feels like an abandonment from what others criticized as "radio rock." You can buy it off Royal Bliss' website, or through Amazon or iTunes.
While that we're in the land of alternative, let's switch to acoustic and look at the debut release from Just Hooligans. This is a new four-piece from SLC with a poppy kind of sound that's been getting some mild traction from their all-ages shows, but they've actually kept a pretty low profile seeing as how they had nothing much to promote. So it isn't entirely surprising we found out about their release, Early Life, through their Facebook. It's actually pretty cool to kind of kick back and relax to, but at the same time it has a live performance quality, the vibe of catching a secret show in someone's loft. This is a must-listen, and you can purchase it for whatever price you'd like off Just Hooligans' Bandcamp page.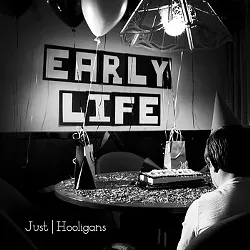 Moving into actual release shows, tonight we'll see the debut album from hip-hop artist Donnie Bonelli. The Provo-based rapper (seen above, courtesy of his Facebook) has been an interesting member of the music scene, starting out in the hip-hop game before switching it up and working with bands like BottleShip, and eventually doing his own material as a folk artist. But in recent years he got back into rap as a part of the House of Lewis crew. He's released a couple of singles and an EP in March 2013, but Shakeface will mark his official full-length debut in the genre. You can catch his release show at Muse Music Cafe, being the frosting to the Oreo cookie that is Drew Danburry's release show for the latest album, 70 Love Songs, by his For All The Girls side project (which we mentioned last week). The show kicks off at 8 p.m., and tickets are $7 at the door.
And while we're at Muse Music, the following night will see the release show for Echodog. The four-piece indie band from Lehi has been around for a couple of years, becoming a staple as a Velour go-to band, which should come as no surprise since drummer Al Dente is one of the best venue sound guys around. It always helps a venue to have a band member in your pocket to make a quick booking, just in case someone else falls though. But beyond that, we haven't heard much from Echodog, and, in fact, the EP being released this weekend, titled Mine, has been in the works for more than nine months without a peep from the band—not even a sample of the music. So, you get to tread in blind Saturday as Echo dog puts out its album and perform live with Big Giant (featuring Kathleen Frewin) and Salazar. Tickets are $5, and the show starts at 8 p.m.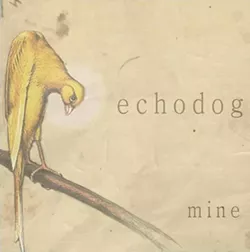 Love music, head out, buy local.