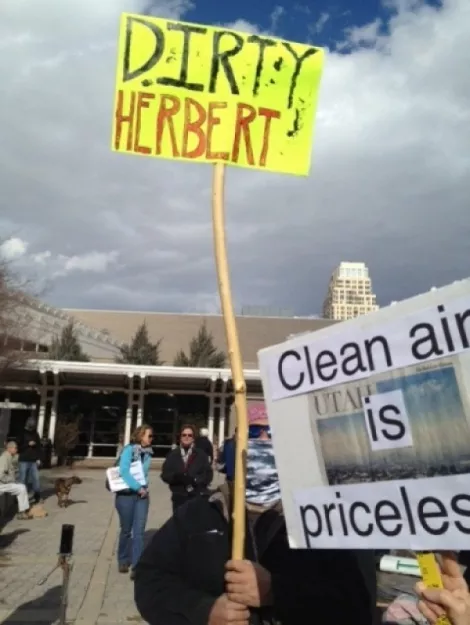 In the age of "I'm gonna sue you!" it seems like you can file charges for just about anything (even ugly children). And now that a man is attempting to sue the Chinese government over air pollution, could Utah be next?---
Li Guixin, a resident of Shijiazhuang, in northern China near Beijing, is demanding that the Environmental Protection Bureau fulfill its duties by enforcing air-pollution laws. He is also demanding monetary compensation "to let every citizen see, that amid this haze, we're the real victims," according to the Yanzhao Metropolis Daily, and wants reimbursement for purchases made to endure toxic air: facemasks, an air purifier, and a treadmill.
It's not just dangerous air-particle levels that Beijing and Salt Lake City have in common. Both are nestled in valleys surrounded by mountains, which traps toxic air during winter months, and public awareness of air pollution is increasing. Environmental agencies in both Beijing and Salt Lake City have filed lawsuits against pollution-causing industries, but this is the first time an individual has sued the government over smog. Arnold W. Reitze Jr., an environmental attorney who focuses on air pollution, says a similar lawsuit wouldn't be feasible in Utah.
"The chance of successfully suing the government for air pollution is slim to none," he says. "Unlike China, the U.S. already has a complex air-pollution-control program."
The system "does not work as well as many would like to see, but it has been successful, particularly when compared to many other government programs," he says.
Cherise Udell, president and founder of Utah Moms for Clean Air, says that a lawsuit has crossed her mind several times—either against the federal Environmental Protection Agency, Utah's Department of Air Quality, or Utah Gov. Gary Herbert, but that a lawsuit is a last resort, as she wants to avoid wasting taxpayer dollars.
But, she says, "It may be the only way we'll get progress. The DAQ is not fulfilling the mandate set in place by the EPA so they are vulnerable to being sued."
Udell isn't the first to consider this course. "Many years ago, there was a movement to create a constitutional right to a clean environment—it went nowhere," Reitze says.
And a more direct lawsuit would also present challenges, he says. "If a suit is for damage to health, the plaintiff must prove causation by the defendant, and this is not easy to accomplish," Reitz says. The plaintiff would also have to show that the government is capable of solving the problem.
Li Guixin's case hasn't yet been accepted by the court, so it's unknown whether he has proof to hold the government liable for damage to his lungs.
The biggest barrier in Utah is a lack of solid evidence that polluting industries are a direct cause of health problems. "If a person ended up in the morgue with a toe tag that said "died from Rio Tinto," Udell says, "they would have been sued a long time ago."