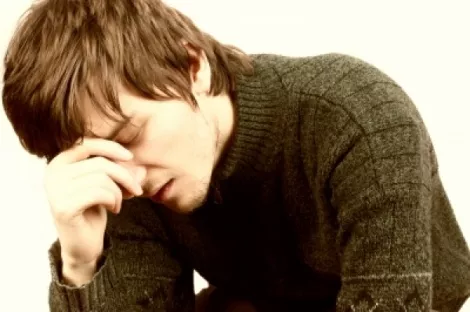 Utah is often referred to as the "Happy Valley," but is that a misnomer? In the wake of recent data, the smiling faces that are so often synonymous with the state may simply be a veneer for what Utahns are really feeling.---For the past few years, the consulting firm Gallup has conducted a survey titled The Gallup-Healthways Well-Being Index to find out which state in the U.S. is the happiest, but not why.
For the 2014 year, Utah ranked No. 12, a dramatic drop from No. 4 last year. But the fact that Utah ranks in the top 15 is something of which to be proud—right? That depends on how one wants to interpret the study. A closer look indicates that in the areas of emotional health and physical health Utahns were relatively unhappy, coming in at the high twenties. While the fifth place ranking in 'Overall Life Evaluation' no doubt drastically altered the mean; and solidified Utah as happy, one can't help but wonder what caused the discontent in other areas.
Daniel Olympia, a professor of educational psychology at the University of Utah, notes that to understand happiness, one must realize that the idea of happiness is in fact, subjective. "Happiness is an oversimplification of how people feel about their lives and judge themselves in relation to their place in the community," he says. In that regard, several factors could be at work here, all relative to each individual. And there has been plenty this year that allows for opinion in the state. In fact, the past year has brought several changes in Utah. For example, Olympia says that political discussion in regards to marriage laws can, depending on beliefs, cause many to feel unease with their place and voice in the community. Additionally, financial security or lack thereof can cause feelings of emotional distress or concern, which in turn affect, again, subjective well-being.
There also might also be a psychological factor at work called the Hedonic Treadmill, which, in its simplest form, is the idea that happiness due to exposure to positive changes can dissipate, or wane, into a sense of feeling stalled or static and an individual must continually search for the next form of happiness. According to this theory, society basically begins to wonder Where do we go from here?.
Religion may also be playing a role in Utahns' overall life evaluation. It's a loose theory, but not inadmissible, if considered in a different context. Olympia notes that in fact, the effects of religion in Utah may be accountable for the unhappiness many experience. The inability to fulfill the expectations of one's religion allows for disappointment in oneself or a sense of failure. This, in turn, can once again affect subjective well-being. This might further explain the South's rampant unhappiness as well, they are a region with several economies that are struggling. "General wisdom adheres to the idea that wealth and income make a contribution to a certain point, in the idea of subjective well-being. Where income is low, unhappiness can be majorly felt," Olympia says.
These theories explain the unhappiness, but the question still stands, why are Utahns stating that their lives overall are generally happy? According to Olympia it might just come down to hope. "You could say that generally people are pretty optimistic about issues that will impact them. And hope can affect overall happiness," he says. So it might be more apt to say we are not necessarily happier, but are instead more hopeful than other states. If this is indeed the case, perhaps the common cultural jabs Utah so often endures are unwarranted.
Maybe we are not fakers, religiously reliant, or oblivious—perhaps we simply have an abundance of one universal emotion that tipped the scales. In regards to the Well Being Index, Olympia suggests keeping in mind that it is just one study. Subjective well-being is always prone to change, based on several factors. This might explain the dramatic drop. Perhaps it's just a coincidence; next year could reveal an unforeseen rise.