For Utah rappers (and, perhaps, rappers everywhere), it seems that there are two basic courses of action: complain about how you don't get any shine and how everyone else is terrible, or just consistently make better music than your contemporaries. With that in mind, 10 of the local rap acts who regularly choose the latter were onstage at Saturday's CWMA Rap Showcase at The Complex.---
Though Utah rappers are often unfairly lumped together as one homogeneous blob, the major takeaway from this event is how insanely talented and incredibly diverse this scene truly is. For a night that featured Malev Da Shinobi, Playboi Short, Dumb Luck, Dine Krew, Burnell Washburn, DopeThought, Better Taste Bureau, Kis.B, Pat Maine and Atheist, rapheads got a dose of what's available locally—and really, that's the whole point of the CWMAs.
Sure, on the surface, the CWMAs are, in fact, a competition. Some people can't stand the competitive aspect of the event, and that's totally OK. But City Weekly can't just give everyone 8Gs in advertising, a cover spread in this week's issue and a paid gig at the Twilight Concert Series—unfortunately, that shit has to be earned, and we feel these incentives help the winning acts become even better.
Essentially, when you strip away the hype and the awards, the CWMAs are centered on one basic concept: that good, locally produced music deserves to be heard by the masses. That's it.
This was City Weekly's first year to feature a Rapper of the Year category, and the motivation behind the event was simple: to recognize a Utah-based hip-hop act that had an incredible year, not crown an act as the best ever to come from Utah (that's what chat rooms are for).
We feel that the local hip-hop scene stands on its own and deserves as much recognition as Utah's talented bands and DJs—and it seems our readers felt the same way. Saturday's rap showcase had the largest turnout of all the 2014 CWMAs, with well over 400 people in attendance. This number is pretty significant when you consider the fact that Saturday's showcase competed with three other local hip-hop shows: The Mic Check Series at Barbary Coast, Grouch & Eligh at The Urban Lounge, and Far East Movement at The Depot.
So, if you didn't make it out, then you basically blew it. But it's OK, I kept notes:
- 8:32 p.m. A couple of kids out on The Complex's smoking patio discussing how Malev Da Shinobi is their new favorite rapper and how appropriate it was he was rocking a ninja suit on stage.
---
- 8:46 p.m. Playboi Short and the No Gravity posse keepin' it dutch with an adrenaline-laced set while simultaneously proving that battle rappers can write and perform quality tracks. Excited for their new release in April.
---
- 9:08 p.m. Dumb Luck laying down one of the most humbling and honest sets of the night and showing that not only can he rap, but that the kid has pipes like Sharon Jones. The boy can sing!
---
- 9:43 p.m. The Dine Krew clique murkin' around on stage in one of the most high-energy, true-to-form hip-hop sets of the night. Also, the entire Complex smelling like weed as soon as soon these kids rolled on stage with ski masks. They claim it's a coincidence.
---
- 10:07 p.m. Burnell Washburn showing that when he puts in work and links up with a legit DJ, his hip-hop sets can feel like head nod-able poetry. Crazy how much better this set was than his performance at last year's CWMAs.
---
- 10:34 p.m. Kis.B introduced to the crowd his live band the BoomBoxx Boys and packed the venue with arguably the most funk-dripped set of the night. Looking forward to hearing his upcoming projects.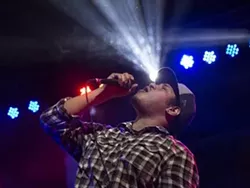 ---
- 11:06 p.m. Some heads up on the 21-and-over balcony arguing about how weird it is that DopeThought and Jackson "Worth" Savage sound like no one else from Utah. They're probably right.
---
- 11:28 p.m. KRCL's Friday Night Fallout host Planit Ra Hotep and Negrodamus freestyling about every single rapper at the CWMAs.
---
- 11:36 p.m. Salt Lake City-based crew Better Taste Bureau dropping "Out West" as CWMA judge Nate Syncronice glances over at me with a look of "Oooo shit."
---
- 12:04 p.m. Pat Maine blowin' wigs back with his live band the Red Dog Revival. Also, the band's bassist has a fro that is probably 8 feet in circumference. This set definitely solidified why Pat Maine is one of the most respected emcees in Utah.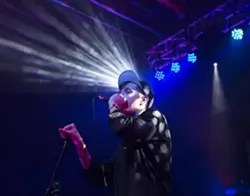 ---
- 12:45 Before he took his shirt off, Atheist was wearing pajamas with a lab coat over it and a giant cut-out mask of his own face. His live performances are what would happen if Weird Al and GG Allin got together (that's a compliment).
Big thank you to everyone that performed at, helped and supported this event, especially KRCL's Planit Ra Hotep for hosting the evening and also DJ Finale Grand for holding down the decks all night.
Look for the 2014 Rapper of The Year announcement in next week's issue of City Weekly.