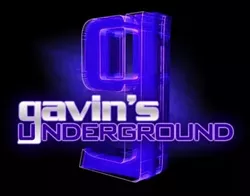 While the traditional print zine still has a hefty audience searching for them at every coffee shop and oddity kiosk around town, creating zines online has continued to be an option for those with little money or that have a staff spread across great distances. --- In fact, it's those two items that are pushing more locally crafted content to take an online presence and dump the traditional format, along with reaching out to a more accessible audience who is already looking for something new.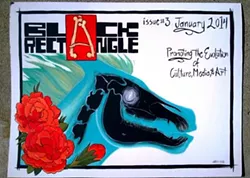 Black Rectangle is one of the more recent additions to the online zine community. Started up in late 2013, they've produced three issues and have already sparked interest with social media readers and are working to produce more issues as the year continues. Today, we chat with one of the founders, Matt Daniels, about the new zine and where it's headed. (All pictures courtesy of Black Rectangle.)
Matt Daniels
Gavin: Hey Matt, first thing, tell us a little bit about yourself.
Matt: I've been in the Utah music community for the better part of 20 years, both on the stage and behind the scenes. Father of three, husband of the best gal in the world, lover of arts, food and Lifetime Original Movies.
Gavin: What got you interested in writing and publishing and what were some influences on you?
Matt: Honestly, if I look back, writing about just about anything has been of interest to me since I can remember—I really enjoy writing. But it was back in the early 2000's when I realized there was a ton of excellent artists in the area without a source for all of them to speak collectively. I mean, there were places…SLUG Magazine, The Rock Salt, UtahBands... but I didn't think these captured everything, rather everyone along the artist spectrum without too much bias. I gave it a shot with SuperjoyMusic, which was great but became more of a place for people to talk in a forum and less about the arts in general. So years later, the bug bit again. Steve, a good friend, had similar desires to help artists—he's a big supporter in a number of ways—so together we decided to put together an online zine, a stylistic blend of then and now.
Gavin: Prior to Black Rectangle, what had you worked on previously?
Matt: Bands mostly, but I've owned and ran venues too. I was the owner/creator of SuperjoyMusic and I co-owned and co-ran xok Clothing as well. I've been a part of the Utah artistic culture in one form or another since the early '90s. Currently, other than BR, I write articles under the name Gary the Unicorn, and had a shortly lived comedy troupe under the same name.
Gavin: When did you first meet the rest of the staff?
Matt: Back in 2010, I saw Steve [Givens] crying at a coffee shop and I offered him a handkerchief. He looked up at me and with those sad eyes I saw a kindred soul. Either that story, or that we worked together at our place of business and found out we had a lot in common. Steve is a fantastic person with neat tattoos.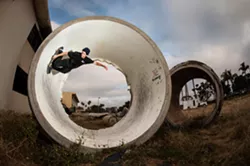 Gavin: How did the idea of starting up an online magazine come about, and where did the name come from?
Matt: I grew up reading a lot of cheap zines — SLUG locally, Maximum Rock 'n' Roll and a few others—and have missed the feel of that cheaply printed stuff... the content and style too. Realizing how much easier it is to print digitally, and given both Steve's and my own busy personal life, we decided on the e-route. As for the name... I'm a huge sci-fi fan, particularly smart or thought-provoking sci-fi. What's more thought provoking in the genre than 2001: A Space Odyssey? That movie never stops pushing the boundaries of possibility, of discovery. And the monolith, particularly the one in Africa—the black rectangle, if you will—that mysterious object takes a group of primates and breaks their intelligence plateau. The rest is (our) history. Sorry for the spoiler, but it's a 45-year-old movie. So, evolution via black rectangle, if I may be so bold, be it chimp or artist.
Gavin: What was it like figuring out a plan and a schedule for everything prior to taking submissions?
Matt: We're still figuring that out, actually. We are remaining fairly loose with it for now, since we do this in between work and family. More or less, it's spreading the word and publishing when we feel we have enough to make a legit issue. We strive for monthly, and hope to solidify our processes soon.
Gavin: How was it putting a basic staff together and how did everyone come into the fold?
Matt: Steve has been great—without him this simply doesn't happen. But the other add-ons—Sausha, Matt Smith, Justin—they're friends and family that have a lot to offer. Matt and Justin have more or less been advisers or consultants, although we did publish a really cool short story of Justin's in one of the issues. Matt Smith just happens to be my best friend, since we were tots, and he's too valuable not to seek advice from. Sausha is our lead editor and primary reader; very helpful, very talented. We'll be publishing some of her fantastic photography soon as well. Hopefully we'll require more help down the line, and when that happens we'll likely interview and hire in a fairly standard manner.
Gavin: What's the process for choosing content for the magazine?
Matt: This is tough. The purpose of BR is to promote all types of artists, currently those in or with ties to Utah. But there are those that submit—a really nice kid from the western part of Utah, for example—that just don't have the quality of work that says "publish this!" When this happens we do our best to encourage, to provide feedback if desired, and we always leave the door open for these people to submit again in the future. As for those we choose to put in the issues, it's mostly about diversifying. In the upcoming issue we have more hip-hop stuff than anything else, but we've got a wildlife painter and some other content too. It's kind of a what does this issue need situation. So far, it's been a fun challenge. We've got a lot of ideas in the future, single-subject issues, themed issues and whatnot.
Gavin: What made you choose to take on submissions rather than selecting staff to make a writer's pool?
Matt: That's a good question. I guess we never looked at the options any other way. We wanted reader and artist submitted material, with as few middle-men as possible. We want organic, we want raw. For example: If there is a sculptor out there in her grandparents garage, and has never shown a single person her stuff, we want to see it. If it's good, we want everyone to see it. It could be the difference between her changing careers, or our readership numbers increasing. The sculptor could possibly show her work to thousands over the course of a week. Why not push that?
Gavin: You launched the magazine last September and published the first issue in November. What was it like putting the magazine together the first issue in such a short amount of time?
Matt: It wasn't easy. It's a loud world, and millions have voices via social media, websites, etc. How do we shout loud enough to get attention? Fortunately we know some people in the artistic communities. Chris, from the I Am Salt Lake podcast, once interviewed me for his podcast (episode #30 I believe). He humbled me, and I realized I was in the presence of a truly great man, a legit artist. Calling on him for the first issue was a no-brainer. Andy, too, an old friend, legendary in his fields. These are people that don't need our help as much as we maybe need theirs at this time, but they deserve all the attention they can get. Aside from them, we put out some online ads and surprisingly got some responses.
Gavin: What was the public reaction like to it and how did that influence the release of further issues?
Matt: Initial response was fantastic; better than I'd expected I think. It's been the same throughout the issues: lots of compliments, return readership, excitement over new avenues. Really, the first issue did nothing better than show us that we were on the right track. Always learning from the past.
Gavin: You've had three out so far on a somewhat monthly basis. How do you pick and choose the content and the time you choose to release an issue?
Matt: It's all about what we have in our selection pool, really. We used Adam Palcher's short in an issue, with a great interview from him. But we have other film shorts we've chosen not to use at this time. It's kind of a, "What do we have that works with this issue?" sort of thing. If we have a heaping stack of poems, we may end up with a poetry heavy issue. We realize that a lot of people won't be interested in the variety as much as they may be in a particular subject, but our purpose is to promote art, not a specific genre. So in any given issue, we might have a smattering of styles and types of art or a heavy amount of one specific type. Fun, right? Say yes, Gavin.
Gavin: What are your hopes with the magazine and the kind of influence you hope to make with it?
Matt: I want to sell it to E! and make so much money that I can cap my teeth and buy a tanning bed, and Stevey can finally buy that rare Pokemon card he's been seeking all these years. But if that doesn't happen—if—then I think our goal is to push this as far into the future as readers and artists allow. In this format we're subject to the next format or fad change, and the one after that, etc. But to answer more directly, I think what we really want is to generate a greater awareness and appreciation for the artist. If possible, we want to help the little guy become someone well known for his/her art. The influence will hopefully be big enough that we're remembered. I hope we can have a run like SLUG, and look back to our humble beginnings and smile. I also hope that we can hire people to run it for us so I can spend more time raising my kids and building musical instruments. One day, maybe.
Gavin: Without giving away too much, what have you got coming up for the next issue?
Matt: I mentioned some earlier, but I can throw a few more tidbits your way: There's a Christian, a non-religious fella and a guy with a famous painter for a father. Also, if possible, I'd like to sneak in a picture of a cat playing Nintendo.
Gavin: What can we expect from you and Black Rectangle over the rest of the year?
Matt: Growth. It's as simple as that. We're looking to fill each issue with quality material, but hopefully each issue size (currently around 10 pages per) will expand due to the number of great submissions we receive. We're looking at doing an annual printed issue, special edition kind of thing. Themed issues for sure. Partnerships (I'm working on one right now with a really cool local publishing company) and other forms of promotion. We're aiming at our 12th issue being twelve times better than the first. Because we're dorks and that sounds like something I'd have said as a 10 year old.
Gavin: Aside from the obvious, is there anything you'd like to promote or plug?
Matt: Other than reading my (terrible) articles, I'd say we are going to do as much of that as we can in our issues, so there's not a lot left for this question. Yeah, I'd love to mention people like Adam Noshirivan or Big Dave Qualls, how great they are and whatnot, but they need no help from me. I suppose I could say that I'd like everyone to truly get out and support Utah arts, artists and the Utah Jazz. Other than that, do not be a dick to anyone unless they are hurting a kid or a lady or a puppy. Then you should use all of your karate on them.



| | | |
| --- | --- | --- |
| Follow Gavin's Underground: | | |