With the expansion of the music scene and the way it has progressed over the past few years, it's almost become a necessity to have local studios that can match or beat the production quality of anything a band would find on the coast. --- With that ideal in mind, the owners of Onion Street Studios transformed their home into a recording space instead of renting one, thereby transforming it into one that they would use themselves and giving anyone who records in their studio one of the best experiences they can get around here.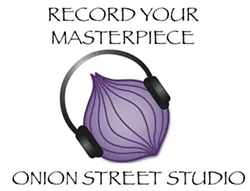 Today, we chat with musician and Onion Street co-founder Kurt Cochran about his career, creating the studio and the run it's had so far, along with his thoughts on the local music scene. (All pictures courtesy of Cochran.)
Kurt Cochran (right, with Bret Layton)
Gavin: Hey Kurt, first up, tell us a little bit about yourself.
Kurt: I grew up in Maryland, lived in Texas for a while, then ended up in Salt Lake City in 1983.
Gavin: What first got you interested in music and what were your favorite acts growing up?
Kurt: My parents were big into music and entertaining. Mom loved jazz and Dad loved country. Music was very prevalent in my early years. I have a sister who is 10 years older than I am, and I used to sneak into her room and listen to Hendrix, Cream and Crosby, Stills, Nash & Young. Those artists were at the top of my list as a preteen. As I grew older, hard rock/heavy metal took over as my favorite genres, like Black Sabbath, Judas Priest, Rush and Aerosmith.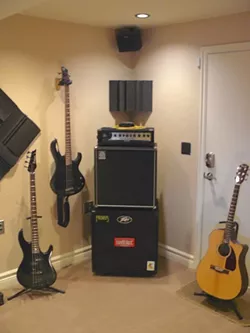 Gavin: How did you get started playing music?
Kurt: I got my first guitar at age 7, took some lessons and was on my way. I didn't have much natural talent, so what I learned I had to work hard for.
Gavin: What got you interested in doing studio recordings and becoming a producer?
Kurt: I was doing my own recordings at age 10. I had a handheld tape recorder and would experiment with all kinds of sounds then mix them into a project. I didn't realize it then, but that was my first taste of what was to come.
Gavin: What was it like for you learning the ropes and figuring out how to create a great recording?
Kurt: Learning the ropes for me was like going back to college, only this time I had the drive. This is something I love, and if I failed it wouldn't be for lack of trying. I read books and magazines, did tons of online work and continue to educate myself on the latest and greatest.
Gavin: How did the idea come about to start up your own studio, and where did the name come from?
Kurt: One day, my best friend was goofing around on a Casio keyboard and I picked up my guitar, and we started jamming. At that moment, we started a band. We played for a few years, played a few gigs and then decided that instead of a half-assed band we would build a kick-ass studio. So we did. We kicked around many names and because the studio is located on historic Onion Street in West Bountiful, the name Onion Street Studio became the obvious choice.
Gavin: What made you decide to set up shop in Bountiful, and how did you come across the studio space?
Kurt: We researched studios from SLC to Ogden and found that Davis County was lacking in quality studios. Rather than renting or leasing a place, we decided to remodel our home to create a state of the art studio that would rival the big dogs. We took out a loan, gutted the basement and started soundproofing.
Gavin: What was it like setting up the studio and optimizing it for what you needed?
Kurt: Tons of homework. In soundproofing alone, there are hundreds of products that do a variety of things. The software choice was fairly easy; Pro Tools was at the top of the game when we bought in. I already owned a bunch of instruments, so then it was mics and hardware and more homework to find the best equipment available for my application.
Gavin: For those curious, what kind of equipment and instruments do you have?
Kurt: Mac Quad Core and Pro Tools for starters. Sterling, AKG, Shure and a slew of other mics. Fender Gibson, Taylor, Ovation and Yamaha guitars. DW drum kit, Midi-capable Clavinova with 88 fully weighted keys and a myriad of other instruments.
Gavin: After the studio opened in 2007, what was its first year like? How was the response from the music community?
Kurt: The first year was rough. I knew very little about marketing, so most of what I recorded was pro bono or just working on our own music for practice. I was still trying to figure out how to get the music community to hear about us.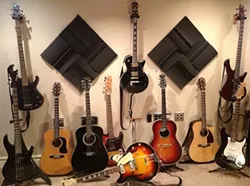 Gavin: Who are some of your favorite bands you've had a chance to work with since opening the studio?
Kurt: That is a tough question. Early on, we had some really talented up-and-coming young bands with massive talent that I really enjoyed. Jim Walton just finished his third full-length album of Native American flute in the New Age genre that was an honor to be a part of. I did a little work for New City Skyline, and recently had the pleasure of working with the girls from SubRosa. Jon Paul Yerby, a classical guitarist, was another favorite musician. I also have some very talented studio musicians; special mention to Ryan Miller who is a brilliant, multi-talented musician. I am currently working on a full-length album for Genre Zero, a rock quintet with a violin and keys that I really like. Also a bunch of singer-songwriters who continually blow me away: Kristen Carol, Garrett Bishop, Matthew Castillo, Cheyenne Jaxon, Josh Wouden, Garrett Ashby, Scotty Phillps, Danny Heslop, DJ Darkside and Nocturnal Safari.
Gavin: For those interested in recording at the studio, what other services are available for musicians to take advantage of?
Kurt: We also offer beat creations, studio musicians, sound bites, voice overs, radio commercials, PSA, analog to digital transfer, videos, cross marketing, production, graphic design, photography, promotion and some booking.
Gavin: Are there any plans to expand the studio beyond what you have now, or are you comfortable with the way you have everything set up?
Kurt: Always expanding, I am always looking for new gear to improve my setup. Eventually we will build a studio to our growing specifications. From there, the best studio in Utah.
Gavin: What are your thoughts on the local music scene, both good and bad?
Kurt: In the local scene, there are both good and bad. Good are the up-and-coming young bands with their own style of music. It's nice to see a movement toward real instruments. The bad are the venues these bands had to play in. They are getting smaller and smaller with no or minimal seating.
Gavin: What's your take on other studios in the area, and do you view them as competition or simply comrades working to the same goals?
Kurt: Since digital recordings are getting easier to make and making them sound good gets easier with better software, there are more studios popping up. Some are competition, most are not. We are willing and able to record anything with no restrictions.
Gavin: What do you think about local labels and the role they play with helping musicians?
Kurt: Labels can be a great help to musicians once their name is out and they have some followers. Most bands need help to take it to the next level.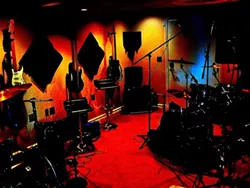 Gavin: Do you wish there were more areas available for bands to practice and record in, or are we pretty well set for what we have?
Kurt: Yes, more areas to practice in means more bands. It would be cool to team up with some other studios to provide studio time to local bands that may need it.
Gavin: What's your opinion on the current airplay on community radio and how it affects local musicians?
Kurt: Community radio has lost its edge. It would be nice to have more local artists featured on the radio.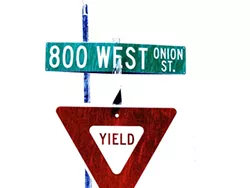 Gavin: What can we expect from both yourself and Onion Street over the rest of the year?
Kurt: Great things can be expected from the studio this year. We are already working on some impressive albums from emerging local artists. As for myself, I learn something new everyday and strive to be the best engineer I can be.
Gavin: Is there anything you'd like to promote or plug?
Kurt: If you have a masterpiece or know anyone who does, we want to record it! Visit our website or call me at 801-870-1565.



| | | |
| --- | --- | --- |
| Follow Gavin's Underground: | | |