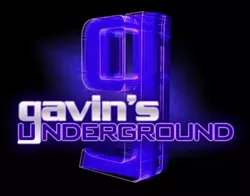 What happens to former City Weekly writers and editors when we leave the paper and vanish into the ether that is regular employment? --- Do we cast away reading the publication? Do we move away and find our souls in some monastery where they make apple cider to pay bills? Do we simply go batshit crazy and regret the decision we made?!? ... Nah, we just start up something new.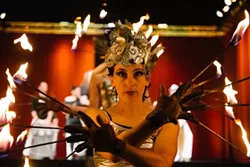 Take our former music editor Austen Diamond, who got the idea to start up his own photography blog under the name 13% Salt, cataloging some of the more high-profile people and events in the state while giving readers a very different perspective on the people involved. Today we chat with Diamond about what he's been up to and the work he's doing on his new blog. (All pictures courtesy of Diamond.)
Austen Diamond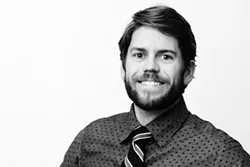 Gavin: Hey Austen, first up, how's things been going since you left City Weekly?
Austen: Things are good! Mighty kind of you to ask. I've been focusing more on photography than anything else and have an incredible assortment of clients now—from Wild Turkey to Downtown SLC and the Utah Arts Festival. But, you know, I haven't left CW completely. For some reason, they still let me write words and take photos for the paper from time to time.
Gavin: Getting right to it, what made you want to start up your own blog, and where did the name come from?
Austen: There are a few reasons why I wanted to launch 13% Salt. It's a photo journal with the intent to create an iconic digital archive of Utah's subcultures, communities and modern pioneers. So, I get to highlight what I find fascinating about this place, and, hopefully, other people will think the same. Although there are a bevy of incredibly talented photographers in Utah, I'm not aware of anything else specifically like this. The blog gives me creative license to engage with the community and its people and to make artistic and creative photos. Without an "outlet," some of the people that I'd want to take photos of might say no or say that a concept was too, I don't know, esoteric or something. Getting access to people is extremely important for my style of photography and for photojournalists. Finally, it can, at times, be difficult to get the kind of photo assignments that I want to shoot, so now I give myself those assignments. It's kind of like the idea that if you shoot what you love, people will eventually catch on and pay you for it. The name 13% Salt comes from the average salinity of the south arm of the Great Salt Lake. I actually didn't want something that had the words "salt" or "beehive" in it, but this is just enigmatic enough, just catchy enough, that I kept coming back to it. Hopefully the name alone draws people in, if the stories don't.
Gavin: How did the idea come about to do it in a photo journal style rather than as a complete story?
Austen: I'd like to think that the photos are good enough to tell the story. Many of these portraits are laden with metaphor, so my hope is that people will engage with the photo and it will make them ask questions—like any good piece of art. The captions are short and sweet to help keep the focus on the image. Plus, it's a practice of self-restraint. As a writer, I could go on and on with words, and that's not always the most important part of a story.
Gavin: Being a writer first, how did you get into photography? And how much experience did you have shooting photos both for print and for leisure?
Austen: I've been taking photos longer than I've been a professional writer. However, my love of photography and writing began at the same time. I was traveling around the world at every chance I got in college and was trying to make sense of it all through the lens. But this was before high speed internet was readily available and you could just post pictures to a blog or social media, so I had to put it all to words and really enjoyed painting scenes and stories with prose. But I had memory cards filled with photos, and I had my first gallery showing in 2006, where my travel photography was on display at the World Grotto Gallery in Knoxville, Tennessee. Fast forward to 2009, and I began writing for the City Weekly. I'd get to (or sometimes have to) take shots for a story, and I loved it. I dove full bore into professional-level photography late-2012 and early-2013, I think that the two forms of storytelling dovetail nicely.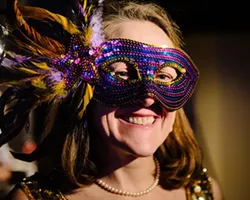 Gavin: For those who may be curious, what kind of equipment do you shoot with?
Austen: I'm "all in" with Nikon. I shoot on a D600 and only use Nikon glass. I primarily use Nikon's CLS system on five speed lights, which range from 910s to used—and still incredible—800s. I have tons of light modifiers (and it feels that way when lugging gear around), but the ones that I couldn't live without are the Lastolite 20in EzyBox, the Lastolite TriGrip and the Orbis Ring Flash.
Gavin: How was it for you starting out fresh and what were the first few posts like?
Austen: Interesting question. I had been building a library of images and stories for a few months before the official announcement on Thanksgiving weekend. So no one really saw the first few posts—there was no pressure. Once I had enough stories that would give someone the impression that this was a viable thing if they landed on the site, I had the announcement campaign. But that weekend, I was featuring C. Jane Kendrick, the super famous Mormon mommy blogger in Provo (seen above), and she drove an absolute ton of people to the site, and I was like, "Oh no, the site is going to break!"
Gavin: How do you go about choosing your topics and figuring out what best to feature?
Austen: I just sort of shoot what I love. I have an insatiable curiosity, so I'm open to all kinds of interesting people and their stories. More and more, I want to make really outstanding and creative portraits, as opposed to documentary style of work, although there's a place for that and it can be really creative. So if I can think of some concept or metaphor that is irresistible to me, then I'll do it. For instance, this shoot with music producer Nate Pyfer (seen below), where we built a wall out of his vintage keyboards to symbolize he was the "Man Behind the Music."
Gavin: When you go into a session, what are you specifically looking for in the photo? What are you hoping to capture that drives the story home?
Austen: Well, like I said, I generally have a notion of the exact thing I want. The shoot is generally just a series of small compromises to get as close to that as possible. But I find that process to be thrilling. And sometimes I'm really surprised at what might come out of it that's not planned. Also, during a session, I try to have as much fun as possible and build rapport with the photo subject. I love that photography gets me away from a computer and engaging with someone. Sometimes, I feel like that is the best part, and the images are second. I don't know if that makes much sense to anyone else.
Gavin: Who have been some of your favorite guests that you've photographed for the blog, and why?
Austen: That's a tough one. One of the great things about being an on-location photographer is that I get to go where the people are, see their homes and the places that are meaningful to them. So I really enjoyed sitting in Bad Brad Wheeler's (seen below) living room and seeing his massive collection of amplifiers and harmonicas. I really enjoyed my shoot with Margaret Ruth, because she read Tarot cards about the site's future (and it was favorable). And I really liked being in the kitchen at SLC POP for an evening and documenting that. The adventure photographer Chris Noble taught me how to ascend ropes to take pictures of him at a crag in Big Cottonwood Canyon ... Ah, damn, they have all been so good. Unfair question! Haha!
Gavin: What is the goal you have in mind for the blog and hope to achieve with it?
Austen: To create an iconic digital archive of the people, subcultures and communities that make Utah unique. There's a lot of really amazing things happening in Utah, and this is one way to highlight them. More and more, web-based niche blogs and publications have flourished to keep people informed, connected and excited about the world in which they live—here in Salt Lake City. Think of 13% Salt as the local photo department of this new form of journalism. So, I want people to get to know their neighbor, take interest in their community, engage with art, and finally, let's be honest, I want people to see that I make badass photos and hire me.
Gavin: What can we expect from you and 13% Salt over the rest of the year?
Austen: Aside from the weekly posts, and there are a lot of really cool ones coming up, 13% Salt will be featuring guest photographers this year—there's already been two. Also, I'm hoping to have some pop-up gallery showings starting in the summer, in places like shipping containers, abandoned warehouses and establishments that were featured on 13% Salt. I'm applying for a few grants (wish me luck!) to create more community engagement. And I want to do some fundraisers for a few charities.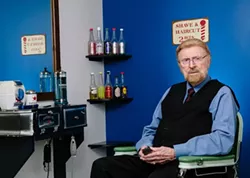 Gavin: Aside from the obvious, is there anything you'd like to plug or promote?
Austen: Ready for a horrible, self-promotional plug? Haha! I'm for hire. If your readers have a need for photography that strives to be thoughtful and creative, I do commercial, event, documentary, portraits, etc. I need to say THANK YOU to everyone who has been supportive and visited the site and subscribed to the newsletter and liked us on Facebook and followed us on Twitter. And thank you Gavin for the great interview.
| | | |
| --- | --- | --- |
| Follow Gavin's Underground: | | |