Winter is officially gone, even though we know better, so this past Gallery Stroll was a breezy jaunt through as many galleries as your chapstick could hold against. --- This month we visit
Nostalgia Cafe
on 100 South, not your average place to visit on Stroll, but a damn fine coffeehouse with some good grub and a home-like décor that makes many in the city want to play Dungeons & Dragons and read comics while waiting for their tea. ...We're basically saying it's a cool place to hang out.
Hanging on the walls this month is artwork from photographer Heather Romney, who chatted with us about her career and local art, as well as her current exhibition at Nostalgia. You can check out a small gallery of her exhibition from this past Friday in
this gallery here
.
Heather Romney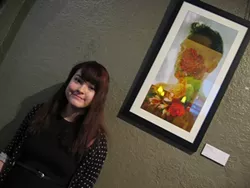 HeatherRomney.com
Gavin: Hey Heather! First off, tell us a little bit about yourself.
Heather:
Hello, Gavin. I was born in Salt Lake City in 1989. I was lucky to be born into a family of artists who encouraged me to be creative from a young age. My mother was a painter, and my father was a photographer, which I feel influenced me to be interested in a variety of disciplines. This spring I am graduating from the University Of Utah with my Bachelor of Fine Arts in photography.
Gavin: What first got you interested in art and what were some early influences on you?
Heather:
During high school I dabbled in painting and drawing, but later on became interested in photography when I took a film production class at SpyHop Productions. Probably my first influence, and the one that drove me to go to art school initially was Anton Corbijn. As a kid I remember tearing out his photography work from every magazine/album artwork sleeve I could find and pasting it on my wall because I loved how dark and weird his photographs were. Later on, Francesca Woodman and lot of filmmakers like Wim Wenders, David Lynch and David Fincher were huge influences on me.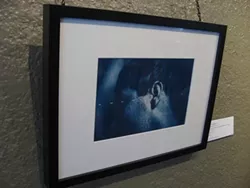 Gavin: What was it that specifically drew you toward photography and graphic design?
Heather:
I've always been interested in portraits more than anything, and I think that the frustrated painter in me found more interest in photographic portraiture because it was more accessible and you could do so many different things with it. Graphic design was an extension of my interest in art in a way, because it felt as though I could be photographic or illustrative and there was really no limit on style. I think a lot of the work I do now in my photography is influenced by a need to have clean and minimal compositions.
Gavin: You're in the process of getting your BFA from the University of Utah, what made you choose the U and what has their program been like for you?
Heather:
I chose the U because it was close to home, and also because I loved the Salt Lake City art scene. I've really enjoyed my time there, and I'm happy to be graduating this Spring. The photo professors—Laurel Caryn, Ed Bateman, and Joe Marotta—really do encourage you to do something different, and to question your ideas every step of the way. One positive thing that I feel the U taught me was to be an artist who uses photography to express my ideas, rather than just a photographer who can take photos.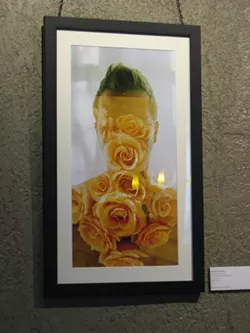 Gavin: What was it like for you first breaking into the local art scene and getting your work noticed?
Heather:
I have to thank The Hive Gallery for being the first gallery to let me exhibit my work. In Utah, I feel that it's often hard to land an exhibition as a fine art photographer who doesn't do landscape work because I think most art patrons come here looking for those kinds of things. Avant-garde photo work can be especially hard to show, but thankfully places like Nostalgia and the SLC Photo Collective are doing a great job at keeping the photo community vibrant.
Gavin: What made you decide to take on two different genres of art and how is it for you balancing between the two?
Heather:
I think partially, out of necessity. When I first started going to the U, I was doing cinematography and graphic design, later my priorities shifted to web and photography work. I think that because technology is changing so quickly, and there's so many disciplines to learn that it can be difficult to focus. Sometimes I feel like when I focus on one discipline, I'm missing out on the other. But unfortunately you can really only focus on one thing at a time.
Gavin: Design wise, what's the process like for you in creating a new piece, from concept to final product?
Heather:
Usually I have an exact idea in mind, which is more often than not informed and/or changed by the process. For instance, for my television series I set up a timed camera on a tripod and took photographs of myself standing in front of a projector that was continually projecting television programs onto my face. I then took those photos, unedited, and sent them through an application on my iPhone which took photos of my photographs on a CRT analog television in Sweden and sent them back to me. The point of this process was that by the time the photos got back to me they'd been around the world in ones and zeroes twice, and compressed and distorted enough times that they were just copies and not really "real" anymore—a lot like how television is.
Gavin: Do you play around with your creations as you make them or do you tend to focus on the original idea?
Heather:
Sometimes ideas will change in the middle of a process because certain things don't work (lights, locations, models), or something unexpected happens. With portrait photography you're constantly collaborating with people who all bring different things to the table. So while I may have an idea in mind, what I get from my subject that day may be entirely different. But that's kind of what I love about it.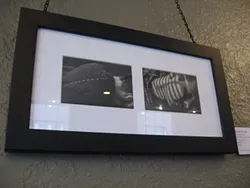 Gavin: For photography, how do you go about choosing the kind of subjects or topics you want to shoot?
Heather:
I think that most of the conceptual photography I do is related to living with an anxiety disorder most of my life. "Growth" was a reaction to that in a way. When my panic attacks became unbearable I turned to studying Buddhist philosophy as a coping mechanism. This was something of a change for me because I'd been distrustful of religion my entire life. Shooting "Growth" on film and having the double exposures be what they were without Photoshopping out the flaws, dust spots, misaligned frames, etc. was a way for me to try and explain those Buddhist concepts of accepting your lack of control, destroying your ego/ individuality, finding beauty in simplicity, etc. My next project "Breathe," which I am working on now, is also about anxiety but in a more disturbing, violent way.
Gavin: Do you prefer shooting with digital or film, and why?
Heather:
I've heard many photographers say that you should with shoot with film as much as possible because it will make you a better photographer. To some extent I think that holds true. I've found that when I shoot with film I focus on my subject a lot more, and not having a digital screen to review keeps the relationship between the photographer and the model that much more intimate. I think we sometimes take for granted how divided our attention can be in the smartphone age and how that affects our work. I also love the feeling I get from seeing a roll of film come back a couple of days after the shoot and being surprised by the results. That said, sometimes I still have to shoot with digital because the stakes might be too high to have a roll of film come back blank. However, I still prefer shooting with film whenever I can.
Gavin: For those curious, what kind of equipment do you shoot with?
Heather:
For film, I shoot with an Olympus OM-1 and sometimes a Mamiya 645. For digital, I shoot with a Canon 5D Mark II. I love my OM-1 because it's small and subtle and I can take it everywhere. It was also the camera my father shot with when he was my age, so I guess it's sort of sentimental to me for that reason also.
Gavin: About a year ago you also did a video installation about television. What inspired that piece and what was it like putting that together?
Heather:
For my television series "Interference," I really wanted to capture what it felt like growing up as an only child in a divorced household, where gathering around the television was sort of the main family bonding ritual. From a very early age, I remember going through my parents' entire video collection on a weekly basis just to keep myself entertained. I would continually sneak out of bed at night to watch movies in the basement. I don't why. I think television became a friend for me in a way because being an only child can be a very lonely thing. The negative flipside being that not everything you see on television is real or right or beautiful. Using a projector to project those images of violence, beauty and misconception back onto myself and photographing it was in a way very cathartic for me.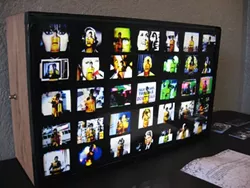 Gavin: More recently you've been doing profile pictures, what influenced you to head in that direction?
Heather:
It's strange, I hadn't thought about it to be honest! I think it may be because my work has become a lot more personal in the last year. Being in school for the past seven years and now coming out of the "waiting room" so to speak, I do feel like a completely different person with different priorities. And I think that trying to reconnect with this new person has been a bit of challenge.
Gavin: Tell us about the artwork on display for this Stroll.
Heather:
All of the work on display for
Growth
is comprised of either film photography or alternative photography processes. A lot of these processes (cyanotype, van dyke, palladium) were invented more than 100 years ago and were used by early photographers. All of the alternative photography pieces are non-silver prints created by hand and more or less unique to themselves. All of these processes have been very interesting to learn, and I feel that they've encouraged me to create work in a much different way.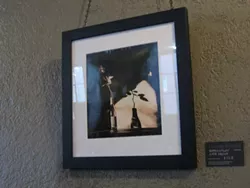 Gavin: How has it been working with Nostalgia Cafe and being displayed for hundreds of people a day?
Heather:
Terrifying! Haha, no. Being able to show my work in such a public area has been an incredible opportunity. Nostalgia was a huge haunt of mine when I was growing up, so having my work up on their walls is a very personal honor. I have to thank both the owner Marcello, and the curator Julia Sanders, for being incredibly kind in helping me show my work there.
Gavin: What are your thoughts on our art scene, both good and bad?
Heather:
I'm really excited to see what the SLC Photo Collective is doing for the local photography community. I think a lot more photography shows have been happening in the last few years because that space has been available, so I'm excited to see what happens with that.
Gavin: Who are some local artists you like checking out or recommend people should look for?
Heather:
I tend to gravitate toward photographers who emphasize film photography work, probably because I love the aesthetic so much. I'm sure it goes without saying that Ryan Muirhead's natural light work is great, and probably the reason why I decided to pick up a film camera in the first place. Mitchel Issel is also a great black and white film photographer who still uses film and prints his work in the darkroom. Tessa Barton—also a grad from the U—has been making incredible work in the last year. And more recently, I've really been enjoying Michelle Frampton's fashion work.
Gavin: What's your take on Gallery Stroll and the work they're doing to promote local art?
Heather:
As a teenager growing up in Utah, Gallery Stroll was one of the few things I looked forward to each month. I think having the stroll helps keep Salt Lake City vibrant and current, and I hope that it continues to showcase emerging photographers.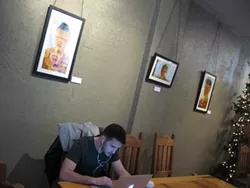 Gavin: What can we expect from you and the gallery going into next year?
Heather:
I'm really looking forward to finishing up my degree and possibly revisiting some unfinished concepts I've had from my undergraduate studies. One of the downsides of rushing through my last year at school is that I feel that I've had a lot of ideas, but not enough time behind the camera to implement them.
Gavin: Is there anything you'd like to plug or promote?
Heather:
Yes! On April 18 I will be having a graduation show alongside seven other graduating photo students at the SLC Photo Collective. It's a great opportunity to see some of the work that's coming out of the university, which tends to be a little more avant-garde than the commercial or traditional work you normally see in the galleries here.
| | | |
| --- | --- | --- |
| Follow Gavin's Underground: | | |