As our art scene continues to blossom, we're seeing many artists turn their talents into thriving businesses that are making an impact around the city. --- Take for example Pen & Palates, who have a major focus on letterpress works such as cards and stamps, but also have a public design presence as the company's central artist designs graphics and lettering for businesses and art shows that help make rooms pop and artistic exhibits flow form space to space beautifully.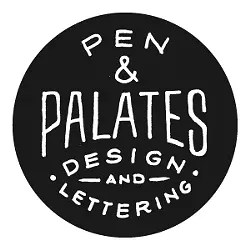 Today we chat with P&P founder Thy Doan about her education and career in the field, coming up through the SLC art scene, starting up her own business and a few other topics. (All pictures courtesy of Doan. Headshot an final picture by Chad Kirkland.)
Thy Doan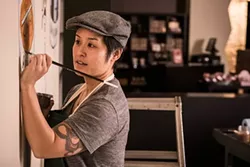 Gavin: Hey Thy! First thing, tell us a little bit about yourself.
Thy: I'm a vertically challenged transplant from California that has a love for, and obsession with, letters.
Gavin: What first got you interested in art and what were some early influences on you?
Thy: Truth be told, I've been drawing, painting or what have you since I was teeny. I have photos to prove it. I think a lot of my early influences were more people who supported or encouraged my passion to express my creativity, even if it was just finger paintings or drawing block letters. My parents have always been an amazing encouragement and making sure I knew to do whatever it was in my heart, which is pretty rare for a first generation Vietnamese kid. It was as early as junior high that I knew I wanted to venture down the path of graphic design—mostly because it was then that I learned it was even a profession. Of course, a piece of advice that's stuck with me all these years was from my older sister's high school friend, Geoff Dowd. He was a graphic designer in San Francisco and the best thing he ever could have told me was "whatever you do, just keep drawing". I don't know if I could let go of that if I wanted to anyway. I just love that feeling of putting a pencil to paper. Although, I'd like to think my lettering is more evolved than the block letters I drew in grade school.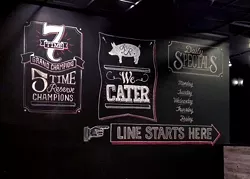 Gavin: You earned your BFA from California Polytechnic State University-San Luis Obispo. What made you choose them and what was their program like for you?
Thy: I knew I didn't want to pay for a private art school, well, more like I couldn't pay for it, so I had to find a state school that I thought I could thrive in. Of course, living somewhere I liked helped, too. My sister's friend, Geoff, was also a Cal Poly alum who I thought to be successful, so I think that might've had a sort of subconscious influence on my decision-making. I was also interested in the program being small and impacted which I hoped would mean more individual focus with professors. Upon arriving at Cal Poly, I think I initially struggled with what, I think, a lot of state school design kids encounter. It was a sort of complex that I wasn't going to get the kind of design-focused education that the private art school kids were going to get. But, if anything, because I had to take more general education classes, what I took away made me more well-rounded and helped to interest me in things beyond graphic design. Graphic design can be better described as creative problem solving and I believe that having a larger pool of knowledge and interests only results in far richer solutions than just being pretty. I also learned that, as with things in life, you get what you put into it. So, in reality, whatever program you're in or are limited to, can be as good as you make it. I like to think that a passion for something will create the drive to challenge the faculty or existing program to be better. Thankfully this mentality spread to a lot of the design students and it motivated us push each other to be better and show those private art programs at annual portfolio reviews in the big cities that we could keep up with them.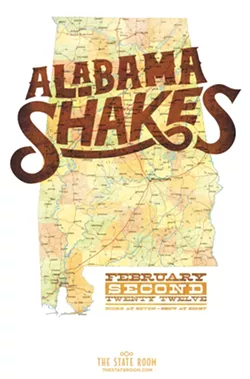 Gavin: During that time, what persuaded you toward graphic design and how was it for you picking up the genre?
Thy: Actually, since the Cal Poly design program was so small and impacted, you had to declare your major upon applying so it was a very deliberate decision, which is sort of crazy to think about considering I know people who are my age and still don't know what they want to do. I think I'm of the lucky few who knew at such a young age.
Gavin: Near the end of college you were working for iiiDESiGN. How did you get in with them and how was it working a professional career in the field?
Thy: I think there was a posting for an internship for iiiDESiGN in the art department or something—funny how your memory doesn't retain some details as important as that. Really, I think I got the position because Missy Reitner, the creative director and founder, and I hit it off pretty well during my interview and assumed I had enough skill to keep up with them. It was a small boutique design shop (there were only four of us!), so I think personality fit was also important to them. Needless to say, I learned a lot and wore a lot of hats which was my main interest in working for a small shop. I think most graphic designers can agree that you don't learn everything you need to know in school (I don't care what design program you're in), so there was an incredible amount I was able to get from that experience.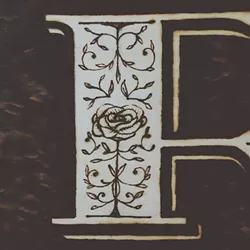 Gavin: What eventually brought you to Utah and what made you decide to stay?
Thy: A design job with a small design studio, actually. I wanted to get out of California—sunny and 72 degrees got old and I wanted to see seasons. Of course, Utah wasn't ever on my list of places I ever thought I'd end up but this tight knit community has been what's kept me here. The different communities of interest, be it food or music, are all so permeable and have plenty of people who are willing to share knowledge or support your ideas. I think I ended up here in a great time because it's a place of incredible growth which has made for some great opportunities.
Gavin: You've been involved with a lot of projects and organizations, most prominently the AIGA of SLC. How did you get involved with them and how was it being on the board for over three years?
Thy: I actually became an AIGA member in my Cal Poly days and, being a transplant, I knew no one in Salt Lake City. So, it only seemed natural to connect with the local chapter here to get introduced to the community. Needless to say, we had a meeting and then I got recruited to be a board member after being in the city for six months. After finishing my five year stint last June, I couldn't be more grateful for the people and community that I met along the way. There's just something about giving back and (hopefully) inspiring the people we interacted with to engage with others in their profession. With AIGA being a national organization, it's also rad to know I have connections and friends through AIGA all over the country. I feel like I could move almost anywhere in the country and have a network to tap into. It's another one of those things that you can't just get by becoming a member, but, again, it's about what you put in.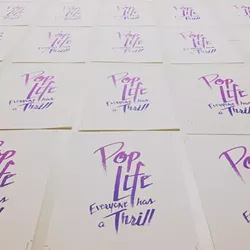 Gavin: How did the idea come about to start up your own design company, and where did the name come from?
Thy: I never quite deliberately set out to start my own deal, actually. I feel like a lot of it came as a result of just not having the types of creative custom lettering projects at my full time gig, so I sought out opportunities that might remedy that. While I was working at Whole Foods Market as an in-store sign artist, I struggled to find a good outlet to experiment with my lettering—you can only take it so far with sale and holiday signs. There came a day when I had an epiphany and decided I wanted to align my personal interests (music, food and the community) with my freelance work. I got myself involved in things like designing for SLUG, gig posters for The State Room, when I could, and eventually some food events. Pen & Palates came from that ah-ha moment and had the ambition of maintaining a blog to catalog these projects and discoveries. 'Palates' certainly was more a of a stretch of the word, too, since I took it literal that it was tastes of food, music and visual. While the blog is no longer (seriously, it's tough to have one—props to you!), I still believe that my business strives to touch those communities I originally sought out.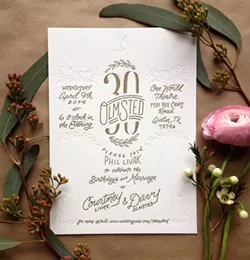 Gavin: What was it like for you getting setup and finding clients to work with?
Thy: Everything happened pretty organically, I think. My stint at Whole Foods Market got me even more educated and interested in food and, through a co-worker, got introduced to the Caputo's food classes (thanks Andy!). Food classes made food friends, food friends turned into me helping with food events and food events turned into food clients. Nowadays, new business inquiries are interestingly coming from Instagram and other social media fronts. It's sort of crazy to see how garnering new business and making connections is really at your finger tips these days. Of course, I'm still maintaining work with clients in the food industry because there seems to be continual growth and I'm fortunate enough that my clients understand the need for someone like me to help improve business through design.




Gavin: Did you find it easier or more challenging starting up your own company, rather than joining an established one?
Thy: Being self-employed is certainly a beast in itself and has its obstacles, but it also has so many perks. While I'm sure there are people who think I live a glamorous and relaxed schedule, working in my pajamas (I try to avoid this as much as I can!) and doing what I want, when I want…it's really only partially true. Sure I have flexibility in my schedule but I'm probably working more hours than I would at a 9-to-5 gig because even when physical work is done, my mind is still going. But oh the perks! My paychecks are driven by me, the work is mostly driven by me and it's pretty damn gratifying to put out good work and have clients to respect your craft. I think the most important perk is that my work is more about how I want to live rather than having someone else dictate that.
Gavin: What's the process like for you when working on a new product for someone, from concept to final design?
Thy: Like any design process, I identify the problem or goal at hand. Design and the act of making things pretty can be subjective and having some guidelines to follow ensures success if you have objective goals. In custom lettering, a lot of it is trying to pinpoint what it's for and narrowing down styles. Based on client input and research, I develop pencil sketches. Ideally, they select one pencil sketch for me to develop, fine tune with some revisions,and finish in whatever the agreed production method would be.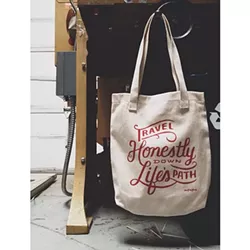 Gavin: Do you have a lot of free reign over the look or do you tend to stick strictly to what the person has asked for?
Thy: I think I do tend to have a lot of free reign but, like I said before, I establish objective goals by conversations and research that both myself and the client take part in. I believe that your client pays you to be the expert in what you do but it's also my responsibility to deliver something they're happy with. After all, they've decided to spend their money with me and that shouldn't be taken for granted. Having mutual respect is a priority in my client relationships, no matter how large or small the project is.
Gavin: One of the things you really push on your website is people communicating through traditional letters and thank you cards. What made you want to promote that ideal?
Thy: I often think about how this digital age we live in is costing us amazing and very human things that seem to be getting lost in all of it. While I don't reject technology, social media and the new ways of communicating, there's just a break down in what should be meaningful ways in which we express ourselves to one another. I mean, things such as what used to be a birthday card or phone call, devolved into an email or e-card and, now, text messages seem sufficient. Don't even get me started on the sad development of poor communication etiquette—how many times have you been put off because someone who's mid-conversation with you, is ignoring you because they just have to reply to a text or show you something completely irrelevant on their phone? So, while writing letters and thank you cards won't solve all of that, my hope is that I can encourage some people to be more thoughtful and deliberate in their communication with someone else they care about, even if it's once in a while. I truly think it would make us better people to just think of others more than constantly seeking instant gratification.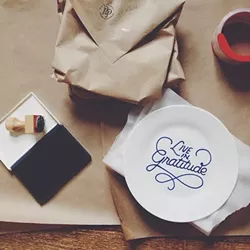 Gavin: You offer a wide range of items from cards to cards and stamps to dishes and mugs. What else are you able to work with?
Thy: I've actually been trying to push my lettering into less conventional mediums. Lately, I've been dabbling in glass painting and wood burning. Since I still do spend a good amount of time in front of the computer, trying new mediums or developing products that really require my hands is most appealing right now.
Gavin: Do you have any plans to expand your business beyond what it is now, or mainly sticking to how things are running for a while?
Thy: My aim is to let things stabilize at the moment. Over the last six months, I've been trying to evaluate my product offerings and making sure they can be sustainable. There's plenty of time to do more and new things but I want to establish a good foundation first.
Gavin: For those who wish to commission something from you, what's do they need to do?
Thy: They can certainly shoot me a line with a brief description of what their needs are and we can chat from there! Email me at penandpalates@gmail.com.
Gavin: What can we expect from you and Pen & Palates over the rest of the year?
Thy: I'm continuing to develop my products and refine the line of offerings. With Craft Lake City last August under my belt, I'm shooting to be accepted into one of the Renegade Craft Fairs, likely San Francisco or Chicago. Of course, looking into other markets is on my to-do's as well. And, fingers crossed, you'll see me at Craft Lake City again.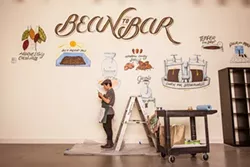 Gavin: Is there anything you'd like to plug or promote?
Thy: Yes! I'll be selling my wares at the Bijou Market in Provo on April 11-12 — go check it out, as I'll be launching a new product there that I'm really excited about!
| | | |
| --- | --- | --- |
| Follow Gavin's Underground: | | |