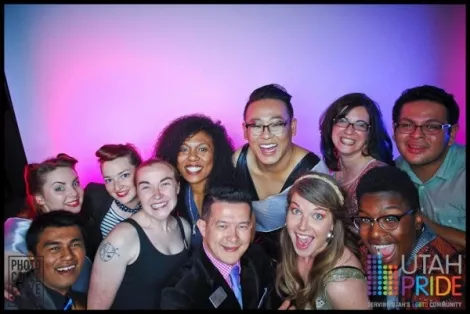 I didn't go to my senior prom. After a long, awkward night at my junior prom feeling remorseful about my appearance--a Cinderella-blue sequin dress designed to help me fit in--I decided to write off school dances.--- But if there had been a Queer Prom in 1993 I'm sure I would have been there with my friends- probably in moccasins and a hippie dress.
Twenty-one years later, working for Utah Pride Center I had the chance to attend a prom where the only dress code is, "Be You." And that's exactly what I saw: everything from jeans and ripped t-shirts to big ball gowns to hair every color of the rainbow. In that sea of diversity on the dance floor there was one commonality--the feeling of joy, safety, and acceptance among all.
Around 500 attended the 9th annual Queer Prom in Utah, the most anticipated event of the year for LGBTQ youth and allies ages 14-20. The dance, run by Utah Pride Center staff and about 50 volunteers, was held Saturday night, April 19, at the Salt Lake City Library--with the theme, When Love Takes Over.
Queer Prom is a place where, as one attendee put it, "If people don't feel comfortable or safe going to their own high school proms they can come here and have fun."
Salvador Oregon, who was in attendance at the event for the first time with his boyfriend Eusebio Echeveste, talked about how Queer Prom is different than the prom he attended at Kearns High. "I feel more comfortable dancing with someone I actually like."
Oregon says that while nowadays kids in many high schools are free to take a same sex date, it's still hard because there is always fear of being judged or unaccepted. "I think kids are so afraid if they come out they will get in trouble by the school. They don't come out because they are afraid, they don't know it's OK," he says.
Oregon's own coming out experience was eased by the help of a supportive teacher. "A lot of the teachers are queer-friendly at Kearns High. When I came out last year one of my teachers was very supportive. She gave me information about the Pride Center and pamphlets about coming out. It was really nice to have a teacher there who could help me" "Life is too short not to be having fun with the person you love," adds Oregon. "Sadly, I found out the hard way, a little too late. You can die any day. It's better to do it now than later."
Yvonne Paul, Director of Programs and Policy for Utah Pride Center, says kids are coming out at younger ages because of increased positive visibility of LGBTQ folks in media and pop-culture, and more access to information and support online.
Sixteen year-old, Anthony Muradas, who I found tearing it up on the dance floor wearing a bow tie, rainbow suspenders, and a big smile, came out to his mom, Teresa Lopez, last year. She was there as a volunteer to support him. "The event is awesome for kids because they can come and be themselves," she says. "It's wonderful to know my son doesn't have to hide something." After two weeks of denial upon learning her son was gay, Lopez says she realized, "this is my son and I have to love and accept him no matter what."
Muradas says it feels awesome to have support from his mom. "For people to say, 'Go ahead and be who you want to be, is awesome!" An estimated 5-8% of Utah youth identify as LGBTQ, according to Paul. And the need for events like queer prom is great, says Paul, because "all students should have the opportunity to enjoy that rite of passage that prom represents. To have a safe space that's affirming, where they can enjoy the event for what it's designed to be without a need for a hyper-vigilant sense of alert for their safety. It's priceless. All kids deserve that."