Damn, gang, do we have a cool lineup of shows for you to check out and get new local music at. Not a dull weekend by a longshot. --- First though, we have a couple of online releases, the first being from SLC metal band Oxcross. These guys have been rolling along pretty well in the music scene since forming back in 2012, and are comprised of music veterans Andy Patterson, Jeff Anderson, Taylor Williams and Dave Jones. With a group like that, you know sooner or later they're going to grab studio time and crank out an album, and they finally did last week with the release of their debut full-length, titled Tree And Stone. This is a damned fine album that you can purchase right now for whatever price you'd like on Bandcamp, I highly suggest snagging it before they throw a real pricetag on it.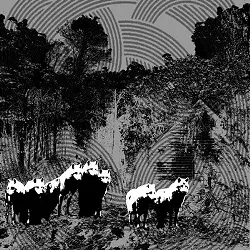 Next on the list is a Provo band called Steel Born Buffalo. This is a five-piece folk-rock band that got together in late 2013, with a lineup of Ben Gentry, Samuel Walker, Daniel Bladh, Robert McGuire and Tyler Hampton. They've been playing shows in Utah County on occasion, but have mainly spent their time hammering out their debut EP, Pillars In The Valley. This album is pretty cool, and sounds like the band was just jamming out in the studio and not taking themselves seriously. You can pick up a copy on their Bandcamp page for whatever price you'd like to pay.
While we're in Provo, we have the debut album from Dream Eater, a solo electronica project from musician Landon Young. There isn't much to write about the kid as he hasn't done a lot in the public eye beyond a few shows in Provo, but he's got a pretty cool EP out at the moment. Teenage Automation is a nifty six-track cassette release that was produced with the help of Stephen Cope at Studio Studio Dada back in October 2013. It's only $2 for a digital copy and $3 for the physical copy, and very much worth the money. You can pick it up on his Bandcamp.
Getting to the release shows, we have the latest full-length album from Giraffula. Now, I could write a bunch about this project, but City Weekly's Kolbie Stonehocker beat me to it in this week's issue. Go read up on him, and then make your way to The Urban Lounge tonight where you can get a copy of his sophomore full-length album, Smile & Wave. He'll be playing with The North Valley, Palace Of Buddies and Uinta; tickets are a mere $6, and the show starts at 9 p.m.
Going into tomorrow night, we'll see the second full-length release from Omeed The Nag. The young emcee has been going strong since his formal debut on the scene in 2010, and has pretty much slayed the crowds with almost every DJ and fellow performer Utah has to offer these days. His debut album, Status, came out in January 2012, sent him off on a national tour and helped inspire his second album, titled Bird of Prey. The release show for Omeed (seen above, courtesy of B. Allen/Visual Media) will be part of the ongoing Hip Hop Roots SLC series, featuring HighDro, Dusk Raps, Gryzzlee Beats, ConRad, Jaden Williams, House Of Lewis, MC Noetic and DJ Vagif. Tickets for this massive lineup are a mere $10, and music kicks off at 8 p.m.
And then finally, we have the first full-length release from Solarsuit. I won't go too much into it, as some shmuch wrote them up in this week's City Weekly, but let's just say you need to snag this album while you can. You can pick up a copy of Alpha-Omega on Saturday night at Velour, where the band will play with Mister Smith and Great Interstate. Tickets are just $7, and the show starts at 8:30 p.m.


Love music, head out, buy local.