So here's the thing... Chances are if you couldn't make FanX last week, you were mining Twitter and local media for every update you could. --- The problem with that is when going to a convention as media, no matter what you're doing, its a marathon. And much like running a marathon, we're probably not the best people to chat with when it's over, as we're probably gasping for breath, hoping for a good meal and some water, followed by a 40 minute shower and 12 hours sleep. And that doesn't include those who chose to dress up and spent an extra hour airing out their costume and drowning it in Febreze. So rather than racing to the finish line with the other 200 media representatives at the three day event, I decided to take a week off and let it sink in, more like I was enjoying a fine whiskey.
Being one of the media folk, I got to experience my first long line before the convention even started, which was to pick up my press pass and chat with all my colleagues and "frenemies" about what we were planning to do over the next three days. We then made our way into the big ballroom to be greeted by Jason David Frank (sporting a Utah Jazz shirt) to welcome Dan Farr to the room. Farr rode in to a warm ovation on the back of the Jazz Bear's motorcycle, and then up to the stage where "fanboy" Gov. Gary Herbert tried his best to read what his comic-knowledgeable staffers wrote for him and declared April 17 "Hero's Day!" ...I'm still not entirely sure what that means, but seeing how we won't get that day off work in the state, we'll just chalk that up to Herbert trying to win some geek votes this November. After that the press swarmed the many celebrities who dropped in that morning to kick off the event, most prominently Chandler Riggs from The Walking Dead who looked near-smothered by the crowd.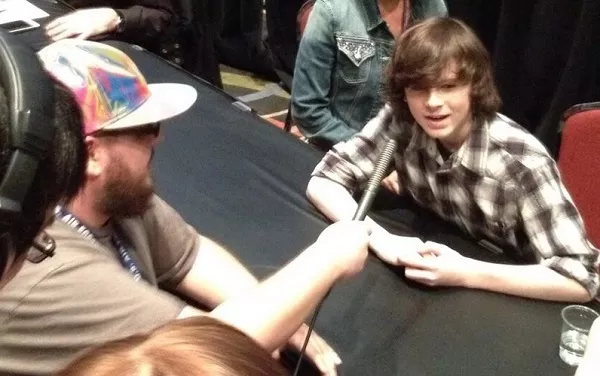 I returned later that evening for the Star Trek exclusive panel held in the same ballroom, featuring most of the cast of Next Generation and hosted by William Shatner. Aside from the the Utah Symphony playing the opening theme from the show, it was your standard Q&A with Shatner trying to direct traffic. He lost that job horribly to Marina Sirtis who practically took over the show, quipping one-liners like "It's a fine series, that Deep Sleep 9," and "Ladies, just so you know, when you get the menopause, your brain turns to mush." The highlight of the evening came when a Iraqi war vet missing both his legs and suffering from PTSD came up to the mic only to thank them for their work, as the show helped him through the roughest times. The cast immediately went to the floor and hugged him to a standing ovation. That was a fantastic moment to see.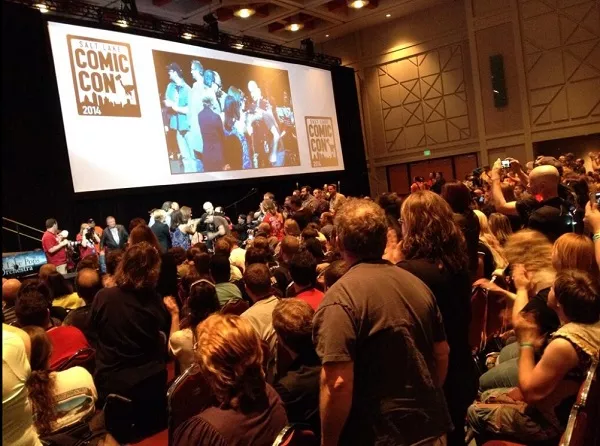 Friday was a cluster for me, couldn't attend myself, so I made it my goal to attend all-day Saturday... which I did in spades. My day started running around the main floor through the Vendors area. Swamped with thousands of t-shirts, loud media displays and toys galore. If you had the cash to spend, chances are you could find most anything you would have wanted down that Sam's Club sized area. Being a local supporter, I attended poscasts for Hello, Sweeite, Geekshow and Big Shiny Robot (the last I got to sit in on as a guest panelist, and I might add are the best media people to work with when traversing a convention floor). When the next Con rolls around in September, do yourself a favor and attend one of these live recordings, they are the absolute best to listen to and participate in when they hit the floor for questions.
Sadly, the most neglected area of the convention was Artist Alley. You'd think with it being in, what could rightfully be considered, the heart of the convention, more people would be checking it out. Alas, on all three of my passes through the area, attendance was about a third of everything else happening. That's a mighty shame because we have a LOT of talented people in this city who took up a booth to show off their art, not to mention those who traveled in to chat with fans, only to be massively ignored by shiny lights and photo sessions. I'm sure at some point the mighty fanboy uprising will hit our email inboxes this week telling me "that's the way it is at every convention across the country" and "we should be lucky to have what we have," but kids, being a geek myself, that's a bullshit line to stick to. If you come to the next Con in September, go show that area some love and, at the very least, thank those people for coming.
Some of the other lower attended areas that deserve a fistbump were Kids Con and the Gamers area. While a convention sounds like a kid's dream, it's not. Seriously, it just isn't. No 10 year-old wants to go ask a volunteer "what line is this for?" and then wait two hours to see Patrick Stewart for 30 minutes. So the minds behind FanX gave kids an area to take part in everything and have a lot of fun with those same celebrity guests and panelists, putting a lot of smiles on some faces. The Gamers area was hundreds of tables available for tournaments as well as space for random board gamers to sit back and play. Not to mention giant video game tournaments happening on the big screen for people to cheer on. Plus, Cosplay! Oh good hell, the cosplay was off the charts for this event. Having attended other conventions both locally and around the States, we by far have some of the most creative people you will ever find at a convention. The competitions they had were spoken of to be some of the best times people had, putting it above anything else they had to offer.
For the most part, I avoided the celebrity panels and autograph lines. I did snag some pictures of those who were down for having a photo taken as they interact with fans, except Brent Spiner, who was kind of a dick in person, but was one of the few celebs who left their booth and actually toured the floor without a golf cart. There are many reasons why I didn't bother, some I won't mention and others that are too long to get into, but if you're into waiting for long periods of time then by all means, go for it. How often can you say you sat in on a conversation with James Marsters? But another area that deserves some recognition was the Speed Dating rooms, which let's be honest, a lot of geeks need to break them from the social shell they sometimes surround themselves in. Overall, one hell of a weekend.
Now... I could talk attendance numbers, I could talk impressive features, I could give you another three paragraphs about everything they did right and wrong while ordering lunch. But the weekend was kinda summed up for me in one very bright moment that I saw while wandering the floor. As usual, they brought in a Doctor Who booth for people to take pictures at. At one point I passed by the booth and saw and a young boy, dressed up as Matt Smith's version complete with the fez, as he pointed to a woman in costume as Amy Pond waiting in line and yelled "Amy!" She waved at him, and then the boy's mom asked if she'd pose with him, which she agreed to do. Upon snapping the picture, Amy snuck in a kiss on the cheek, putting the look of shock on his face that I wish I had a photo of. And immediately said "Thank you Amy, you're my best friend," followed by a hug. ...No matter what you came for, that should be the spirit of all Utah-based conventions, fans supporting fans no matter what. At least, I'd like to think so, I'd much rather be an optimistic geek as the conventions continue to grow.
Check out my Twitter feed for Thursday's press conference and Star Trek pics, my full gallery of Saturday's pictures here, and City Weekly's own set of pictures in this gallery.