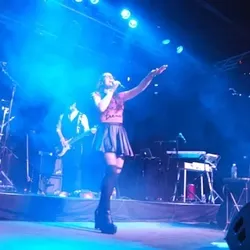 Ingrid Michaelson's performance at In The Venue on Tuesday night brought in a packed house with fans of all ages. Sometimes audiences are slow to warm up to new songs, but Michaelson's fans went wild over the songs performed off her new album, Lights Out. And the crowd-pleasing opening acts proved themselves songwriting masters in their own right, making this an amazing night of music from start to finish. ---

The Alternate Routes performed first, generating early applause with their sweet harmonica tune "The Future's Nothing New." The songwriting/guitar duo from Connecticut already had some fans of their own in the crowd singing along to "Asked You Twice," echoing the lines: "I'm standing at your door/ Won't you let me in/ I've asked you twice before ..." The instantly lovable, catchy feel-good anthem "Nothing More" surely won the band many new fans: "We are love/ We are one/ We are how we treat each other when the day is done/ We are peace/ We are war/ We are how we treat each other and nothing more."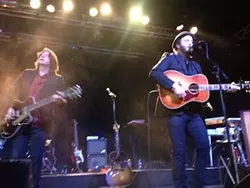 The night of great lyrics continued with Storyman—made up of Irish songwriters Kevin May and Mick Lynch—who shined with their endearing whistling and the heart-stopping piano tune "Afloat." I was far from alone in wanting to run instantly to their merchandise table; it was swarming with new fans while waiting for the main act to start.
It seemed like the longest wait ever, after a show that had already started late, but as soon as Ingrid Michaelson walked out, she was forgiven. Not without her signature glasses, she opened with "Home," from her new album. Fans already knew it and were all singing along, and the energy was palpable.
Michaelson's sparkly personality added to her gripping live vocals. She probably repeats the same funny stories at lots of shows—as most musicians do—and they were enjoyable, but the best moments of her performance were spontaneous. Michaelson's impulsive, witty response to a heckler who was screaming in the audience created a moment. She sat down at the piano to find the key to which the fan was screaming, and went on to play it up coaxed by laughter from the audience, mimicking how the heckler would sound in a delivery room giving birth.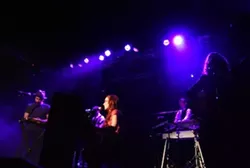 Along with spontaneous audience exchanges, concerts don't feel complete these days without a good cover song. Michaelson's cover of John Legend's "All of Me" was right on the mark. Next was "Keep Breathing"—the song from Grey's Anatomy that pretty much made her famous—which she said she had to sing because "it's an important song for me."
After Michaelson performed popular songs like "Be OK" and "The Way I Am," I was surprised when the best moment of the night was the more obscure little tune "You & I." She introduced it by saying, "We're gonna play a song we've figured out people like." And because they play it so often, she said they added a twist to keep it from going stale. "We want to still have fun, and really feel it," she said. "Sing with us, rejoice with us. And have fun with it." The accordion, drums, guitar, and tambourine from her band backed her up while she danced in her adorable hip-swaying, hand-waving way.
"Salt Lake City, you bring out the best," she said, and then played "Everyone Is Gonna Love Me Now," also from Lights Out. Then she walked off stage momentarily, but came back immediately for an encore of "Maybe" and the final song of the night, the peaceful feel-good number "Afterlife."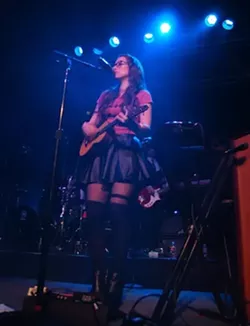 The show felt like one big happy, joyous singalong, with Michaelson doing what she does best: leaving us feeling like everything is wonderful in the world.

Photography by Deann Armes