Apparently, soon-to-be former Los Angeles Clippers owner David Sterling is no longer the most recent NBA affiliate to "unwittingly" act like a dumb turd. Utah Jazz rookie point guard and former University of Michigan standout Trey Burke recently took it upon himself to make fun of a disabled man's selfie on Instagram—you know, because clowning on people with genetic disorders is hilarious.—-

After posting a picture of himself to his Instagram account, Michigan resident Jahmel Binion discovered that his photo was the butt of a viral joke perpetrated by thousands of people—including Burke, former NBA player Shaquille O'Neil and Atlanta-based rapper Waka Flocka Flame.

Binion was born with a rare disorder called ectodermal dysplasia, a condition that results in a reduced ability to sweat, abnormal hair growth and missing teeth. Even though he claims he's been bullied his entire life, the 23-year-old wasn't amused.

"People were coming to me, they were telling me, 'Yo, Shaq posted a picture with you," said Binion in an interview with Detroit's Fox 2. What Binion is referring to is an Instagram post showing O'Neil openly mocking Binion's appearance in a side-by-side photo with the caption "Smile Today."

"Why is he making fun of me when he's supposed to be this role model?" asked Binion. According to Fox 2, Trey Burke and Waka Flocka also jumped on the "let's pick on this disabled guy" bandwagon and posted similar pictures that openly make of Binion's appearance. The photos, which were allegedly just as offensive, have since been removed from their respective Instagram accounts.

And, because we live in a world where celebrities can say and do stupid shit online and later apologize for it on Twitter, Shaq, Burke and Waka have all issued public apologies: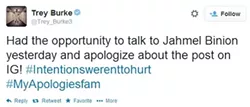 According to Fox 2, the Utah Jazz have officially responded to the issue and are making amends by offering Binion complimentary tickets to watch Burke and the Jazz take on the Detroit Pistons next season at the Palace of Auburn Hills.

Though it's unclear if Binion has fully accepted these apologies, Twitter apparently has not ...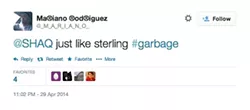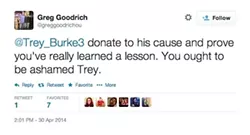 However, despite the online abuse, Binion seems to be taking it all in stride and has launched a public-awareness Facebook page called
Hug Don't Judge
. "I've got a mind view like, 'I can't let it get to me. Then I'd get hurt and depressed," said Binion. "I just keep my mind high and positive."