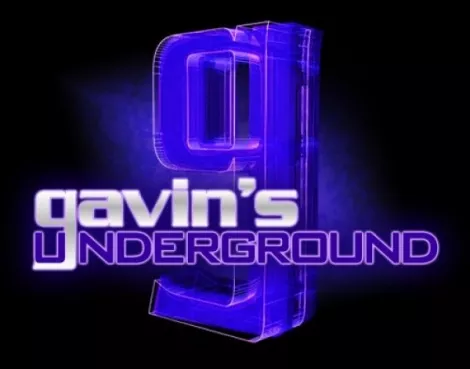 Ballet West's season has nearly come to a close, with their Innovations performance set to take place on May 16. But while the company closes in on the end to their 50th Season and starts to look forward to the 2014-15 season, they need to start raising funds to help get themselves ready. --- Couture In Motion will take place tonight at the Utah Museum of Fine Arts, giving those with an appreciation for the art of ballet a night to mingle with the dancers, check out some of the latest local fashion coming out and donate generously to the performing arts company so it can continue to run next season.
Today we chat with former ballet dancer and current development manager of special events for the company, Camellia Rowland, about her career and current role, as well as the upcoming event. (Photos courtesy of Ballet West. Pictures by Heidi Gress, Hair & MUA by Heggy Gonzalez, Production by Madi Slagowski and Camellua Rowland and fashion by McKell Maddox. Featuring dancers Jenna Rae Herrara and Jamie Lynn Schultz.)
Camellia Rowland
Gavin: Hey Camellia, first thing, tell us a little bit about yourself.
Camellia: I hail from a small town in the California Mojave Desert. I've also lived briefly in San Diego, Santa Barbara, New York and Quebec. I have an affinity for all things mid-century modern and worked as a designer for a short while in college. I'm likely to swoon over anything by Eames, Bertoia or Saarinen. I have an associate's degree in art and a bachelor's degree in communications. My bucket list includes riding an elephant, certifying to teach Pilates, attending the French Open, owning a Rothko painting, and swimming in the Mediterranean Sea. I'm a list maker (clearly), lover of good food, and collector of vinyl records and good books. I'm married to a photographer/film maker, and we live in downtown SLC with our little yorkie pup who thinks he's the size of a German Sheppard.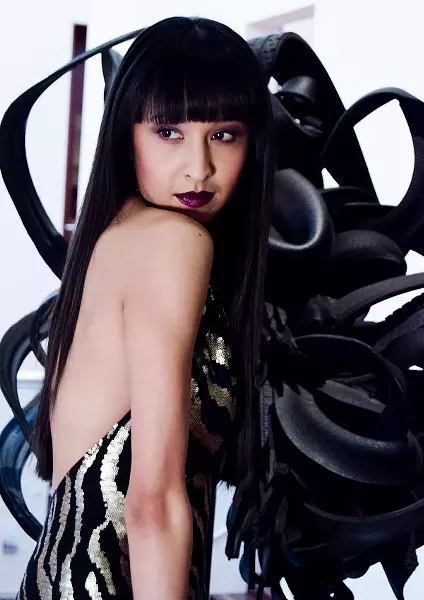 Gavin: How did you first get involved with ballet and how was it for you performing growing up?
Camellia: I started ballet classes when I was 6 and danced for about 13 years. I trained with a couple professional companies in California before I quite dance to focus on college and other things. Ballet was part of my identity for a very long time so quitting was a tough decision, one I still regret from time to time. But I've ended up in a good place so I guess it was the right thing for me to do at the time. There's nothing that can replace the incredible feeling of being on stage dancing. You work really hard to make it look really easy. You push yourself to master your body, master the moves. I definitely miss the performance element of ballet.
Gavin: What brought you to Utah and eventually working for Ballet West?
Camellia: I came to Utah initially for school, then got a job right after graduation producing and managing events. I worked for the Utah Valley Chamber of Commerce, the University of Utah and the Tour of Utah before landing at Ballet West. When the job opened up it was a perfect fit, combining my professional experience in events with my passion and love for ballet. As a perk, one of my first dance partners who I grew up with was dancing at Ballet West and it was like having a little brother at work.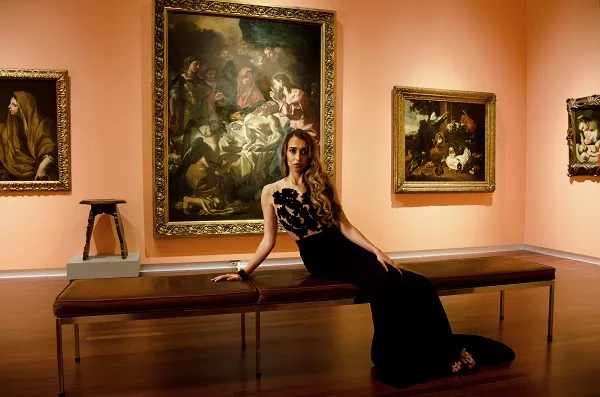 Gavin: How did the idea first come about to start Couture In Motion?
Camellia: I started working for Ballet West at the very end of their 2011-12 Season. My first day on the job was actually the 2012 Couture In Motion Fashion Show. The event was created several years before I started, and had gone through a few different iterations. The company previously partnered with Bill and Sharon Loya and Vanessa di Palma Wright of Farasha Boutique. I had a full year from the time I started to envision how the 2013 show would look. I partnered with Heidi Gress of HMG Productions and we coordinated the details together. Each year the ideas for look, location and theme change. It keeps everyone on their toes and stays very fresh.
Gavin: How have patrons reacted to the fundraiser over the years and what kind of an impact does it have on Ballet West as a whole?
Camellia: Ballet West patrons have loved the fashion show from year to year. Each season we change up the venue, so there's always a different atmosphere component. One year we hosted the event in an airplane hanger, another at The Grand America, last year was the Ballet West warehouse. It's been fun to style the show and design the marketing material specifically for each year's new location and theme.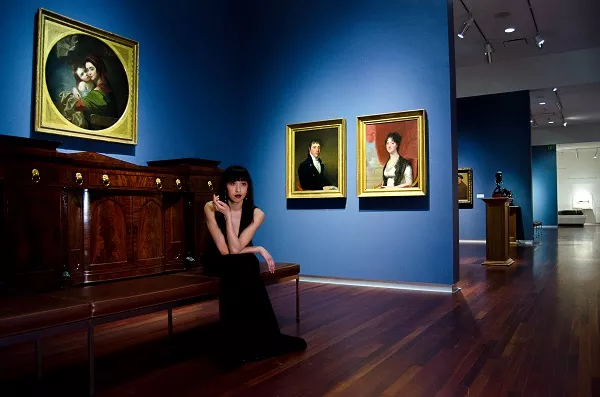 Gavin: What kind of planning goes into this event and how did you choose the Utah Museum Of Fine Arts for the location?
Camellia: This event has a lot of moving pieces. From the runway designs and styling of hair and makeup, to the venue and catering logistics, event publicity and marketing, ticket sales and sponsorship solicitation, programs and invitations, AV and volunteers, and all the little pieces in between, it consumes quite a bit of time and energy the last couple months of the season. The good thing about the timing of this event – there isn't another event right on its heels! Usually at the Ballet we're executing one event with another in the last month of the planning phase, so it's nice to primarily focus on just Couture In Motion the several weeks leading up to the event. In choosing the venue this year we were lucky to know some good folks up at the UMFA who were interested in combining our patron bases for a collaborative event. We met initially with Kate Ithurralde to discuss the possibilities and she quickly connected us to Erika Smith and Mindy Wilson. The whole team at the museum has been wonderful to work with and we're excited to partner with them on this year's show. They allowed us to photographed two of our dancers in the museum, which made for some beautiful marketing imagery.
Gavin: How did you meet Heidi Gress and end up working with her on this year's festivities?
Camellia: Heidi and I met a couple years ago when I first came to work at Ballet West. We became fast friends and as we worked out a collaboration on the 2013 runway show things just clicked. We work really well together and have a good time joining forces to organize the details of these shows. After the success of last year's runway we teamed up again for the 2014 Couture In Motion show and it's been another wonderful experience.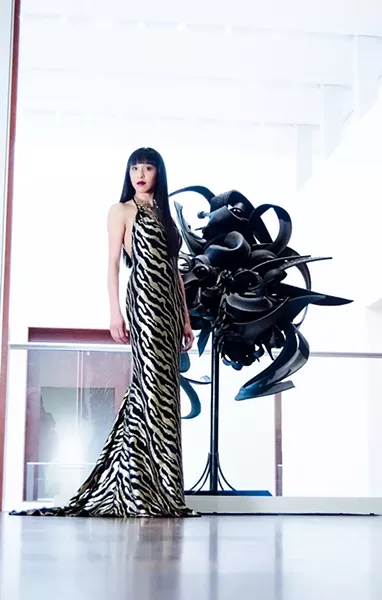 Gavin: Who are some of the designers you've brought on board to be displayed this year?
Camellia: Heidi Gress and Madi Slagowski have put together an incredible line up for this year's show. Some our featured designers include Adolfo Sanchez, Sherri Hill, Mary Rino, Beckett & Robb, BG Haute, and Mac Duggal, among others. We'll also be featuring some talented local partners like Porsche Design, Farasha Boutique, Banana Republic, Ypsilon and Penny Lane. The wonderful team at Landis Salon will take over hair and makeup, keeping it ethereal and beautiful. It's going to be a beautiful show, focusing in large part on color-blocking the individual pieces. Inspired by the venue, we'll be ordering the show based on the colors of a painter's pallet.
Gavin: Aside from the runway show, you'll have a silent auction and other festivities. What else have you got planned for the evening?
Camellia: The silent auction is an important component for us because it helps raise funds to support the company. During the auction and pre-show reception we'll have catered food and drink from Brio Tuscan Grille. Brent White and his team always do an incredible job, laying out an impressive spread of fine Italian cuisine and creating delicious custom cocktails at the hosted bars. They've been an incredible partner of Couture In Motion the last two years, and we're so thrilled to have their participation and support. During the runway show we've also planned a live musical element. Let's just say DJ UltraBear meets opera, and you won't want to miss it.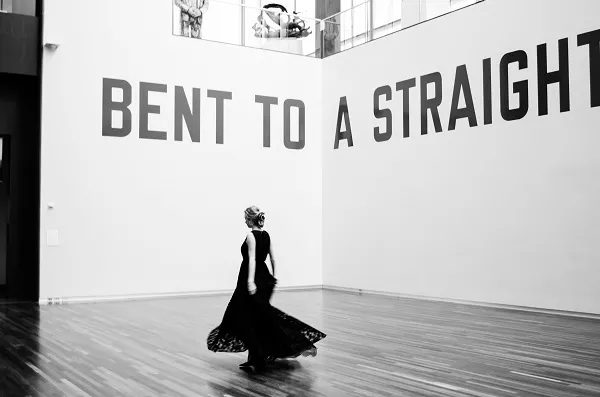 Gavin: How can people purchase tickets to attend, and what does their money go toward?
Camellia: Purchasing tickets is easy. We have a page for the event on the Ballet West website. Tickets will also be available at the door the night of the event. All money raised through the fashion show will go to support the many artistic and education programs of Ballet West. Not many people know that Ballet West has a special after school program called I CAN DO (Inspiring Children Against Not Dropping Out). A majority of our fundraising dollars through events like this go to support these kinds of programs.
Gavin: What can we expect from you as well as Ballet West over the rest of the year?
Camellia: The Ballet West 2013-14 season ends May 24. Our Innovations production runs from May 16-24 and we close the year on the last night of the show. The dancers go on break for a couple months, and we won't have any events or performances again until the fall. I'll be busy during those months preparing for the next season and securing details for all events August 2014 through May 2015, including Beer & Ballet on September 12 and the Annual Fundraising Gala on November 1. The summer months are a nice time to plan without having to simultaneously execute, but it never really stops for me or the rest of the Development Team. There's always an event on the horizon and performances around the corner.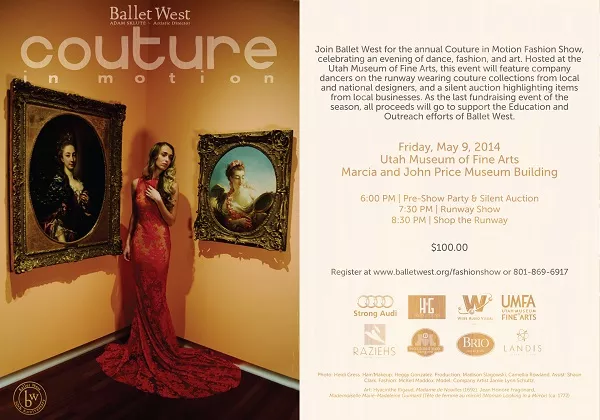 | | | |
| --- | --- | --- |
| Follow Gavin's Underground: | | |