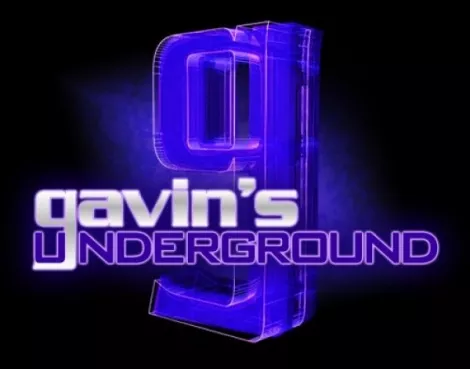 Spring may be creeping along weather wise, but in local fashion, it's fully in bloom as we're seeing runway shows pop up all over the city. --- One of the solo shows coming up this week is from local designer Olga Assayah, one of the more recent rising names to come out of the SLCC Fashion Institute. She will be debuting her latest works Thursday, May 15, at the 15th Street Gallery for a runway feature among the artwork. Today we chat with Assayah about her career in fashion so far, her upcoming show and thoughts on the local fashion scene. (All pictures courtesy of Assayah.)
Olga Assayah
Gavin: Hey Olga! First thing, tell us a little bit about yourself.
Olga: My name is Olga Assayah, I was born on July 4 in Kiev, Ukraine, and moved to the States when I was 5 years old. I grew up mostly in Salt Lake City, and really enjoy it here. I learned to sew when I was about 12, making clothes for my Barbie dolls and then dabbling in making things for myself. I have a Biology degree with a Chemistry minor from the University of Utah, as I originally thought I would be practical and go to Medical school. That was until I discovered the Fashion Institute at Salt Lake Community College, where I took one class and was hooked. I now have my degree, and recently showed in the Raw Couture Fashion Show.
Gavin: What first got you interested in fashion and what were some early influences on you?
Olga: I've always been inspired by the gowns I see on the red carpet; it's a dream of mine to see one of mine there. Essentially I've always been a very "girly" girl, I love dressing up, and making my own clothing is just an expression of that.
Gavin: When did you start finding your particular style and what made you decide to pursue it as a career?
Olga: I really started thinking about style around 7th grade. Before then, I really wasn't that picky, but I was always into dresses. In high school I got really good at creating outfits, and I'd say I err on the side of being a little over-dressed. My style has definitely evolved over the years but now that I'm older, I'm all about the right fit and a great fabric. I like figure hugging designs, pencil skirts and a defined waistline.
Gavin: You currently attended the SLCC Fashion Institute. What made you choose their program and what has it been like for you being a part of their courses?
Olga: I actually came across the SLCC Fashion Institute by accident. While searching for physiology classes on the SLCC website so that I could fill out the arduous medical school application. I was really surprised to find a fashion-design program in Utah. Being curious, I registered for a pattern-making class and by the next semester I had a full schedule. I fell in love with it. It was small enough that I really got to know my classmates and teachers. Even though I had basic sewing knowledge, they really taught me the techniques I needed to do quality work more efficiently.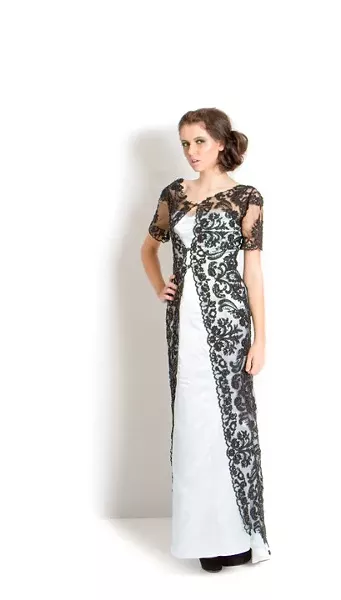 Gavin: What was it like for you developing your skills as a designer and learning as you went?
Olga: I've always had a knack for designing, I find fabrics very inspirational, and completing the program has really helped me be able to actually create what I come up with. When I see the right fabric, the design comes easily. Over the course of the years, I have trained myself to sketch more so I have a clear vision of my ideas.
Gavin: How did the idea to start your own brand come about, and where did the name Zaiya Collection come from?
Olga: It's always been a dream of mine to start my own brand. While shopping at other stores, I always take note of what I do and don't like so I can create my own version of the perfect item. The idea really started to take shape when I met my husband, Jeremy Assayah, who was vitally important in keeping me focused and motivated. He made it seem more realistic and plausible, so now that I'm confident in my skills I figure we'd give it a try. Jeremy is in charge of the marketing, executive decisions, public relations and technology side of the business meanwhile I will be able to focus on the designs and the artistic part. The name Zaiya is actually an endearing term my mother has called me since I was a little girl, it's a version of the Russian work for bunny. So it's personal for me but at the same time a little exotic for English speakers.
Gavin: What's the process like for you in creating a brand new piece, from design to final product?
Olga: When I'm creating a piece I usually start by finding the fabric. I then typically drape it on a dress form and create a pattern from that. It I've sketched out a very technical design I start with muslin, which is essentially an inexpensive cotton fabric. It's an organic process, and things change unless I have a very clear vision of the end product. For my ready-to-wear dresses, it may be small things like eliminating an unnecessary seam. If I'm working on a couture gown, I go through the various options I have for adding details like lace or crystals and don't stop until I'm happy with the result.
Gavin: What was it like for you taking part in runway shows and seeing people's reactions to your creations?
Olga: It's exhilarating to see my creations on the runway. So many hours of work go into each garment that when you finally see it all finished, it's an incredible feeling. I think the only thing that could beat that feeling would be seeing someone wear an item they purchased from my line.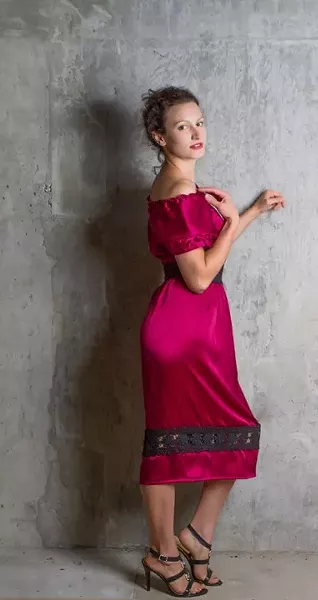 Gavin: On May 15 you're going to be holding a solo fashion show. Tell us a little bit about what you've got planned for the show.
Olga: Yes, May 15 is an exciting day for me; we will be celebrating the launch of my website and presenting the collection. There are a lot of designers out there and we really wanted to put my name out. A lot of the ideas for the show were my husband's, he is handling the organization of the event and I can tell you there will be a lot surprises. We'll have two runway shows, one with my ready to wear and the second with my hand made couture gowns. We will have cocktails and appetizers, as well as little boutique where you can purchase hats and ready-to-wear items. Waddell & Reed financial advisers are our main sponsors for the event. We will also be taking pre-orders of the collection.
Gavin: What made you choose 15th Street Gallery and how has it been working with them?
Olga: We love the Sugar House area and one evening while walking down the street we noticed a wedding at 15th Street Gallery, so we looked into their space rental and it was a perfect fit. It's a wide open space that works well for small gatherings.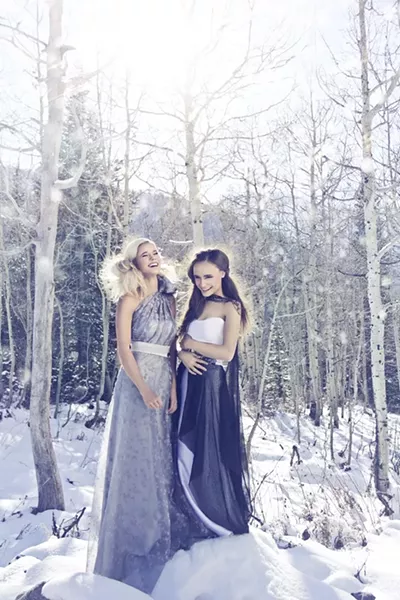 Gavin: What are your thoughts on the Utah fashion scene, both good and bad?
Olga: The Utah fashion scene is surprisingly great. I know most people assume we don't have one, but things like Art Meets Fashion, Raw Couture and Raw Artists prove otherwise. The talent we have locally is actually pretty impressive, I'm glad to be a part of it. The problem I think we face is keeping the momentum going.
Gavin: What do you believe could be done to make it more prominent?
Olga: A few years ago I participated in Fashion Stroll, and I thought that was a great way to bring the community together. It takes a lot of time for planning and organization, but we should get free events like that going again. Spreading the word about the event we do have is also very important.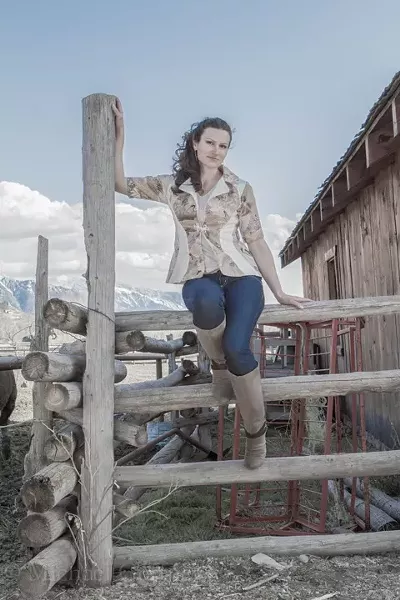 Gavin: What are your thoughts about local retailers and how they deal with local products?
Olga: Local retailers are great. It's, unfortunately, hard to stay competitively priced compared to national chains, but overall I think they provide unique and great products. I especially enjoy shopping at our local craft fairs, you never know what kind of cool item you can find there.
Gavin: Do you have any favorite shops you like to work with or shop from?
Olga: I really enjoy shopping at antique and vintage shops, I get a lot of inspiration from the various eras of fashion. I also love finding inexpensive designer treasures at consignment stores. They are great since my style is less about following the fad and more about getting a beautiful quality piece I will cherish forever.
Gavin: What's your take on events like AMF and the part they play in supporting local fashion?
Olga: I think events like AMF are absolutely necessary. I actually showed a couple gowns in the masquerade portion last year and I thought the runway set-up was very professional. Ticket prices are maybe a bit much for the Utah crowd, but there was still a good turn-out. I support events like that which draw attention to our local artist.
Gavin: What can we expect from your and your line over the rest of the year?
Olga: As far as my line goes, this year will really be a big experiment, I plan to inaugurate several new designs for the upcoming seasons, but I will really be listening to the customer as far as what I will keep making. I think there will definitely be some customer favorites that I will bring back in different colors and fabrics. I'm also offering made to measure sizing that I hope people take advantage of. This year will also be the time for us to push the website that we are launching on May 15. We want to market the collection outside of Utah and we plan to partner with boutiques around the USA. The fact that we are two people really helps the growth of the business. We are planning on many things but I can't tell you everything today. I promise to keep you posted.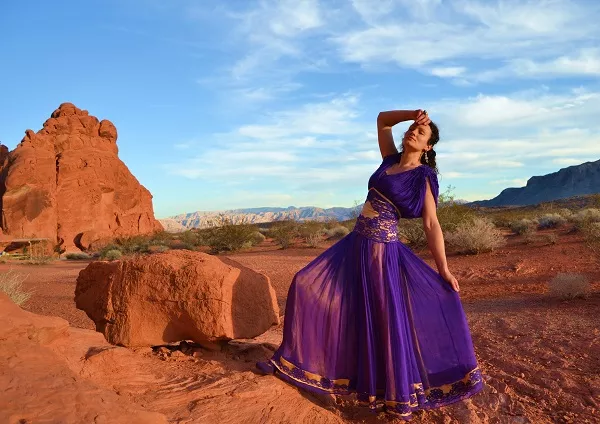 Gavin: Aside from the obvious, is there anything you'd like to promote or plug?
Olga: May 15 will be for us, on top of the fashion show, our website launching. The collection will be able to be purchased online. We have amazing dresses and I highly recommend you to come check it out. So please, on May 15 come to our website. Happy shopping!



| | | |
| --- | --- | --- |
| Follow Gavin's Underground: | | |