With Salt Lake's music scene seeing a rise in talent and a push into the national market, it was only natural that local radio shows and podcasts would start paying attention. --- In that spirit, the Salt The Block podcast was started, interviewing bands from all across the Wasatch Front about their music and the trials of coming up through the scene and getting your music out there. Today, we chat with Chad Pinckney and Tyler Lusk, the co-hosts behind the podcast about starting up the show, the episodes they've done so far, favorite guests, thoughts on local music and a few other topics. (All pictures courtesy of Salt The Block.)
Tyler Lusk & Chad Pinckney
Gavin: Hey guys, first off, tell us a little bit about yourselves.
Tyler: My name is Tyler Lusk aka Lucky, I'm originally from Rexburg, Idaho, and I moved to Salt Lake in 2001. I have a doggie named Tegan who I love to death, and I have a girlfriend named Justine who I have lived with for four years and also love to death. I co-own Sound vs. Silence Records, I have a music project called NULL and I do the Salt The Block Podcast with my little buddy Chad.
Chad: I'm formerly a vocalist for metal/hardcore/whatever bands around SLC. I dabble in music editing a bit (I produced the intro sequence for the podcast). I'm also a freelance graphic designer and a student at the U. I turn all my hobbies into work and often alienate friends because of it. Sorry guys.
Gavin: How did each of you take an interest in local music?
Chad: I moved to Salt Lake in late 2002. Some of the first live local bands I saw were Day Two, Clifton, In Camera and Take The Fall. I really jumped right in and started making music with high school friends and have been involved in one way or another ever since.
Tyler: I have always loved music so in my teens I started forming bands, In Rexburg we really didn't have a scene so my friends and I had to try and build one. So when I moved to SLC I never took for granted how great the scene was here.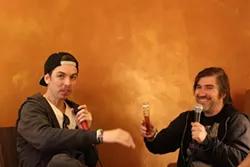 Gavin: When did each of you start getting involved with the local scene and how has it been for you both over the years?
Tyler: I started singing in my first band when I was 15. When I moved to SLC in 2001, I was blown away at all the great talent here. I mean, on one show I could see New Transit Direction, The Kill and Form Of Rocket play. I always felt like that time in SLC was really special for the local scene, or maybe it's just special for me. It's really hard to explain on paper but hopefully I'm not the only one who felt that. So over the years, I just got more involved, whether it was helping host a local radio show or starting a record label to help put out records. I still think SLC has a great local scene. I think most people here just do it for the love of it. I could honestly talk all day about my love for our scene here but to answer your question it has treated me great, all the people I hang out with, it can be traced back to the local music scene here.
Chad: I started playing in bands around Salt Lake 10 years ago, most of them terrible, and some of them pretty okay! I've seen the rise and fall of music venues, corrupt show promoters and entire scenes, but more importantly, I've made awesome friends who deserve support and who keep venues and local music alive today.
Gavin: When did the two of you first meet each other and become friends?
Chad: Lucky and SVSS Records helped my band The Wilderness put out an album in 2008. We have stayed in touch and have worked on various hair-brained projects together ever since. Lucky has an excited and motivated personality that is fun to be around. The guy is a party animal and it's infectious.
Tyler: I think we met in 2007. Chad hit me up about SVSS releasing his band Verses' album. Verses ended and I released a album by Chads next band The Wilderness. We just started to hang out more and more and now we can't get rid of each other. Give Chad three beers and he is a comic genius, dude makes me laugh so hard we are probably a bad influence for each other, haha.
Gavin: How did the idea come about for you both to start up your own podcast?
Tyler: I started to listen to a lot of podcasts at my dayjob, I found it made my work day go a lot faster. I always thought it would be fun to do one. Chad and I would usually drink some beers and talk music or films on the weekends so one day I just decided we should just do that but with mic's and laptops. Chad brought a lot of excitement to the idea.
Chad: We both have been fans of podcast style media for a while. We are fortunate enough to have a lot of talented, interesting friends, both in Salt Lake and elsewhere, and that combined with our sharp wit and handsome voices, it was an obvious and easy decision to start a podcast.
Gavin: What was it like getting all the equipment together and kind of setting up your own studio space?
Chad: It was a pretty smooth process getting set up with recording. Lucky already had the gear we needed because he records his own music at home. He also has a portable setup for when we are recording on location. We moved his gear into my house ( i.e. the possibly haunted 'Ted Bundy House' ) because we had more space for the setup.
Tyler: Since I do music and record at home, I pretty much had everything we needed to get started besides a few small things. At some point, we probably need to put a little money into getting a few more things to make it more pro. We mainly record at Chad's apartment we call it the Ted Bundy Studios cause Ted Bundy lived there. Luckily, no ghost stuff has happened to me when I have been there but Chad and his girlfriend have seen stuff fly across the room from time to time. Chad had a nice setup there so his place was a no-brainer, and in a lot of our pods you can hear his little pug dog Dallas jump in on the fun.
Gavin: What made you decide to incorporate Sound vs. Silence Records as a sponsor?
Tyler: SVSS has only had a few releases in the past few years since the music business sucks, so I just wanted to keep fresh content being attached to the name and site. I really like how Vice does a bunch of different things with their name, so to be honest I kind of got the idea from them. The label pays for the hosting at the moment so it only seems fair to promote it shamelessly.
Gavin: What were the first few episodes like when you started recording and what did you think of the flow of the show?
Chad: Since we are friends, the conversation flow between the two of us is pretty natural. The first episode was just us, kind of explaining what the podcast was and things we were excited about. The second episode was on location at two concerts, east coast bands, The Chariot and He is Legend. This were a little shaky as far as interviewing style but I think we have refined it a little since and some of our other concert interviews, like our material from SXSW this year, has been really great.
Tyler: Like with all things usually your first stuff is not your best stuff, but you always have to go through that growth stage. I don't love our first few episodes, but once we hit three and four, I felt like we kind of felt how the flow should be.
Gavin: You launched the show back in October 2013, what was the early reaction like from listeners?
Tyler: I think it was okay, I mean it goes back to I think with each episode we get better. I got some good advice and feedback from some listeners in the beginning.
Chad: Reactions have been really positive. We now are getting people who hit up our Facebook page and ask to be on the show, because anybody who listens to an episode can tell we are having a good time. Beer helps. Still waiting on that Coors Light sponsorship.
Gavin: How do you go about deciding who you're going to feature in each episode?
Chad: Surprisingly, most people we have approached have been willing to come on the podcast. We try to keep a variety in the rotation. We usual discuss if this person or that group would be interesting to talk with, especially if there is something relevant happening locally or nationally with them at the time, like a protest or upcoming record release.
Tyler: I think we just like to talk to people who are doing exciting things. Luckily, we know a lot talented people so that helps a lot, but I think we both agree that we don't want to get too comfortable with a certain niche. Thus far, it has been fairly easy to get people to come on, which I think is hard for a lot of podcasts in the beginning so we have been lucky.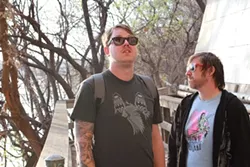 Gavin: What have been your favorite interviews to date and why?
Tyler: Honestly pretty much all of the interviews have been fun and great. The SubRosa episode does really stick out to me as a favorite though. Up to that point it had been a dude fest so it was great to have some really talented ladies come on and hang out and give a great interview. People seemed to really respond well to that episode.
Chad: My favorite music interview has been Jason from the band LetLive who was incredibly friendly and genuine. It's great to speak with people who have such an intense level of passion for what they are doing. My favorite and most intimidating non-music interview was Rocky Anderson, former SLC mayor, who is still very much an activist and involved in causes he believes in. A good podcast entertains you, maybe is funny, and also makes you walk away feeling like you learned something valuable.
Gavin: How has it been for you being able to interview bands on the rise, especially at a time where the metal scene is starting to get national attention?
Chad: Like most of the things we do, our timing for starting this podcast was near perfect. Getting to talk with bands like Cult Leader and SubRosa right before they both were planning their first big U.S. tours was something special. We hope that the music scene in SLC continues to expand and we can go along for the ride.
Tyler: We have got lucky with just good timing. I asked the Cult Leader guys to come on and they said yes, and then the next day they announced they signed to Deathwish so we got to talk about that while it was really fresh. So it has been amazing and almost unreal how good of timing we have had.
Gavin: Are there any plans to do episodes with just music and no interviews, or do you prefer having the discussions over an all-music episode?
Tyler: Never say never but I don't think so. I think most of the fun is getting to hang out with someone we know or to learn about someone we are interested in.
Chad: The podcast is all about the discussion and I don't see us every doing an "all-music" episode. I think there is enough of that around already on the local podcast scene. I think there might be a misconception that we are "music" podcast, which I don't think we are. We talk with people who are making waves in their craft, whatever that might be. It just so happens that many of our guests are bands because that's who we know.
Gavin: What's your overall goal with the show and what do you hope to achieve with it?
Chad: We are eventually going to turn it into a traveling documentary TV show where we eat bugs and scorpions for shock value.
Tyler: I think everyone would love to be able to make money of something they love to do. I would say my goal right now is just to get to interview bigger touring bands and cover some music festivals along with other things. I think Chad and I would like to travel a bit with it.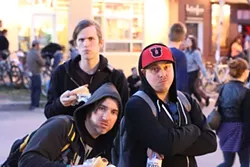 Gavin: What can we expect from both of you and the show over the rest of the year?
Tyler: More great guests, more giggles and a lot of empty Coors Light cans.
Chad: Expect a weirder variety of guests and, of course, more awesome hangouts with bands, both local and national. And if I recognize you on the street, you can expect a solid high-five from me.
Gavin: Aside from the obvious, is there anything you'd like to plug or promote?
Chad: Hit me up for anything graphic design related. ChadPinckney.com.
Tyler: Sound Vs. Silence Records, find me on Twitter and NULL.



| | | |
| --- | --- | --- |
| Follow Gavin's Underground: | | |