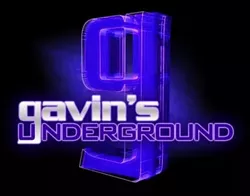 Our local dance scene has seen some great leaps in progression through independent companies, started by pros who have the experience to make major moves. --- Take for example, NOW-ID, a smaller company comprised last spring by Charlotte Boye-Christensen and Nathan Webster, bringing together motivated dancers with the mindset of creating not just a performance, but an experience where you're not just watching a show happen in front of you, you feel as if you're a part of it as it happens around you. The company itself has made some ambitious shows, including the most recent FEAST performance out at Saltair last month.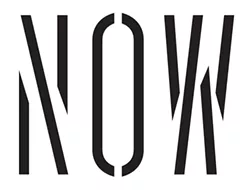 Today we chat with both the founders to talk about their careers, forming this new company and putting together their original works from scratch, where they hope to take it and a few other topics. (All photos courtesy of NOW-ID, photos by David Newkirk)
Charlotte Boye-Christensen & Nathan Webster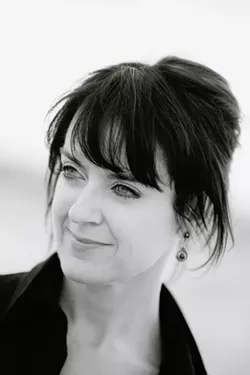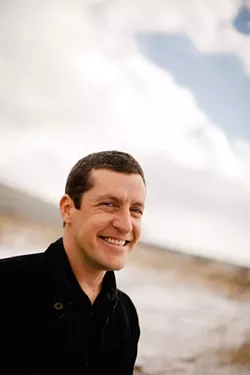 Gavin: Hey guys, first off, tell everyone a little bit about yourselves.
Charlotte: I am a choreographer/dancer/teacher, originally from Copenhagen. Trained in London and NYC and moved to SLC 12 years ago when I was offered a position with Ririe-Woodbury Dance Company. I have worked choreographically with a number of different companies and universities Nationally and Internationally and have produced my own work at various festivals all over the world. I love SLC - the landscape, the talent, the uniqueness of this place is captivating. I knew that I wanted to stay in SLC when I had given my notice at RW because I wanted to have it as my point of departure in pursuing more contractual work and I wanted to form a new interdisciplinary performing arts company in this city that was uniquely different from everything else here but which drew on my connections internationally and built on the experiences that both Nathan and I have had locally. Nathan and I formed NOW-ID a year ago and we have had two successful productions already: The Wedding and FEAST.
Nathan: I am an architect, grew up in Vancouver, Canada, I studied architecture in Montreal and in France, and worked in Vancouver and in the Bay Area before moving to Utah.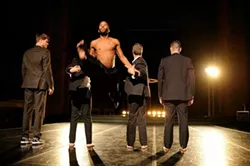 Gavin: Charlotte, how have things been going since we last chatted?
Charlotte: I have been great. Just kind of insanely busy. This last year had me take on eight different commissions around the country and in Canada and am at the moment preparing for three different residencies that take place within two months. One in Texas, one in Baton Rouge and a big three week residency in Copenhagen, where I am doing an interesting site-specific project at a castle North of Copenhagen with the Figura Music Ensemble. The castle is from 1588 and is apparently haunted, which adds to the intrigue. When I return I do two local residencies which I am excited about at the Ballet Department at the University of Utah and down at Southern Utah University and then NOW-ID goes on its first tour to Kansas, which is exciting.
Gavin: Nathan, give us a rundown about your career and what brought you to Utah from Vancouver.
Nathan: I have worked in architecture since 1997, and on a variety of building types both as a solo practitioner and in mid-sized firms. In firms I have worked on several award winning projects, including recreation and visitor centers (a local example includes the Tracy Aviary), schools (see Nicola Valley Institute of Technology), a renovation of the Unitarian Church, many office projects and both single and multi-family dwellings. I have always had side projects or interests that have allowed me to work in areas that I may not be exploring within firms. These have ranged from event work with Public Dream Society in Vancouver and working with Habitat for Humanity in Thailand, to design competitions, building a home myself over a year in the woods in Ontario and furniture building. I have always been drawn towards the space in design or making where maker or viewer/user may experience something greater than the sum of the parts. The poetics are difficult to hold onto amongst the realities of practice and bringing something as complex as a building into reality, but it is the thing that makes great architecture and places that establish, enrich and move culture.
Nathan: I probably first understood the power of mixed media work while living in Montreal, where I saw architects in a depressed economy working in film, theater, circus and sound, at scales and in media that created new experiences and have gone on to influence later work as the economy improved. I moved to Utah in 2006, after living in Vancouver, my year in the woods, a ten month trip in Asia, then the Bay Area... and came here for the combination of recreation, climate, lifestyle and cost of living. There was probably also curiosity about the place, a not-knowing and interest flowing from my love of travel and experience too, but I really knew little of how this would evolve for me here. I have lived in some fantastic cities, but I choose to be here. There is so much potential here, work not yet done, a quirky and fascinating culture both historic and present... and I have been so so fortunate to get to know the many friends and creative acquaintances here the Charlotte and I are now able to work with... on work that exists not only for its own sake as a short run event, but interdisciplinary work that feeds us all, and back into our respective fields, and we hope into the community at large.
Gavin: When did the two of you first meet each other and what led to forming a relationship?
Charlotte: We met in 2008 and had a personal relationship first before we started collaborating. We still have a personal relationship. Actually, we are married now.
Gavin: How was it working with each other on various projects during those years?
Charlotte: We worked on two projects together before we decided to form a company. Collaboration can be so hard because usually there are lots of egos involved and you want to make sure that you are not stepping on anyone's toes but at the same time taking ownership of your vision and ideas and I found that working with Nathan was so easy, yes we disagreed and argued but I so respect his vision so letting go of control became less of an issue. Nathan deals with space as an architect and I deal with space as a choreographer, so our point of departure is aligned. Aesthetically we are drawn to similar things and we both don't compromise easily in our work, which can be hard but is important as we set a standard for each other and for the company.
Gavin: When did the idea of starting up NOW-ID come from, and where did the full name come from?
Charlotte: When I left RW, I knew that I wanted to focus on my own work for a while and push it further both through commission work but also through some of the ideas that I have worked on since I finished Graduate school when I was in my early 20's, which is collaborations with other artists, composers, designers and architects. Interdisciplinary work has always been a thread running through my creative career. I love building a theatrical expression with others, I love the creative, intellectual exchange that it provides, I believe that these exchanges make my work more interesting and relevant. I have always worked Internationally as well as locally both here but also when I was living in NYC, Mexico City, Singapore and Copenhagen. So, the international angle is an important one for the company. We create a forum where local artists can exchange ideas with artists from elsewhere. It magnifies what is amazing about this place and it creates a window to the outside and I think that is an important dynamism for a community. Also having dancers work with actors and musicians gives an appreciation for other skill sets, which again is important, so that we don't become so insular and exclusive in our creative professions. NOW is a very powerful state of mind - as a performer you are only dealing with NOW and the present on stage. I stands for Interdisciplinary and International. D stands for Dance and Design.
Gavin: How was it first putting the company together and deciding your first performances?
Nathan: The concepts for our performances have grown organically in discussion amongst ourselves and our collaborators. We didn't always know exactly what we wanted to do, but we knew when there was something clicking with both concept and people. In both cases, we challenged ourselves with broad and open title-based concepts that provided much room for us to explore as well as for the audience to engage interpret. In both, we also used venues that very much fed concepts and enriched the work for us, but also added to the public's engagement with unique resources in our community. It has definitely been this unique spark between an original team of collaborators, concept and venue that have fed these two shows.
Gavin: You got your start with help from crowdfunding. How was it going to the masses for donations and eventually earning your goal to make it a reality?
Charlotte: Kickstarter and Indiegogo are phenomenal platforms for people to generate funds fairly quickly. Our goal was $35,000 in 4 weeks and we made close to $36,000 but it was very hard because with Kickstarter we knew that if we didn't make the goal we would lose all the money. We were so humbled by the amount of support that we got locally, nationally and internationally. I had former collaborators of mine who are based in Australia paying towards it, as well as random people we had met in France, students of mine in Singapore, former dancers of mine here, many many generous people here. It was extraordinary! We do also recognize that it was a very stressful and public platform and everyone is inundated with these kinds of requests and moving forward with are looking for other sponsors that do not overtax our audiences. The novelty of these campaigns has worn of.
Gavin: Your first official project was The Wedding: A Muse Bouche. What was it like putting that together and eventually performing it?
Charlotte: It was so exciting. We knew we wanted to do The Wedding at the Masonic Temple - that place is so unique and mysterious and we felt so privileged to be able to stage a performance of that nature in this unusual setting. I knew I wanted to bring together four dancers who had had an impact on my creative life, so we brought together two locals with two from out of state. We brought in two Danish artists: Sophie Dupont, performance artist from Copenhagen and Jens Horsving, composer also from Copenhagen - their contributions were underwritten by the National Foundation for the Arts in Denmark. We knew we wanted to use non-dancers with dancers. There were many interesting challenges inherently woven into this first project but everything came together so brilliantly.
Gavin: How has it been getting performers involved with the company and building up the array of talent involved?
Charlotte: Really interesting. For FEAST, we worked together with Robert Scott Smith and Alexandra Harbold from Flying Bobcat Theatrical Laboratory, a new theater company in town. We started conceptualizing the project eight months ago and have been meeting sporadically during that period of time to really zone in on the themes that were interesting to us. We then hired local dancer Jo Blake (who I have worked with for 11 years and who is an ongoing collaborator in NOW) to start working with us too and then later Yumelia Garcia from Joffrey in Chicago came on board as did NYC based dancer Jenn Freeman and then last but not least Danish musician Jesper Egelund and Icelandic composer Steingrimur Rohloff. This was such an interesting talent mass and a very intuitive one, so when everyone finally gathered in the same studio, there was the initial culture clash but then the process unfolded ease fully and efficiently. Everyone knew what they were there to do and they are so good at what they do, that for me it was just allowing for things to happen organically. Nathan built an extraordinary stage for the piece and he and Gary Vlasic (NOW-ID collaborator and Board member) transformed the space at Saltair into this new context that fit perfectly into the landscape outside. Cole Adams, extraordinary local lighting designer who I have known for years, came on board to transform the space from a lighting perspective, which he did magically. Jesse Walker (NOW-ID collaborator and board member) helped define the soundscape. When you are working with incredible people it makes the process inspiring and calm because you trust what they bring to the table and how their minds work.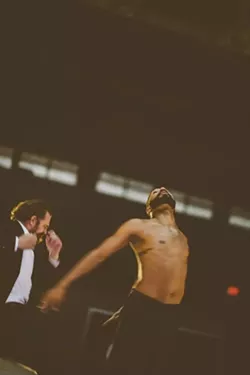 Gavin: How has it been for you operating as a roaming company without an official studio/theatre as your home?
Charlotte: In the future the goal is for us to look for a building that can be used as a studio, a place of experimentation, which can also be used as a theater venue and a place to house artists from out of town - that is the dream. Roaming has been fine in these early stages of the company, that is the nature of setting up a new company and I have to say that Brittany Reese, who runs Sugar Space has been very generous and supportive in her rental agreements with us. But obviously being a gypsy in the long run has only so much appeal.
Gavin: Most recently you put on Feast out at Saltair, what was it like doing a performance at that venue and what challenges did it present putting it together?
Nathan: Saltair - this one is still fresh and raw. There was much we loved about that place - We did use the venue as a source of material of the piece, both in its current form as well as the myth of the place and its previous incarnations. Originally, we were looking for a venue that was of this place, iconic and, similar to the Masonic Temple with the Wedding before, rich with myth and intrigue. We thought of Saltair when we were actually thinking about using the salt flats... and rightly felt that something closer and with an interior would be better for our logistics, as well as attendance. We were struck by the setting, the beauty and surreal threshold quality of the shoreline and the lake. We were inspired by the evidence of time both in the geography and in the stories of the building itself. We were inspired by ghost stories, the idea of rich/sensual decadence now past and an allusion or curiosity toward the future and what next. And, of course, using a venue not typically used for theatrical/dance performance presented its challenges. We did want to bring something out of the piece not only with the dance and theater text, but also we wanted to use the space in a way that did this.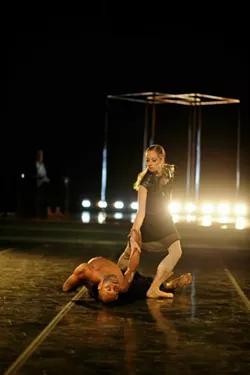 Nathan: The present Saltair is used as a rock concert venue, and typically has bands that are able to set up, stage and leave in a day or two. We needed a little more time to create a unique stage, and stage lighting and sound, and the time to rehears and test our work on it. The majority of our work with these site specific projects thus far is developed in other venues, so we need some time to adapt it... we look forward to having a venue and the resources to develop a piece with more time and integration. That said, we can work quick on the adaptation. Nathan built the stage in our backyard, and arranged close to twenty volunteers to help move it. It was a huge effort, but a critical component as the form not only acted as stage, but it was the table for our FEAST, and built with wood to allude to the piers of Saltair's past, and also the gorgeous roof trusses in the current building, trusses we emphasized with lighting similar to how we used the dome at the Masonic Temple. Although a dirty, technically challenging and somewhat remote place, Saltair did bring a lot of magic to the piece, and we are glad for the building and for the chance to spend some time, ourselves and audience, enjoying the natural beauty of our namesake lake.
Gavin: What have you got in the works for the rest of 2014?
Nathan: We have a couple of projects in the early stages of conceptualization - neither are confirmed yet... but will say that both wish to put a little more focus on design and would again focus our unique gaze and interpretation towards the venues... but in this case we are aiming at something with less of a past/historic feel. We have learned a ton about this kind of work from our two shows, and while we see the interest growing, we also need to concentrate on the sustainability of our company and vision. As alluded before, raising money is a challenge and time consumer, and we are looking at ways to complement this without relying as much on the small/individual donor. Our projects so far have included a humbling number of volunteers. We expect we will continue to need this for a while but we also want to grow into a financially stable institution, one that always retains a pioneer/experimental vision. There are many ways to be involved - please contact us!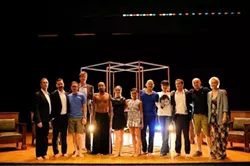 Gavin: For people interested in helping and performing with NOW-ID, what do they need to do?
Charlotte: Contact us if you are excited about the kind of work that we do and want more information.
| | | |
| --- | --- | --- |
| Follow Gavin's Underground: | | |