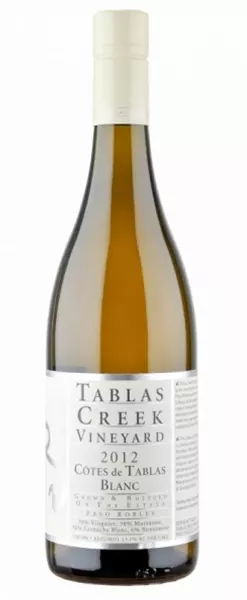 Roaming around Provence, France, I fell in love with Chateauneuf-du-Pape wines. But, even as much as I liked the reds, I loved Chateauneuf-du-Pape blanc even more. --- They are wonderful, warm-weather wines that are very aromatic and floral -- pretty, elegant wines. A perfect example is Chateau Beaucastel Chateauneuf-du-Pape Blanc. However, it sells for about $100 a bottle, which would totally blow my wine budget. .
Well, for a fraction of that price -- $24.99, to be exact -- you can enjoy a domestic white wine that is very close in flavor and profile to Chateauneuf-du-Pape Blanc. It's called Tablas Creek Vineyard Cotes de Tablas Blanc and it's one of my very favorite summer sipping wines.The grapes come from Tablas Creek's certified organic estate vineyard in Paso Robles, California, where the wine was fermented in stainless steel using only native yeasts.
It's a blend of four estate-grown Southern Rhone varietals: Viognier, Grenache Blanc, Roussanne and Marsanne. As in the great white wines of the Southern Rhone, Grenache Blanc and Roussanne provide fruitiness and a bit of fatness to this wine, while Viognier lends floral aromatics and stone-fruit flavors. Marsanne and Roussanne also impart an undercurrent of minerality and structure. Think peaches and cream, but with enough acidity to enjoy with a pot of steamed mussels.
Trust me, you'll enjoy this "poor man's" Chateauneuf-du-Pape Blanc. It's a perfect picnic wine.